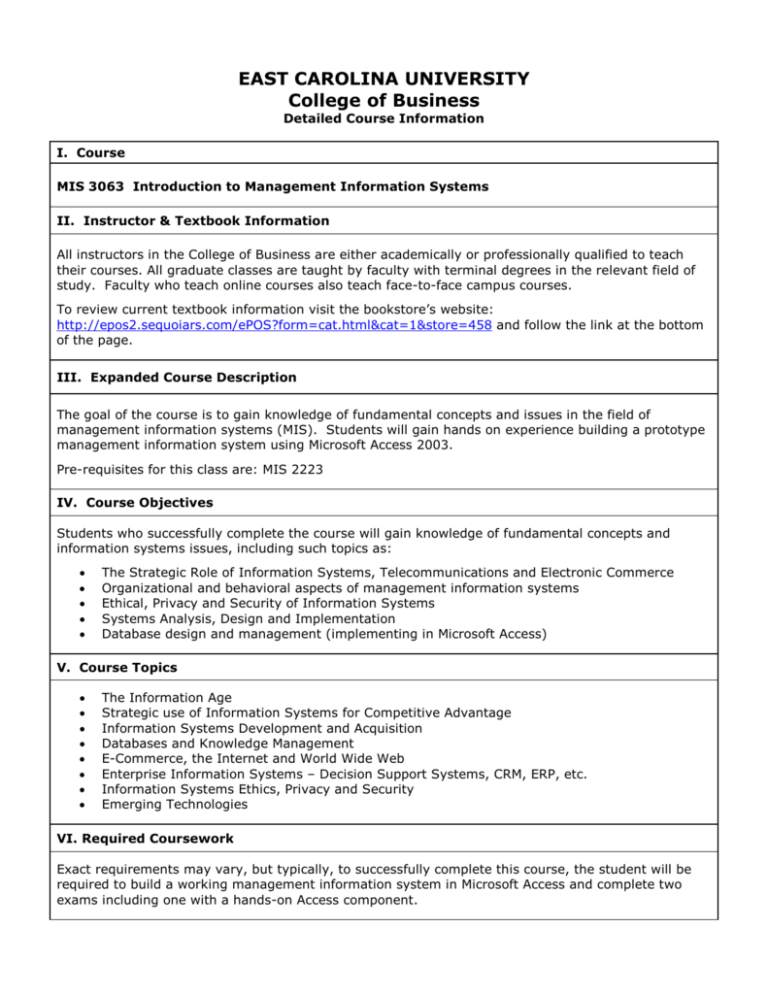 EAST CAROLINA UNIVERSITY
College of Business
Detailed Course Information
I. Course
MIS 3063 Introduction to Management Information Systems
II. Instructor & Textbook Information
All instructors in the College of Business are either academically or professionally qualified to teach
their courses. All graduate classes are taught by faculty with terminal degrees in the relevant field of
study. Faculty who teach online courses also teach face-to-face campus courses.
To review current textbook information visit the bookstore's website:
http://epos2.sequoiars.com/ePOS?form=cat.html&cat=1&store=458 and follow the link at the bottom
of the page.
III. Expanded Course Description
The goal of the course is to gain knowledge of fundamental concepts and issues in the field of
management information systems (MIS). Students will gain hands on experience building a prototype
management information system using Microsoft Access 2003.
Pre-requisites for this class are: MIS 2223
IV. Course Objectives
Students who successfully complete the course will gain knowledge of fundamental concepts and
information systems issues, including such topics as:
•
•
•
•
•
The Strategic Role of Information Systems, Telecommunications and Electronic Commerce
Organizational and behavioral aspects of management information systems
Ethical, Privacy and Security of Information Systems
Systems Analysis, Design and Implementation
Database design and management (implementing in Microsoft Access)
V. Course Topics
•
•
•
•
•
•
•
•
The Information Age
Strategic use of Information Systems for Competitive Advantage
Information Systems Development and Acquisition
Databases and Knowledge Management
E-Commerce, the Internet and World Wide Web
Enterprise Information Systems – Decision Support Systems, CRM, ERP, etc.
Information Systems Ethics, Privacy and Security
Emerging Technologies
VI. Required Coursework
Exact requirements may vary, but typically, to successfully complete this course, the student will be
required to build a working management information system in Microsoft Access and complete two
exams including one with a hands-on Access component.
VII. Course Communication & Interaction
The course requires extensive discussions, interaction and collaborative group work to successfully
complete the semester-long Access-based project.
VIII. Computer/Technical Requirements Additional Notes/Comments
The university recommends specific technology when taking an online class. These recommendations
can be found at: http://www.ecu.edu/ace . All online courses require ready access to the Internet and
a suitable personal computer.
In addition to the university requirements this class requires:
• a PC that supports Office / Windows 2000 or better (XP or 2003 is recommended)
• MS Office Professional Suite 2000 or better (must include Access; 2003 is recommended)
• reliable Internet access (cable modem is best)
IX. Additional Information
Disabilities: ECU seeks to comply fully with the Americans with Disabilities Act (ADA). The Department
for Disability Support Services adapts the generalized services to the specialized needs of individuals
with disabilities. Students requesting accommodations based on a disability must be registered with
the Department for Disability Support Services located in Slay 138 (252) 737-1016 (Voice/TTY).
Additional program information is available at http://www.ecu.edu/cs-studentlife/dss/
Calendar: Online classes typically follow the standard ECU academic calendar for the semester in
which they are taken.
X. Additional Notes/Comments
ECU maintains accreditation with The Association to Advance Collegiate Schools of Business (AACSB).
To comply with the constant quality improvement objectives of the AACSB, adjustments are made to
all course requirements. Contact the instructor for this class the semester you plan to take it to obtain
detailed information.