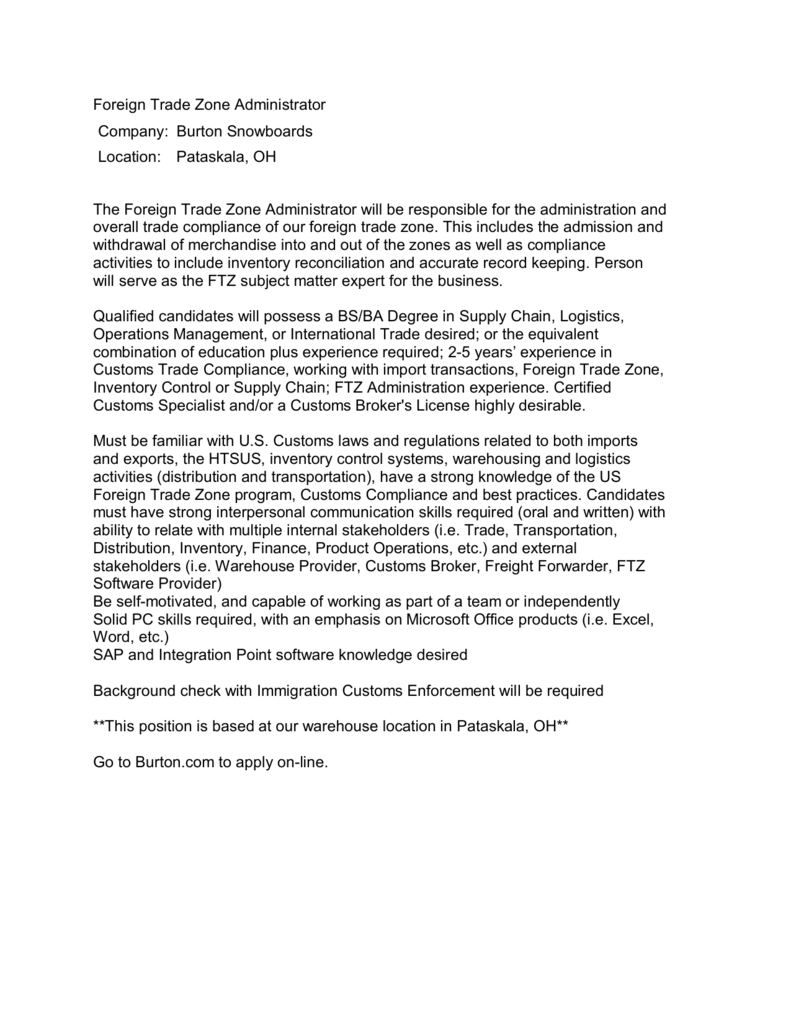 Foreign Trade Zone Administrator
Company: Burton Snowboards
Location: Pataskala, OH
The Foreign Trade Zone Administrator will be responsible for the administration and
overall trade compliance of our foreign trade zone. This includes the admission and
withdrawal of merchandise into and out of the zones as well as compliance
activities to include inventory reconciliation and accurate record keeping. Person
will serve as the FTZ subject matter expert for the business.
Qualified candidates will possess a BS/BA Degree in Supply Chain, Logistics,
Operations Management, or International Trade desired; or the equivalent
combination of education plus experience required; 2-5 years' experience in
Customs Trade Compliance, working with import transactions, Foreign Trade Zone,
Inventory Control or Supply Chain; FTZ Administration experience. Certified
Customs Specialist and/or a Customs Broker's License highly desirable.
Must be familiar with U.S. Customs laws and regulations related to both imports
and exports, the HTSUS, inventory control systems, warehousing and logistics
activities (distribution and transportation), have a strong knowledge of the US
Foreign Trade Zone program, Customs Compliance and best practices. Candidates
must have strong interpersonal communication skills required (oral and written) with
ability to relate with multiple internal stakeholders (i.e. Trade, Transportation,
Distribution, Inventory, Finance, Product Operations, etc.) and external
stakeholders (i.e. Warehouse Provider, Customs Broker, Freight Forwarder, FTZ
Software Provider)
Be self-motivated, and capable of working as part of a team or independently
Solid PC skills required, with an emphasis on Microsoft Office products (i.e. Excel,
Word, etc.)
SAP and Integration Point software knowledge desired
Background check with Immigration Customs Enforcement will be required
**This position is based at our warehouse location in Pataskala, OH**
Go to Burton.com to apply on-line.