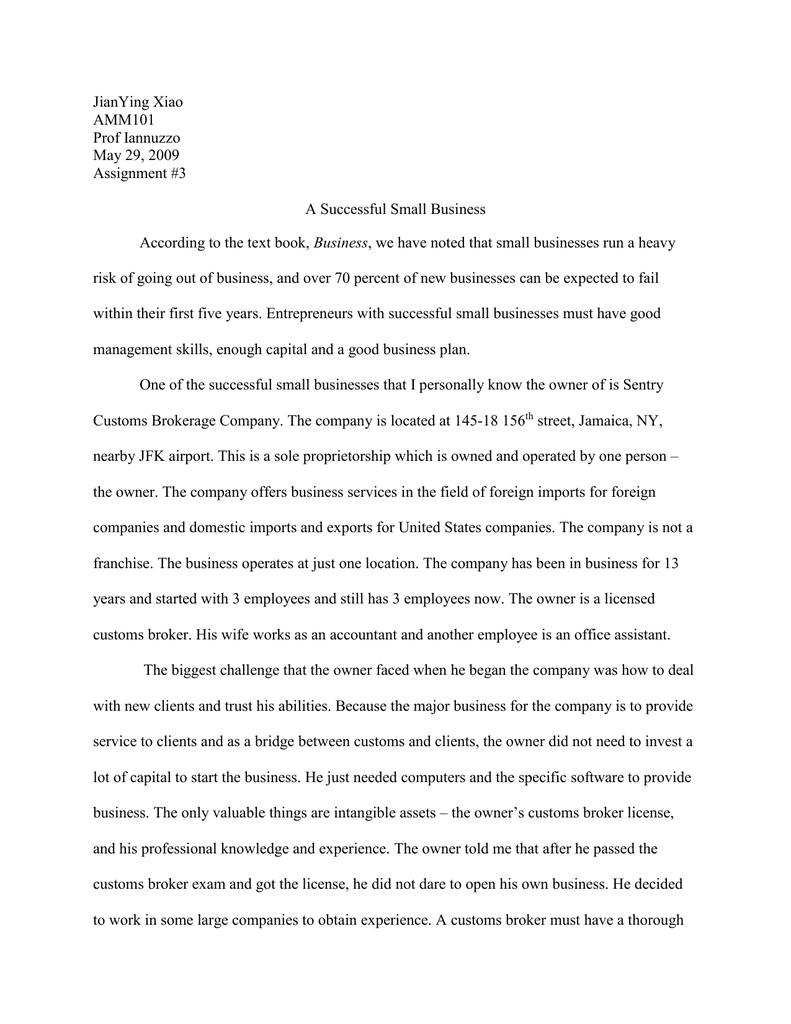 JianYing Xiao
AMM101
Prof Iannuzzo
May 29, 2009
Assignment #3
A Successful Small Business
According to the text book, Business, we have noted that small businesses run a heavy
risk of going out of business, and over 70 percent of new businesses can be expected to fail
within their first five years. Entrepreneurs with successful small businesses must have good
management skills, enough capital and a good business plan.
One of the successful small businesses that I personally know the owner of is Sentry
Customs Brokerage Company. The company is located at 145-18 156th street, Jamaica, NY,
nearby JFK airport. This is a sole proprietorship which is owned and operated by one person –
the owner. The company offers business services in the field of foreign imports for foreign
companies and domestic imports and exports for United States companies. The company is not a
franchise. The business operates at just one location. The company has been in business for 13
years and started with 3 employees and still has 3 employees now. The owner is a licensed
customs broker. His wife works as an accountant and another employee is an office assistant.
The biggest challenge that the owner faced when he began the company was how to deal
with new clients and trust his abilities. Because the major business for the company is to provide
service to clients and as a bridge between customs and clients, the owner did not need to invest a
lot of capital to start the business. He just needed computers and the specific software to provide
business. The only valuable things are intangible assets – the owner's customs broker license,
and his professional knowledge and experience. The owner told me that after he passed the
customs broker exam and got the license, he did not dare to open his own business. He decided
to work in some large companies to obtain experience. A customs broker must have a thorough
knowledge of the customs' regulations, and help clients choose the best modes of transportation,
types of carriers, and shipping routes. Brokers also assist with exchange rates, appraisal, and
determining proper classifications and duties. As the company's owner and an independent
customs broker, the owner said that he must have very good skills and abilities to run his
business, so his client could be confident with his ability.
The company is different than its nearest competition. There are so many merchandises
that come from China and many importers are Chinese. The owner of the company is Chinese
and can speak English and Chinese. He has many years experience and has a good relationship
with customs. He also provides different kinds of services such as transportation from customs to
warehouses, professional translation, or flexible working time. As a result, he can keep his
clients for many years.
The major challenge that the company is presently facing is human resources. A customs
broker is very specialized job and the owner could have to pay a high salary to hire another
licensed customs broker. As the owner and the only broker in his company, he has to work very
hard and carefully to take his responsibilities. He can not make a mistake or take a vacation
longer than a week; otherwise, he would lose his clients. Moreover, he can not take care of too
many clients because the individuals with limited energy and he does not want to expend his
business. He is afraid of the risk of failure if he expands his business.
Even though the business is small, the owner of the company is very glad that he still can
keep a good business in this economic downturn. He hopes that he can have a long vacation to
relax and enjoy his life someday, but he knows that it is his dream only, and he must keep his
business running until he retire.