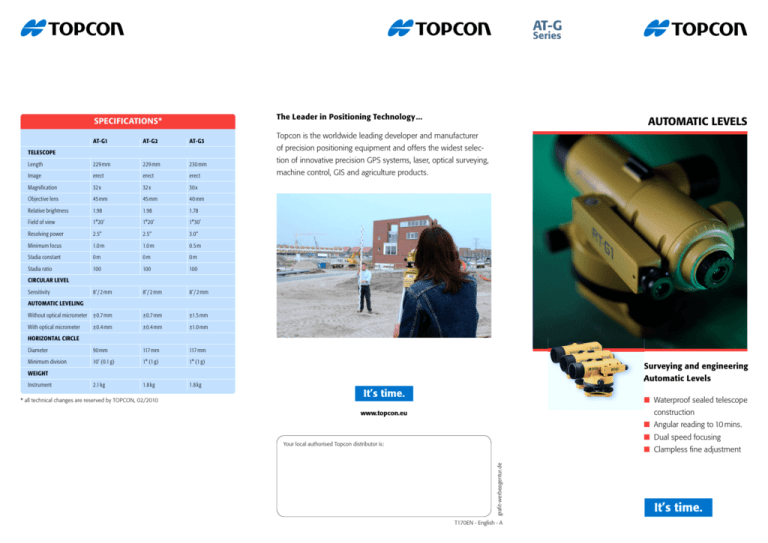 AT-G
Series
The Leader in Positioning Technology ...
SPECIFICATIONS*
AT-G1
AT-G2
AT-G3
of precision positioning equipment and offers the widest selec-
TELESCOPE
Length
AUTOMATIC LEVELS
Topcon is the worldwide leading developer and manufacturer
229 mm
229 mm
230 mm
tion of innovative precision GPS systems, laser, optical surveying,
machine control, GIS and agriculture products.
Image
erect
erect
erect
Magnification
32 x
32 x
30 x
Objective lens
45 mm
45 mm
40 mm
Relative brightness
1.98
1.98
1.78
1°30'
Field of view
1°20'
1°20'
Resolving power
2.5"
2.5"
3.0"
Minimum focus
1.0 m
1.0 m
0.5 m
Stadia constant
0m
0m
0m
Stadia ratio
100
100
100
8' / 2 mm
8' / 2 mm
8' / 2 mm
Without optical micrometer ±0.7 mm
±0.7 mm
±1.5 mm
With optical micrometer
±0.4 mm
±1.0 mm
CIRCULAR LEVEL
Sensitivity
AUTOMATIC LEVELING
±0.4 mm
HORIZONTAL CIRCLE
Diameter
90 mm
117 mm
117 mm
Minimum division
10' (0.1 g)
1° (1 g)
1° (1 g)
2.1 kg
1.8 kg
1.8 kg
Surveying and engineering
Automatic Levels
WEIGHT
Instrument
■ Waterproof sealed telescope
* all technical changes are reserved by TOPCON, 02/2010
construction
www.topcon.eu
■ Angular reading to 10 mins.
■ Dual speed focusing
Your local authorised Topcon distributor is:
grafi t-werbeagentur.de
■ Clampless fine adjustment
T170EN - English - A
Rapid instrument set-up
Very fast instrument set-up is possible using a dome head tripod.
The base plate is specially shaped for fixing on top of dome head
tripods.
Optional accesories
Angular reading to 10 minutes (AT-G1)
Diagonal eyepieces
The model AT-G1 has a glass horizontal circle which is graduated
By using the diagonal eyepiece in place of
in 10 minute (10c) divisions and every degree (one grade) from
the standard telescope eyepiece means
0° to 360° (0 g to 400 g). Readings are made possible through
1
that easier viewing is possible for low set-
5
a 25 x microscope, with only a slight shift of the eye, from the
telescope eyepiece. The horizontal circle freely rotates for zero
up positions or in confined spaces.
6
2
alignment.
Illuminator-5
Provides light to the telescope reticle
3
when insufficient light is available, for
4
Rubber eyepiece cap
example in tunnels or at night.
Sighting through Topcon's AT-G series is safe for anyone who
wears spectacles. With their protective rubber eyepiece caps,
scratches and abrasions are reduced or eliminated completely.
Optical micrometer
Get greater accuracy from AT-G series
Rapid, stable automatic levelling
auto levels using the optical micrometer. During a one kilometre double
A time-proven magnetically damped compensator is incorporated
levelling run, accuracy can be improved
1
Ergonomic Focus Adjustment
4
Rapid Levelling System
for automatic levelling action. It is not affected by fine vibrations
to ±0.4 mm. The optical micrometer
2
Lightweight, composite,
dry-nitrogen charged body
5
Rubber Eyepiece Cap
and has been proven to have very stable precision, thus speeding
6
Horizontal Circle reading
to 10' (AT-G1)
attaches to front of objective lens with a
counter weight attached to the eyepiece.
3
Fine Horizontal Adjustment
up automatic levelling operations and producing accurate results.
The exclusive Topcon automatic levelling system utilises four
Centering platform
special mylar ribbons for hanging the magnetic damper com-
When used on top of a tripod the center-
pensator. The compensator is therefore not influenced by the
ing platform provides quick and simple
magnetic field, as well as having superior resistance to cold,
centering on reference points. Parallel
heat and shock.
shifts of 100 mm vertically and 30 mm
laterally.