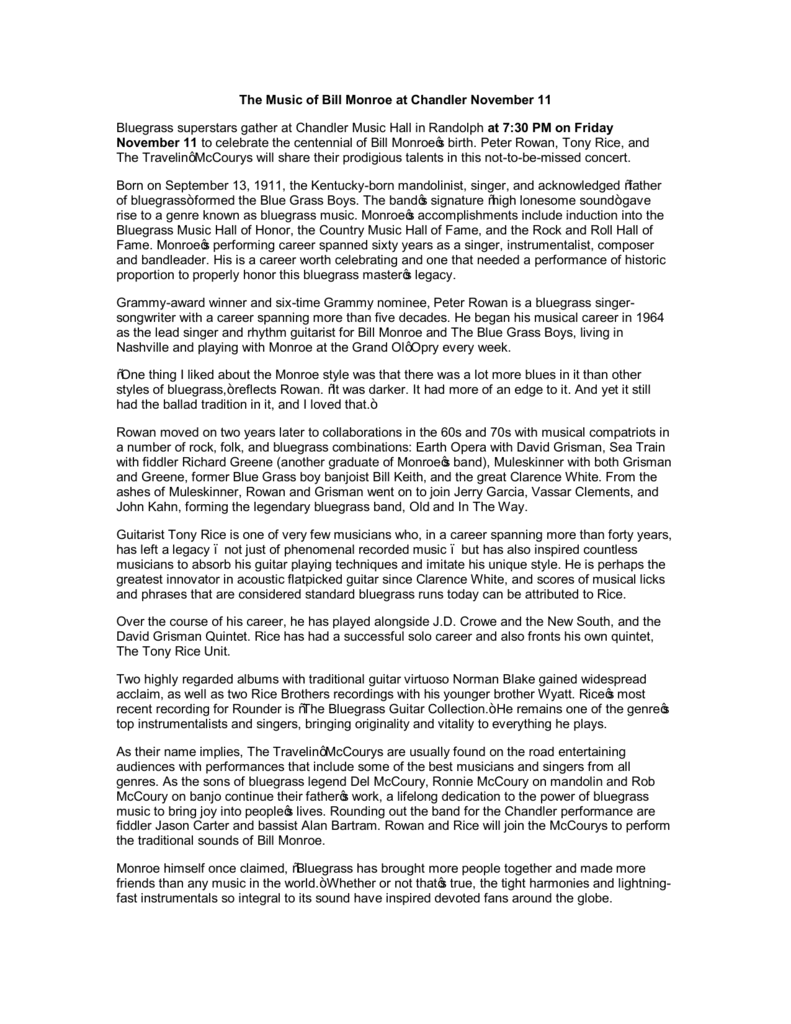 The Music of Bill Monroe at Chandler November 11
Bluegrass superstars gather at Chandler Music Hall in Randolph at 7:30 PM on Friday
November 11 to celebrate the centennial of Bill Monroe's birth. Peter Rowan, Tony Rice, and
The Travelin' McCourys will share their prodigious talents in this not-to-be-missed concert.
Born on September 13, 1911, the Kentucky-born mandolinist, singer, and acknowledged "father
of bluegrass" formed the Blue Grass Boys. The band's signature "high lonesome sound" gave
rise to a genre known as bluegrass music. Monroe's accomplishments include induction into the
Bluegrass Music Hall of Honor, the Country Music Hall of Fame, and the Rock and Roll Hall of
Fame. Monroe's performing career spanned sixty years as a singer, instrumentalist, composer
and bandleader. His is a career worth celebrating and one that needed a performance of historic
proportion to properly honor this bluegrass master's legacy.
Grammy-award winner and six-time Grammy nominee, Peter Rowan is a bluegrass singersongwriter with a career spanning more than five decades. He began his musical career in 1964
as the lead singer and rhythm guitarist for Bill Monroe and The Blue Grass Boys, living in
Nashville and playing with Monroe at the Grand Ol' Opry every week.
"One thing I liked about the Monroe style was that there was a lot more blues in it than other
styles of bluegrass," reflects Rowan. "It was darker. It had more of an edge to it. And yet it still
had the ballad tradition in it, and I loved that."
Rowan moved on two years later to collaborations in the 60s and 70s with musical compatriots in
a number of rock, folk, and bluegrass combinations: Earth Opera with David Grisman, Sea Train
with fiddler Richard Greene (another graduate of Monroe's band), Muleskinner with both Grisman
and Greene, former Blue Grass boy banjoist Bill Keith, and the great Clarence White. From the
ashes of Muleskinner, Rowan and Grisman went on to join Jerry Garcia, Vassar Clements, and
John Kahn, forming the legendary bluegrass band, Old and In The Way.
Guitarist Tony Rice is one of very few musicians who, in a career spanning more than forty years,
has left a legacy – not just of phenomenal recorded music – but has also inspired countless
musicians to absorb his guitar playing techniques and imitate his unique style. He is perhaps the
greatest innovator in acoustic flatpicked guitar since Clarence White, and scores of musical licks
and phrases that are considered standard bluegrass runs today can be attributed to Rice.
Over the course of his career, he has played alongside J.D. Crowe and the New South, and the
David Grisman Quintet. Rice has had a successful solo career and also fronts his own quintet,
The Tony Rice Unit.
Two highly regarded albums with traditional guitar virtuoso Norman Blake gained widespread
acclaim, as well as two Rice Brothers recordings with his younger brother Wyatt. Rice's most
recent recording for Rounder is "The Bluegrass Guitar Collection." He remains one of the genre's
top instrumentalists and singers, bringing originality and vitality to everything he plays.
As their name implies, The Travelin' McCourys are usually found on the road entertaining
audiences with performances that include some of the best musicians and singers from all
genres. As the sons of bluegrass legend Del McCoury, Ronnie McCoury on mandolin and Rob
McCoury on banjo continue their father's work, a lifelong dedication to the power of bluegrass
music to bring joy into people's lives. Rounding out the band for the Chandler performance are
fiddler Jason Carter and bassist Alan Bartram. Rowan and Rice will join the McCourys to perform
the traditional sounds of Bill Monroe.
Monroe himself once claimed, "Bluegrass has brought more people together and made more
friends than any music in the world." Whether or not that's true, the tight harmonies and lightningfast instrumentals so integral to its sound have inspired devoted fans around the globe.
Reserved tickets for this special tribute performance are $42.50 in advance, $47.50 on the day of
the show. A limited number of $10 seats are available through the box office only. Tickets can be
ordered online at www.chandler-arts.org or by calling the box office between 3 and 6 PM
weekdays at 802-728-6464. This performance at Chandler has generous sponsorship support
from Mascoma Savings Bank, Naylor & Breen Builders, and The Point. Chandler is physically
accessible.