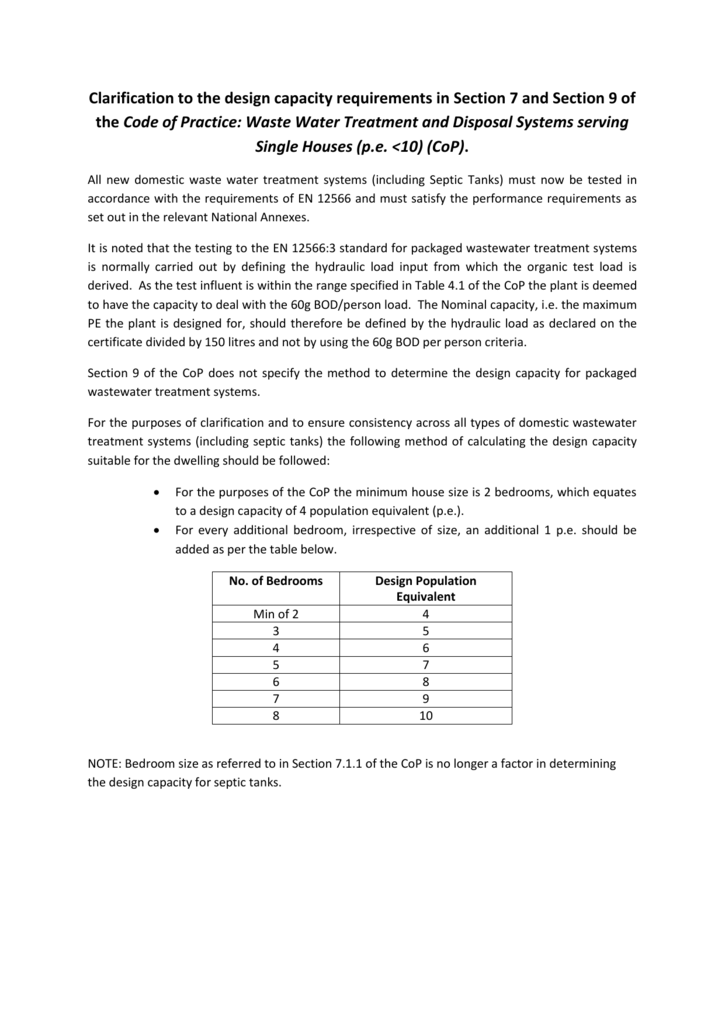 Clarification to the design capacity requirements in Section 7 and Section 9 of
the Code of Practice: Waste Water Treatment and Disposal Systems serving
Single Houses (p.e. <10) (CoP).
All new domestic waste water treatment systems (including Septic Tanks) must now be tested in
accordance with the requirements of EN 12566 and must satisfy the performance requirements as
set out in the relevant National Annexes.
It is noted that the testing to the EN 12566:3 standard for packaged wastewater treatment systems
is normally carried out by defining the hydraulic load input from which the organic test load is
derived. As the test influent is within the range specified in Table 4.1 of the CoP the plant is deemed
to have the capacity to deal with the 60g BOD/person load. The Nominal capacity, i.e. the maximum
PE the plant is designed for, should therefore be defined by the hydraulic load as declared on the
certificate divided by 150 litres and not by using the 60g BOD per person criteria.
Section 9 of the CoP does not specify the method to determine the design capacity for packaged
wastewater treatment systems.
For the purposes of clarification and to ensure consistency across all types of domestic wastewater
treatment systems (including septic tanks) the following method of calculating the design capacity
suitable for the dwelling should be followed:


For the purposes of the CoP the minimum house size is 2 bedrooms, which equates
to a design capacity of 4 population equivalent (p.e.).
For every additional bedroom, irrespective of size, an additional 1 p.e. should be
added as per the table below.
No. of Bedrooms
Min of 2
3
4
5
6
7
8
Design Population
Equivalent
4
5
6
7
8
9
10
NOTE: Bedroom size as referred to in Section 7.1.1 of the CoP is no longer a factor in determining
the design capacity for septic tanks.