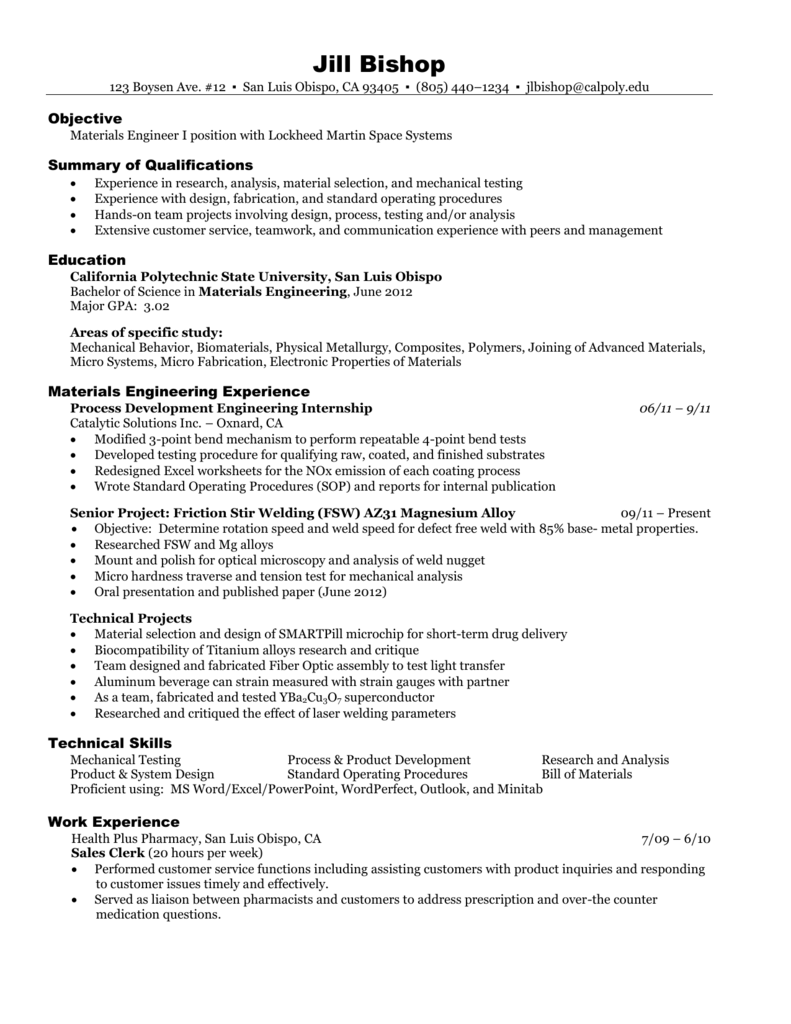 Jill Bishop
123 Boysen Ave. #12 ▪ San Luis Obispo, CA 93405 ▪ (805) 440–1234 ▪ [email protected]
Objective
Materials Engineer I position with Lockheed Martin Space Systems
Summary of Qualifications




Experience in research, analysis, material selection, and mechanical testing
Experience with design, fabrication, and standard operating procedures
Hands-on team projects involving design, process, testing and/or analysis
Extensive customer service, teamwork, and communication experience with peers and management
Education
California Polytechnic State University, San Luis Obispo
Bachelor of Science in Materials Engineering, June 2012
Major GPA: 3.02
Areas of specific study:
Mechanical Behavior, Biomaterials, Physical Metallurgy, Composites, Polymers, Joining of Advanced Materials,
Micro Systems, Micro Fabrication, Electronic Properties of Materials
Materials Engineering Experience
Process Development Engineering Internship
Catalytic Solutions Inc. – Oxnard, CA
 Modified 3-point bend mechanism to perform repeatable 4-point bend tests
 Developed testing procedure for qualifying raw, coated, and finished substrates
 Redesigned Excel worksheets for the NOx emission of each coating process
 Wrote Standard Operating Procedures (SOP) and reports for internal publication
06/11 – 9/11
Senior Project: Friction Stir Welding (FSW) AZ31 Magnesium Alloy
09/11 – Present
 Objective: Determine rotation speed and weld speed for defect free weld with 85% base- metal properties.
 Researched FSW and Mg alloys
 Mount and polish for optical microscopy and analysis of weld nugget
 Micro hardness traverse and tension test for mechanical analysis
 Oral presentation and published paper (June 2012)
Technical Projects
 Material selection and design of SMARTPill microchip for short-term drug delivery
 Biocompatibility of Titanium alloys research and critique
 Team designed and fabricated Fiber Optic assembly to test light transfer
 Aluminum beverage can strain measured with strain gauges with partner
 As a team, fabricated and tested YBa2Cu3O7 superconductor
 Researched and critiqued the effect of laser welding parameters
Technical Skills
Mechanical Testing
Process & Product Development
Research and Analysis
Product & System Design
Standard Operating Procedures
Bill of Materials
Proficient using: MS Word/Excel/PowerPoint, WordPerfect, Outlook, and Minitab
Work Experience
Health Plus Pharmacy, San Luis Obispo, CA
7/09 – 6/10
Sales Clerk (20 hours per week)
 Performed customer service functions including assisting customers with product inquiries and responding
to customer issues timely and effectively.
 Served as liaison between pharmacists and customers to address prescription and over-the counter
medication questions.