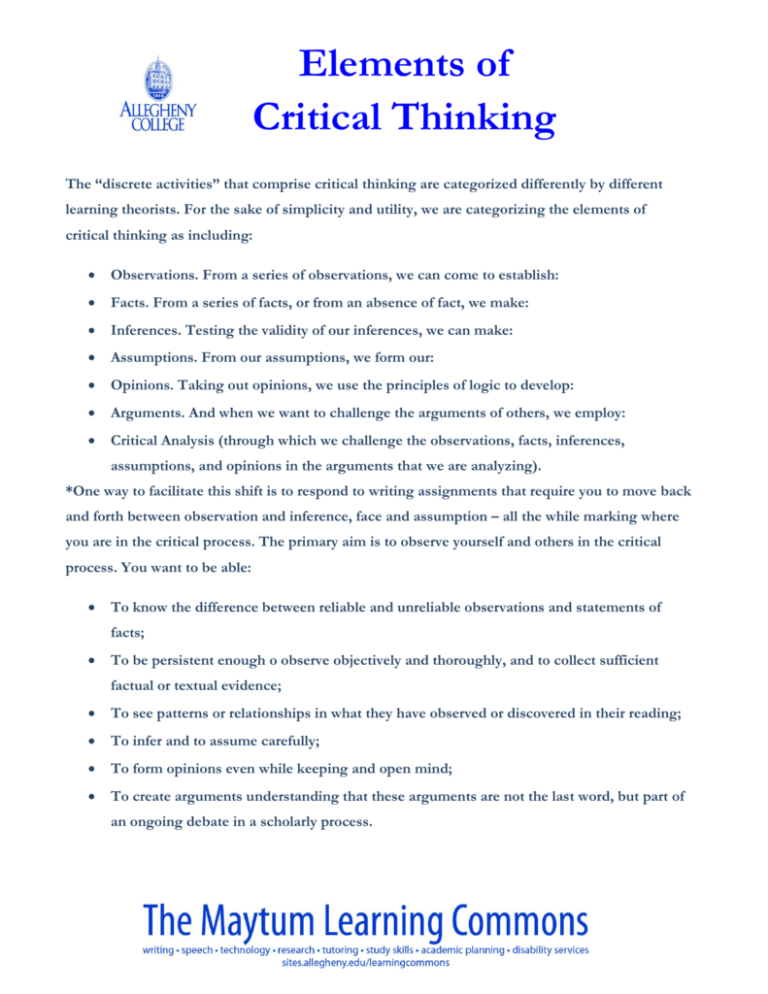 Elements of
Critical Thinking
The "discrete activities" that comprise critical thinking are categorized differently by different
learning theorists. For the sake of simplicity and utility, we are categorizing the elements of
critical thinking as including:

Observations. From a series of observations, we can come to establish:

Facts. From a series of facts, or from an absence of fact, we make:

Inferences. Testing the validity of our inferences, we can make:

Assumptions. From our assumptions, we form our:

Opinions. Taking out opinions, we use the principles of logic to develop:

Arguments. And when we want to challenge the arguments of others, we employ:

Critical Analysis (through which we challenge the observations, facts, inferences,
assumptions, and opinions in the arguments that we are analyzing).
*One way to facilitate this shift is to respond to writing assignments that require you to move back
and forth between observation and inference, face and assumption – all the while marking where
you are in the critical process. The primary aim is to observe yourself and others in the critical
process. You want to be able:

To know the difference between reliable and unreliable observations and statements of
facts;

To be persistent enough o observe objectively and thoroughly, and to collect sufficient
factual or textual evidence;

To see patterns or relationships in what they have observed or discovered in their reading;

To infer and to assume carefully;

To form opinions even while keeping and open mind;

To create arguments understanding that these arguments are not the last word, but part of
an ongoing debate in a scholarly process.