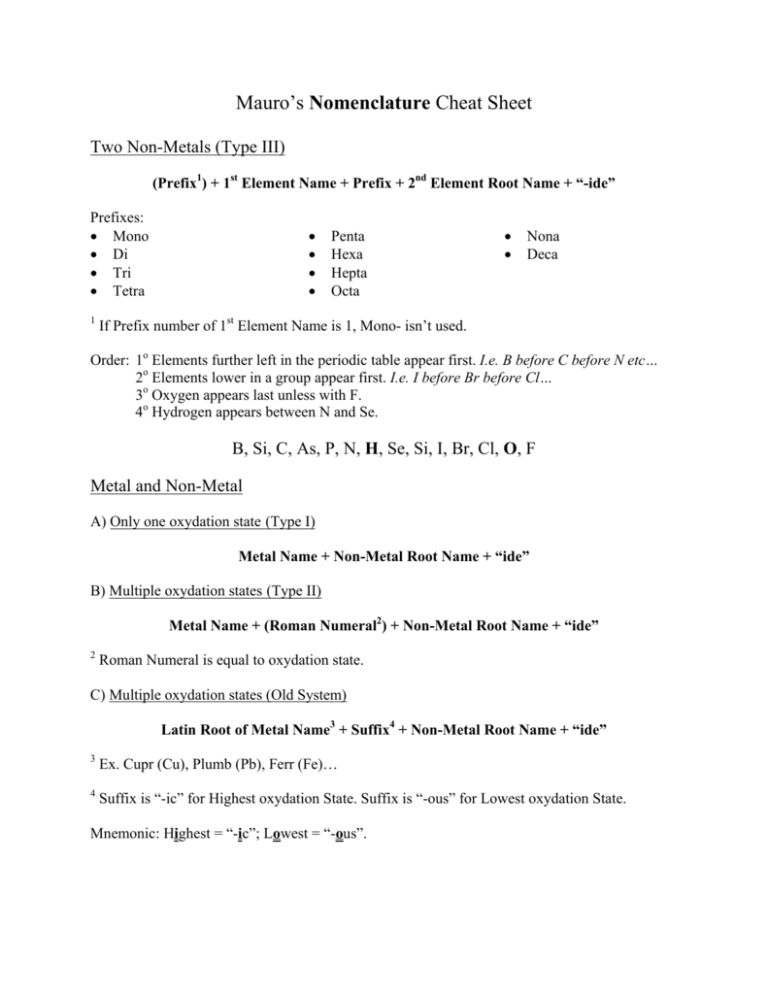 Mauro's Nomenclature Cheat Sheet
Two Non-Metals (Type III)
(Prefix1) + 1st Element Name + Prefix + 2nd Element Root Name + "-ide"
Prefixes:
• Mono
• Di
• Tri
• Tetra
1
•
•
•
•
Penta
Hexa
Hepta
Octa
•
•
Nona
Deca
If Prefix number of 1st Element Name is 1, Mono- isn't used.
Order: 1o Elements further left in the periodic table appear first. I.e. B before C before N etc…
2o Elements lower in a group appear first. I.e. I before Br before Cl…
3o Oxygen appears last unless with F.
4o Hydrogen appears between N and Se.
B, Si, C, As, P, N, H, Se, Si, I, Br, Cl, O, F
Metal and Non-Metal
A) Only one oxydation state (Type I)
Metal Name + Non-Metal Root Name + "ide"
B) Multiple oxydation states (Type II)
Metal Name + (Roman Numeral2) + Non-Metal Root Name + "ide"
2
Roman Numeral is equal to oxydation state.
C) Multiple oxydation states (Old System)
Latin Root of Metal Name3 + Suffix4 + Non-Metal Root Name + "ide"
3
Ex. Cupr (Cu), Plumb (Pb), Ferr (Fe)…
4
Suffix is "-ic" for Highest oxydation State. Suffix is "-ous" for Lowest oxydation State.
Mnemonic: Highest = "-ic"; Lowest = "-ous".
Polyatomic Ions containing Oxygen
(Prefix +5) Non-Oxygen Element Root + Suffix5
5
Suffixes for Polyatomic Ions:
Prefix / Suffix
Hypo________ite
________ite
________ate
Per________ate
Only one combination
2 possible combos
Only one oxyion type
Least Oxygen
Most Oxygen
4 possible combos
Least Oxygen
2nd Least Oxygen
2nd Most Oxygen
Most Oxygen
Acids
A) Binary acids (H + Non-metal) and Polyatomic Ion Acids without oxygen
Hydro + Non-metal Root Name + "-ic" + Acid
B) Polyatomic Ion Acids containing oxygen (H + Polyatomic Ion)
Polyatomic Ion Root Name + Suffix6 + Acid
6
Polyatomic Ion Suffix changes from "-ite" to "-ous" or from "-ate" to "-ic".