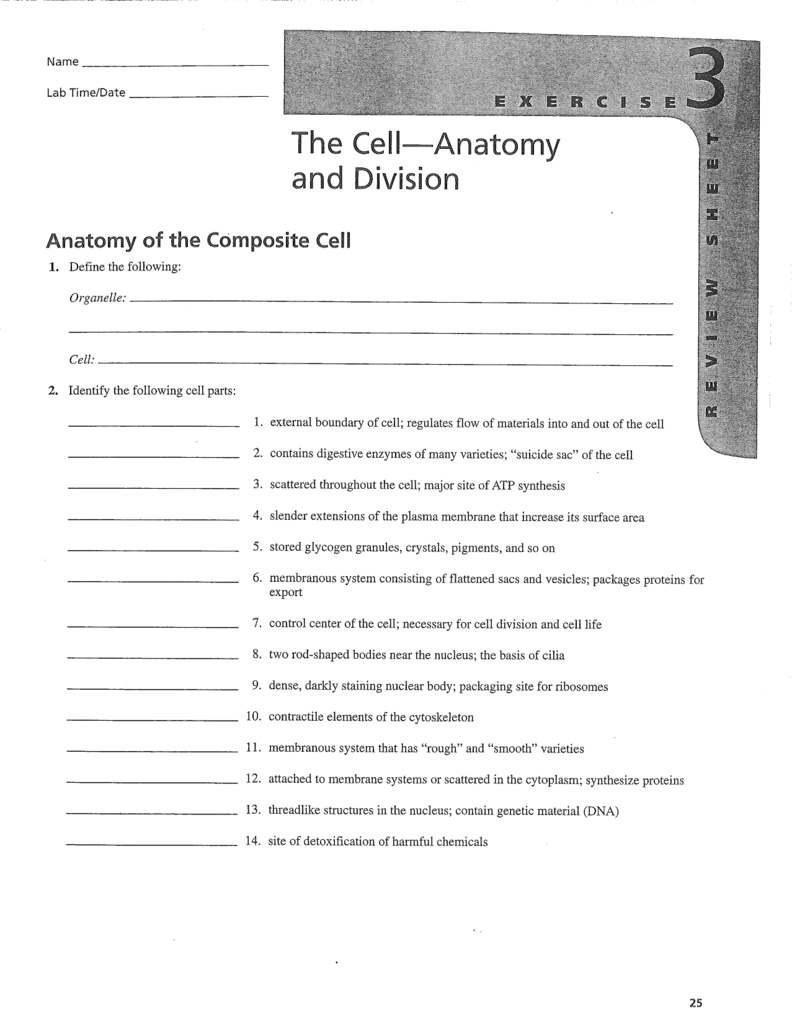 Name
Lab Time/Date
The Cell Anatomy
and Division
Anatomy of the Composite CeHU
1. Define the following:
Organelle:
Cell:
0
Identify the following cell parts:
1. external boundary of cell; regulates flow of materials into and out of the cell
2. contains digestive enzymes of many varieties; "suicide sac" of the cell
3. scattered throughout the cell; major site of ATP synthesis
4. slender extensions of the plasma membrane that increase its surface area
5. stored glycogen granules, crystals, pigments, and so on
6. membranous system consisting of flattened sacs and vesicles; packages proteins for
export
7. control center of the cell; necessary for cell division and cell life
8. two rod-shaped bodies near the nucleus; the basis of cilia
9. dense, darkly staining nuclear body; packaging site for ribosomes
10. contractile elements of the cytoskeleton
11. membranous system that has "rough" and "smooth" varieties
12. attached to membrane systems or scattered in the cytoplasm; synthesize proteins
13. threadlike structures in the nucleus; contain genetic material (DNA)
14. site of detoxiflcation of harmful chemicals
25
26
Review Sheet 3
3. In the following diagram, label all parts provided with a leader line.
\
Differences and SimiUarities in CeUM Structure
4. For each of the following cell types, on line (a) list one important structural characteristic observed in the laboratory.
On line (b), write thefimcdon that the structure complements or ensures.
squamous epithelium
a.
b.
sperm
a.
b.
smooth muscle
a.
b.
red blood cells
a.
b.
5. What is the significance of the red blood cell being anucleate (without a nucleus)?
Did it ever have a nucleus?
When?