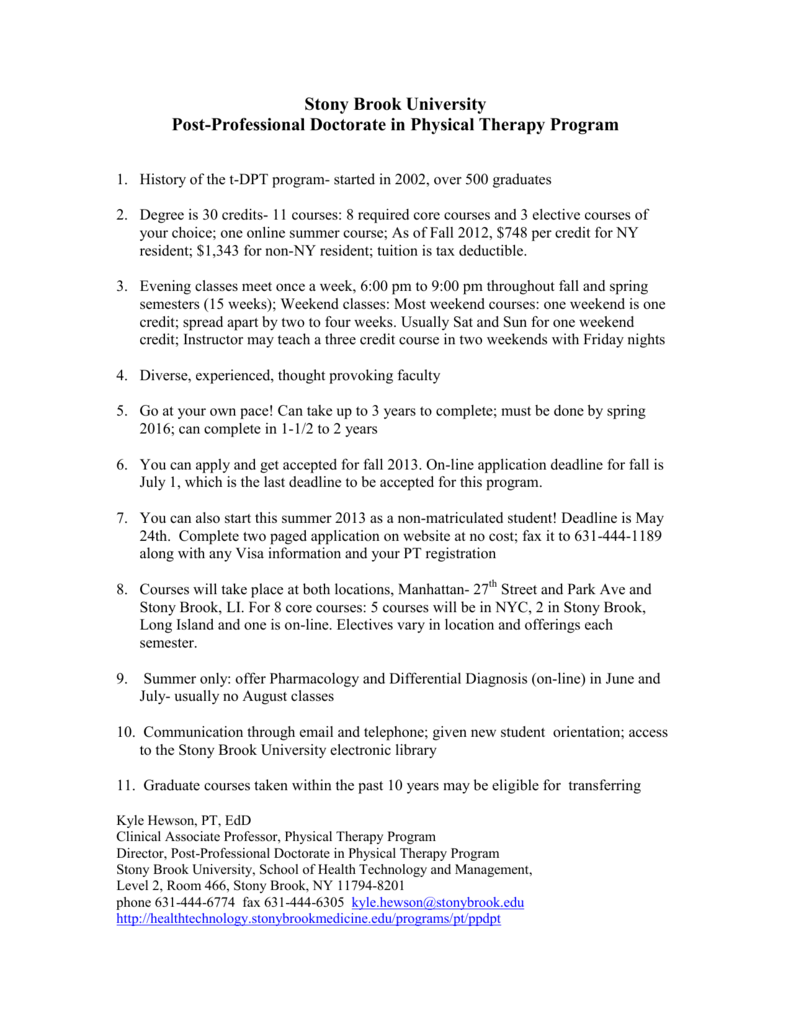 Stony Brook University
Post-Professional Doctorate in Physical Therapy Program
1. History of the t-DPT program- started in 2002, over 500 graduates
2. Degree is 30 credits- 11 courses: 8 required core courses and 3 elective courses of
your choice; one online summer course; As of Fall 2012, $748 per credit for NY
resident; $1,343 for non-NY resident; tuition is tax deductible.
3. Evening classes meet once a week, 6:00 pm to 9:00 pm throughout fall and spring
semesters (15 weeks); Weekend classes: Most weekend courses: one weekend is one
credit; spread apart by two to four weeks. Usually Sat and Sun for one weekend
credit; Instructor may teach a three credit course in two weekends with Friday nights
4. Diverse, experienced, thought provoking faculty
5. Go at your own pace! Can take up to 3 years to complete; must be done by spring
2016; can complete in 1-1/2 to 2 years
6. You can apply and get accepted for fall 2013. On-line application deadline for fall is
July 1, which is the last deadline to be accepted for this program.
7. You can also start this summer 2013 as a non-matriculated student! Deadline is May
24th. Complete two paged application on website at no cost; fax it to 631-444-1189
along with any Visa information and your PT registration
8. Courses will take place at both locations, Manhattan- 27th Street and Park Ave and
Stony Brook, LI. For 8 core courses: 5 courses will be in NYC, 2 in Stony Brook,
Long Island and one is on-line. Electives vary in location and offerings each
semester.
9. Summer only: offer Pharmacology and Differential Diagnosis (on-line) in June and
July- usually no August classes
10. Communication through email and telephone; given new student orientation; access
to the Stony Brook University electronic library
11. Graduate courses taken within the past 10 years may be eligible for transferring
Kyle Hewson, PT, EdD
Clinical Associate Professor, Physical Therapy Program
Director, Post-Professional Doctorate in Physical Therapy Program
Stony Brook University, School of Health Technology and Management,
Level 2, Room 466, Stony Brook, NY 11794-8201
phone 631-444-6774 fax 631-444-6305 [email protected]
http://healthtechnology.stonybrookmedicine.edu/programs/pt/ppdpt
CORE COURSE SCHEDULE
Fall 2013
Research Design
(NYC or LI-E)
Clinical Decision
Making (LI-W)
Summer 2014
Winter 2014
3 cr. Computer Literacy
(NYC-W)
Spring 2014
2 cr. Medical Imaging (LI- W)
Evidence Based Practice
(LI- E)
3 cr.
3 cr.
Fall 2014
Winter 2015
Differential
Diagnosis
(On-line)
3 cr. Clinical Decision
Making (NYC-W)
3 cr. Outcome Measures
(NYC-W)
Spring 2015
Evidence Based
Practice (NYC- E)
Summer 2015
3 cr. Pharmacology
(NYC-W)
Fall 2015
4 cr. Elective TBD
Differential
Diagnosis
(On-line)
Winter 2016
Elective TBD
2 cr.
Spring 2016
Elective TBD
All courses to be
completed by the
spring semester.
3 cr.
***** You are required
to complete THREE
elective courses of your
choosing.
3 cr.