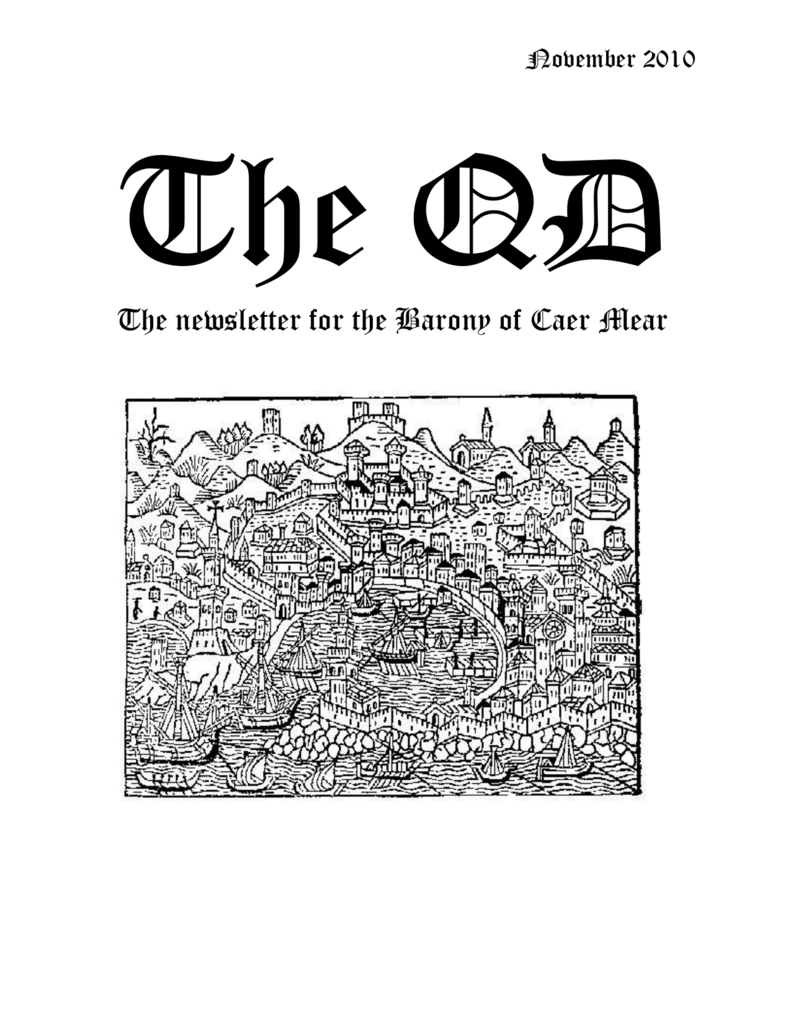 November 2010
The QD
The newsletter for the Barony of Caer Mear
Words from Their Excellencies
Greetings Unto the Populace of Caer Mear!
Following a most exciting Crown Tourney, we are pleased to announce the
crowning of Their Royal Highnesses Michael and Seonaid, new Prince and
Princess of Atlantia!
Here in our homelands of Caer Mear, the Canton of Rivers Point hosted a very
successful demo event at Boulevard Flowers. We express our deepest gratitude
to Lady Ysabella for her tireless coordination efforts, and to every gentle who
helped with set-up, displays, demonstrations, fighting and educating our many
visitors. For those who were unable to attend and witness Our (unofficial)
court, you missed seeing Lord Broccan ordered into the service of Brother
Amos' abbey for failure to pay his baronial taxes. (We are pleased to report
since that time, his debt has been repaid through his hard work delivering
chocolate coins to the children present.)
The level of activities and involvement throughout the Barony has been most impressive as of late.
Tuesday nights are filled with a remarkable array of arts and sciences and an impressive growth of
martial activities. Special thanks to all of our A&S teachers, especially Baroness Magda for teaching
her "sheepy bits" skills to our other cantons.
Later this month, We will embark on Holiday Faire, a most festive seasonal celebration in Stierbach.
Then on December 11, We hope you will share the joy of the holiday season with Us during Caer
Mear's annual Yule Celebration at Battery Park Christian Church.
Yours in service,
Baron Augustin & Baroness Aine
A note from our Seneschal
I wanted to give everyone a heads up that the
Henley Theater group will be using the
downstairs Great Room on Tuesday nights all
month. So please be sure not to disturb them.
Thanks
Baron William
Our History Speaks
Interesting tidbits from our past, all happening
in the month of November.
Nov 23, 1165 - Pope Alexander III returns from
exile to Rome.
Nov 3, 1394 - Jews are expelled from France by
Charles VI
Nov 7, 1492 - The Ensisheim Meterorite, the
oldest meteorite with a known date of impact,
strikes the earth around noon in a wheat field
outside the village of Ensisheim, Alsace, France.
Nov 15, 1515 - Cardinal Thomas Wolsey is
investigated as a Cardinal.
Nov 27, 1582 - William Shakespeare marries
Anne Hathaway.
Data from www.historyorb.com
Caer Mear's Yule Celebration
December 11, 2010
Their Excellencies of Caer Mear invite you to join them for an afternoon of fun, food and friendship
as we come together to celebrate the Yule season.
Martial Activities: none
Arts & Sciences Activities: Their Excellencies will be choosing their favorite example of a period Yule
Celebration. The other competition will be for the best mask. Remember the Baroness loves Red
and Blue.
Baoness Ysabeau's Challenge: In support of Baroness Magda's "Get the Flock Outa Here" sheepy bits
program, Baroness Ysabeau will award prizes to the one who spins the most fleece both by weight
and by yardage.
Children's Activities: Our own Chancellor Minor, Emelyn, will be organizing activities for the
children.
Feast Information: Feast will be a potluck supper. Please bring a dish to feed approximately 6 to 8
for each person eating in your party. We would also ask that you provide a list of ingredients, for
those with dietary concerns. Baron William has made a file in the Caer Mear chat group so that you
can list what dish you are bringing.
Site: Battery Park Christian Church located at 4201 Brook Road, Richmond, VA 23227.
The site will open at 3:00 pm and close at 9:30 pm.
Site Restrictions: This is a dry site and our reservation limit is 100 people. There is no charge for
the event. Please send your reservations to the Autocrat. Due to the limited amount of space there
will be no merchanting.
Autocrat: Lady Brianna O'Dinneen, (Jennifer Dinneen) 7801 Bur Oak Lane, Richmond, VA 23237;
Phone: (804) 814-8587, E-mail: [email protected]
In continuation of Baroness Magda's in-depth teaching and study in "sheepy bits";
we present an article by Baroness Ysabeau showing 16th Century directions for spinning
compared with modern techniques.
Sheep To Spindle
by Ysabeau Ferch Gwalchafed
16th C. Instructions per Gervase Markham
20th and 21st C. Instructions per Ysabeau ferch
Gwalchafed, Alden Amos and Bette Hochberg
"It is the office of the husbandman at the shearing of
his sheep to bestow upon the housewife such a
competent proportion of the wool as shall be
convenient for the clothing of his family; which wool
as soon as she hath received it, she shall open and
with a pair of shears (the fleece lying as it were
whole in front of her) she shall cut away all the
coarse locks, pitch, brands, tarred locks and other
felterings and lay them by themselves for coarse
coverlids or the like."
"Then the rest so cleaned she shall break into pieces,
and toze it every lock by lock, that is with her hands
open and divide the wool so as not any part thereof
may be feltered or close together, but all open and
loose, then so much of the wool as she intends to
spin white, she shall put by itself, and the rest she
intends to put into colors she shall weigh up and
divide into several quantities, according to the
proportion of the web which she intends to make,
and put every one of them into particular bags made
of netting, with tallies or little pieces of wood fixed
onto them with privy marks thereon for both the
weight, the color, and the knowledge of the same
wool when the first colored is altered."
This done, she shall if she please send them unto the
dyers, to be dyed after her own fancy." (Markham
also briefly explains dying and provides a few basic
recipes.)
1. Acquire a complete (intact) fleece from the "husbandman."
A typical fleece is 6-8 pounds.
2. Lay the fleece out in 1 layer like a bear skin rug.
3. Skirt the fleece; remove any obvious debris, vegetable
matter, felted sections of the fleece.
4. After skirting, (if a white fleece) select the portion of the
fleece to remain white, and then divide the rest up by weight
based on estimated gauge to ensure enough wool for yarn at
the proper grist. If the whole fleece is keeping the same color,
skip this step.
5. If not working with the fleece right away, put into a cloth
or netting bag with key info about the fleece. (For example:
today we are working on "Brown Sugar's fleece, a
Rambouillet ewe, 4 yrs old, and harvested in the fall of 2007.
NOTE: we are skipping the "tozing" step, which will be
explained below.
6A. Washing wool I recommend the 3 bucket technique.
Choose 1 bucket that is smaller than the other two and punch
holes in the bottom to make an enormous colander. Fill one
of the remaining buckets with "hand-hot" (about 90 to 100
degrees) water. Add soap (not detergent! Dawn, Woolite, Dr.
Bronner, not Tide or Cheer ). You'll know when you've added
enough soap when you swish your hands around in the water
(now called "liquor") and your hand feels sticky. This is the
soap sticking to the lanolin and suint on your hands and is
now ready to go to work on your wool.
6B. Open up the locks of wool so the fibers are straight and
lay in the colander. Aim for about 4-8 ounces of wool per
gallon of water, depending on filth of wool.
6C. Gently place the colander in the bucket with the liquor
and gently push any floating locks down so everything is
submerged. DO NOT agitate or swish the colander. Just let it
"When you have thus dyed your wool ….and have dried it
well; then you shall take it forth, and toze it over again as
you did before: for the first tozing was to make it receive
the color or dye: this second is to receive the oil and
make it fit for spinning;"
"You shall then oil it, or as the plain housewife terms it,
grease it, in this manner: being laid in a round flat bed,
you shall take of the best rape oil, or for want thereof
either well rend red good grease or swine grease, and
having melted it, with your hand sprinkle all over your
wool and work it very well into the same: then turn your
wool about and do as much on the other side, till you
have oiled all the wool over, and that there is not a lock
which is not moistened with the same…and taking some
thereof prove it upon the and if you se it draws dry and
breaketh then you may put more oil unto it, but if it
draws well, then keep it there without any
alteration…you shall know that three pound of grease or
oil will sufficiently anoint or grease 10 pounds of wool.
After your wool is thus mixed, oiled and tummed, you
shall then spin it upon great wool wheels (or use
handspindles) according to the order of good
housewifery, the action whereof must be got by practice
and not relation; only this you shall be careful, to draw
your thread according to the nature and goodness of your
wool, not according to your particular desire; for if you
draw a fine thread from a wool which is of a coarse
staple, it will want substance….so likewise if you draw a
coarse thread from a wool of fine staple, it will then be so
much over thick…to the disgrace of good housewifery,
and loss of much cloth, which else might have been
saved.
rest in the hot water for five minutes, then gently raise and
lower the colander 2-3 times over 10 to 15 minutes. Let the
water and soap flow gently through the water, swishing or
agitating excessively will cause the locks to felt together.
6D. Fill the second bucket with water that is the same
temperature as the first, or slightly cooler, no more than 20
degrees cooler. A temperature shock may felt the wool.
Repeat the gentle raise/lower action for another 15 minutes.
On the last raise, gently press the wool to the bottom of the
colander to remove excess water. Flip the bucket over on one
end of a bath towel and roll like a burrito. Press more water
out of the wool and into the towel by pressing down. Open
and spread the clean damp wool on a fresh towel or a screen
and let air dry.
7. Using the bags of wool I washed and dried ahead of time,
card the wool. Since Markham recommends "dying in the
wool" color mixing could be done at carding step and gives
some sample mix ratios for two and three colors. Color
mixing in this manner justifies its own class.
9. Assuming you oiled the wool, you will need to card it again
to align the fibers for spinning.
10. As you take the wool of the cards, you create a rolag by
rolling the straightened fibers in 1 direction and set it aside
and continue carding until you have enough rolags to do
some serious spinning.
11. The teaching of spinning with a spindle is a class on it's
own. Briefly, you take a spindle with a 12-18 inch leader yard
and lay one end of your rolag over it. With a vigorous clockwise twist, set the spindle turning. Notice the twist forming a
V shape, grab the point of the V shape and pull down, letting
the fibers move and twist around each other into thread.
When the spindle is in danger of hitting the floor or the yarn
breaks, wind up what you have spun, leaving a 12 inch tail to
join to the next rolag.
12. Spinning takes 5 minutes to learn, after that its practice,
practice, practice. Markham's advice here is good; let the
wool decide what size yarn it will become.
(some content was trimmed to fit)
Resources:
1. "The English Housewife," Gervase Markham, edited by Michael R Best; McGill-Queens University Press; 1998,
ISBN#0-7735-1103-2.
2. "The Alden Amos Big Book of Handspinning" Alden Amos; Interweave Press, 2001, no ISBN#.
3. "Spin Span Spun," Bette Hochberg, self published, 1979, ISBN#0-9600990-3-4
4. "Handspindles," Bette Hochberg, self published, 1980, ISBN#0-9600990-4-2
Rivers Point's Demo Success!
A great big thank you to everyone who came out to Boulevard Flower Gardens on October 30th to
support the demo. This was our 2nd year there and thanks to good weather, great volunteers and
awesome advertizing by Boulevard Flowers it was a huge success!
Boulevard Flowers gave the guests a hay ride out to our area. They also have a huge trebuchet up on
the hill overlooking the site and they were slinging pumpkins at hay bales every quarter of a hour to the
amusement of all.
Our biggest improvement from last year was
the "make and take" hands-on kids activities
run by Caer Mear's own Chancellor of
Minors, Emelyn with help from Bianca,
Samantha and Petite Marie. The children
learned basic weaving, kumihimo and to
design heraldry.
Their Excellencies ended the day with a very
humorous mock baronial court. They had
tokens of Their appreciation for all the
volunteers and chocolate coins were handed
out to the children of our guests.
Francine, the owner of the nursery, was very
pleased and is eager for this to become an
annual event. She showed her appreciation with a $300 donation as well as collecting donations
totaling $214 from the many guests that attended. She had advertized a "$5 suggested donation per
family". Our chatelaine handed out many brochures giving information on the Canton, the Barony and
our various local gathers. We are hoping to hear from some of those folks soon!
My heartfelt thanks and deepest gratitude goes out to:
 The heavy fighters - Baron Augustin, Earl John, Amos, Ardgal, Aubrin, C.J. and Gustav as the
marshal
 The artisans - Countess Honor (leather work), Baroness Magda (basketry), Martine (pattern
knitting), Broccan (wire weaving), Gytha (spinning), Kateryne (brass needles), Marie (pater
nosters)
 Info Point and A&S display booth - Lady Elizabeth, Master Thomas and Rosaleen
 Children's Corner - Emelyn, Bianca, Samantha and Petite Marie
 Mingling with our guests - Baroness Aine, Abby, Robin, Isabel, Helen, Lyon & her daughter
 Those who came out as guests - Tara and Brianna
It was a truly fun and wonderful day! I can't wait for next year and hope to see you there.
Ysabella Cacemoine
Demo Coordinator
Photo courtesy of Theresa of Cahir, pictured left to right - Ysabella, Elizabeth & Gytha
Upcoming local A&S Classes
Tuesday nights - 7pm at the Battery Park Christian Church located at 4201 Brook Road in Richmond
November 16th: Looking Lovely in a Veil with Baroness Melisent
November 30th: Dancing with Master Aedan
December 7th: SCA Customs and Courtesy with the Baroness Brigade and friends.
November 18th, 7:30-9:00 PM
Epiphany Catholic Church, on Smoketree Drive, off of Courthouse Road.
Yarnvid is having Topic Night next week, 11/18, instead of the usual fourth Thursday (Thanksgiving).
In the holiday spirit, they're having a recipe exchange! Bring copies of your favorite medieval or
modern recipe to swap.
Upcoming Events
November 2010
6
Fall Crown Tournament (R,H)
Atlantia
Leesburg, VA
20
Holiday Faire (Q)
Stierbach
Manassas, VA
20
Feast of St Andrew (K)
Tear-Sea's Shore
Harleyville, SC
December 2010
4
Unevent (R)
Sacred Stone
Winston Salem, NC
10-12
Yule Toy Tourney V
Nottinghill Coill
Pickens, SC
11
Meet Us Under the Bridge
Ponte Alto
Vienna, VA
11
Caer Mear's Yule Celebration
Caer Mear
Richmond, VA
11
Winter Soltice (Q)
Crois Brigte
Winston-Salem, NC
January 2011
1
Day of Dance IV
Bright Hills
Towson, MD
8
Kingdom of Atlantia 12th Night (R)
Atlantia
Morehead City, NC
15
Mid Winter Revel
Lochmere
Lothian, MD
21-23
Midwinters Tale
Border Vale Keep
Augusta, GA
22
Songs of the Stone
Middlegate
Jamestown, NC
22
Ponte Alto Investiture
Ponte Alto
29
Manannan Mac Lir XXXII
Tear-Sea's Shore
Ehrhardt, SC
29
Ice Castle
Black Diamond
Newport, VA
29
Interbaronial Twelfth Night
Marinus
Virginia Beach, VA
Baronial Business Meeting Minutes
October 20th, 2010
Meeting was called to order at 7:04 by Baron William,
Officer Reports
Seneschal
3rd Qtr reports has been sent in. Noticed an increase in attendance at FP/gathers each week. Lots of
great classes and seeing several new fighters. Reminder to officers that Unevent is Dec 4th in WinstonSalem, NC. If unable to attend please try to find a proxy. No FP/gather on Nov 23rd, Dec 21st or Dec
28th due to holidays.
Exchequer
Bank balance is $12,800 exactly. 3rd Qtr report is ready for signing. My warrant expires this Dec. Will
be extending warrant until the 4th Qtr and dooms day reports are finished. Then we'll review the
books before transferring them over to Debbie deTreville.
Chatelaine
Not present, no report.
Chronicler
Jayson has requested to step down and Pamela Raymor has agreed to step up. Warrant letter was
emailed yesterday.
Webminister
Beth is redesigning the website and it should be up in a few weeks.
Herald
3rd Qtr report is in. Took classes at Pennsic in conflict checking, name recourses and remedial crayola
marker coloring. Have 3 submissions ready to send in. Travelled to RP for a heraldry class and to help
with submissions. Will be hosting a project night at our house on Nov 14th & Dec 12th.
MOAS
3rd Qtr report was filed. Classes are going well. Yarnvid & RP both are sponsoring once a month
classes. Battles of Brittan had some worthy A&S entries with documentation. Event report
forthcoming. Lady Brianna won an Honorable Mention for speedy embroidery at St. Bridget's
Threadneedle Fair held in Tir-y-don.
Chancellor Minor
3rd Qtr report is done. There will be children's activities at the Oct 31st demo and at Yule in Dec.
Knight Marshall
3rd Qtr report is done. Fighter practice is going well.
Sub-Groups
Rivers Point
Tracy Davis is new Chancellor Minor. Demo - Oct 30th.. Nov 7th is Sheepy Bits class w/Magda.
Yarnvid
43 people registered for Battles of Brittan. Made a small profit. Group will vote on donating the profit
to the Kingdom Travel Fund.
Caer Gelynniog
Sunday, Oct 24th is a FP/gather at Sir Corby's in Isenfir. Skip is putting in a bid for Summer or maybe
Winter University. .
(business meeting minutes continued)
Events
Rivers Point Demo - Saturday, Oct 3oth
Boulevard Flower Gardens in Colonial Heights from 11am to 3pm. Set up is starting at 9am. Volunteers
are needed
Yule - Saturday, Dec 11th
Brianna is autocrat. Pot luck as usual. There will be A&S competitions & activities for the children.
Caritas - Jan 22nd to 28th
Cot set up is on Sat, Jan 22nd, time to be announced later. We are providing dinner on Tues, Jan 25th
in lieu of a FP/gather. Ron and Ellen Osceola will be heading up the cooking. Starting on Nov 30th all
monies from the donation jar will go towards the food cost. Food expense is usually under $150 so any
extra money collected will be donated to the church as a gift.
Sapphire 2011
Kim Moore submitted the only bid for Sapphire. Same details as the last few yrs. Either $10 for all
wknd or $12 pre-reg and $15 at door, either will make profit per last few yrs attendance. Financial
committee will vote after business meeting is over.
Old Business
 Storage units needs some kind of lighting. There is no electricity available.
New Business
 Question was brought up about better lighting for the back of the church yard for the fighters.
Bryce & Amos have lights but the Barony doesn't currently own any.
 Rivers Point now has a marshal and will have fighter practices along with their gathers at 1 pm
on the 1st & 3rd Sunday of each month.
 Melisent wants another camping event like Summer War around July. Anyone interested in
putting in a bid?
B&B
At WoW they attended a dinner with all the Baronages and the Royals. His Excellency enjoyed getting
to know TRMs and hear Their caring interest in what was happening in and around Their Kingdom
They wish to get to as many events as possible so His Excellency suggested that maybe CM could host
KASF or University with the proceeds going to Their travel fund.
Thank you to everyone who helped out at WoW. Caer Mear had a great camp.
Their Excellencies will be attending the Demo on 10/30, Crown Tourney, Holiday Faire, Yule and 12th
Night. Hope to see you there.
Meeting ended at 8:06.
Financial Committee
FC met immediately following the close of the business meeting. There was a unanimous vote in favor
of accepting Kim's bid for Sapphire with a site fee of $10 pre-reg, $15 at the door and $10 for Sunday
only.
The next Baronial Business meeting will be held on Wednesday, November 17th at
7:00 PM at the Battery Park Christian Church.
Regnum
Barony of Caer Mear
Baronage
Baron Augustin le Blinde
Baroness Aine Rua
Jim and Tracy Janicki
brotheraugustin AT yahoo.com
aine_rua AT yahoo.com
Seneschal
Baron William Cameron
Ray Billingslea
1249 N. Cottonwood Road
Richmond, VA 23236
(804) 366-6690
raybill57 AT gmail.com
Exchequer
Maymunah bint Da'ud al Siqilliyah
Betty Eyer
alSiqilliyah AT gmail.com
College of Yarnvid
Seneschal
Thomas Longshanks
Exchequer
Chatelaine
Baroness Inga
Carolyn Quenstedt
quenstedt AT aol.com
Chronicler
Ysabella Cacemoine
Pamela Raymor
2055 Overbrook Road
Petersburg, VA 23805
(804) 896-1224
otterpop63 AT yahoo.com
Webminister
Arnóra in Rauõa
Beth deTraville
lady.arnora.in.rauda AT gmail.com
Seneschal
Lord Briain Sean O'Brien
Larry Baxter
(804) 405-4617
Kateryne Ferneley
Megan Shogren
8418 Spruce Pine Drive
Richmond, VA 23235
brockenspectre AT yahoo.com
Herald
Archery Marshal
Chatelaine
Honor of Restormel
Gloria Woodard
honor AT restormel.net
Exchequer
Gustav von Siberwald
Peter Topkis
(804) 690-9693
gustavvs AT yahoo.com
Chancellor Minor
Minister of Arts & Science
Exchequer
Seneschal
Ron Osceola
3703 Lunar Court
Richmond, VA 23234
(804) 385-0485
ronosceola AT gmail.com
Knight Marshal
Baron Kendrick del Grenewode
ramsdell AT msn.com
Kenelm Rogan
Kenny Riggleman
caergseneschal AT gmail.com
Canton of Rivers Point
Knight Marshal
Herald
Broccan mac Ronain ui Lochlainn
William "Skip" Davis
bonnskip24 AT embarqmail.com
Mary Beth Keller
caergexchequer AT gmail.com
Baroness Magda z Stalburg
Maggie Pruett
9386 Laurel Grove Rd
Mechanicsville, VA, 23116
(804) 746-3421
maggiepruett AT comcast.net
Emelyn
Amy Pruett
aapruett AT gmail.com
Lady Anna of Calais
Brenda Pomfrey
Canton of Caer Gelynniog
Minister of Arts & Science
William of Wolverhampton
Charles Oliff
CaerGArchery AT gmail.com
Martine Picot
Bonnie Davis
CaerGChatelaine AT gmail.com
Chatelaine
Minister of Arts & Science
Elizabeth Tender Herte
Elizabeth Lent
3906 Pruett Drive
Hopewell, VA 23860
(804) 720-1783
eliza595rx AT yahoo.com
Sharon Miller
Isabel Henry
(804) 467-5664
lumiere62 AT verizon.net
Chancellor of Minors
Rosaleen
Tracy Davis
tracydv AT yahoo.com
Scheduled Meetings
Caer Mear
Caer Gelynniog
Business Meetings
Business Meetings
Monthly; 3rd Wednesday at 7:00pm
Monthly; every 2nd Thursday at 7:00pm
Held at Bethel Baptist Church
227 Bethel Church Road, Palmyra, VA, 22963
Fighter Practice / A&S Gathers
Weekly; every Tuesday at 7:00pm
Both are held at Battery Park Christian Church,
4201 Brook Road, Richmond VA
College of Yarnvid
Business Meetings
Monthly; every 2nd Thursday at 7:30pm
Arts & Science Gathers
Fighter Practice - Archery & Thrown Weapons
Monthly; every 2nd Sunday at 2pm
Fighter Practice - Heavy, Rapier, Archery &
Thrown
Monthly;every 4th Sunday at 1pm
*Contact Archery Marshal for location & directions
at coliff AT bridgewater.edu
Canton of Rivers Point
Weekly; every Thursday at 7:30pm
*2nd Thursday is the business meeting
**3rd Thursday is Topic Night
Business Meetings
Both are held at Epiphany Church
11000 Smoketree Drive, Richmond VA
Bi-monthly; 1st & 3rd Sundays at 1:00pm
Archery Practice
Monthly; every 3rd Sunday at 4:00pm
Fighter Practice / A&S Gathers
Both are held at the Colonial Heights Public Library
1000 Yacht Basin Dr, Colonial Heights, VA
Weekly; every Sunday at 1:00pm
Held at Rockwood Park
3401 Courthouse Rd, Chesterfield VA
This is The Caer Mear QD, a publication of the Barony of Caer Mear of the Society for Creative Anachronism, Inc. The
Caer Mear QD is available from Pamela Raymor, 2055 Overbrook Road, Petersburg, VA 23805. This newsletter is not a
corporate publication of the Society for Creative Anachronism, Inc. and does not define SCA policies.
For information on reprinting letters and artwork from this publication, please contact the Chronicler, who will
assist you in contacting the original creator of the piece. Please respect the legal rights of our contributors.
Please send submissions to:
[email protected]
We're on the Web!
www.caermear.atlantia.sca.org
Disclaimer:
All clip art in this issue of the QD taken from the Medieval Woodcuts Clipart Collection
(http://www.godecookery.com/clipart/clart.htm)
Copyright 1997-2000 James L. Matterer, all rights reserved.