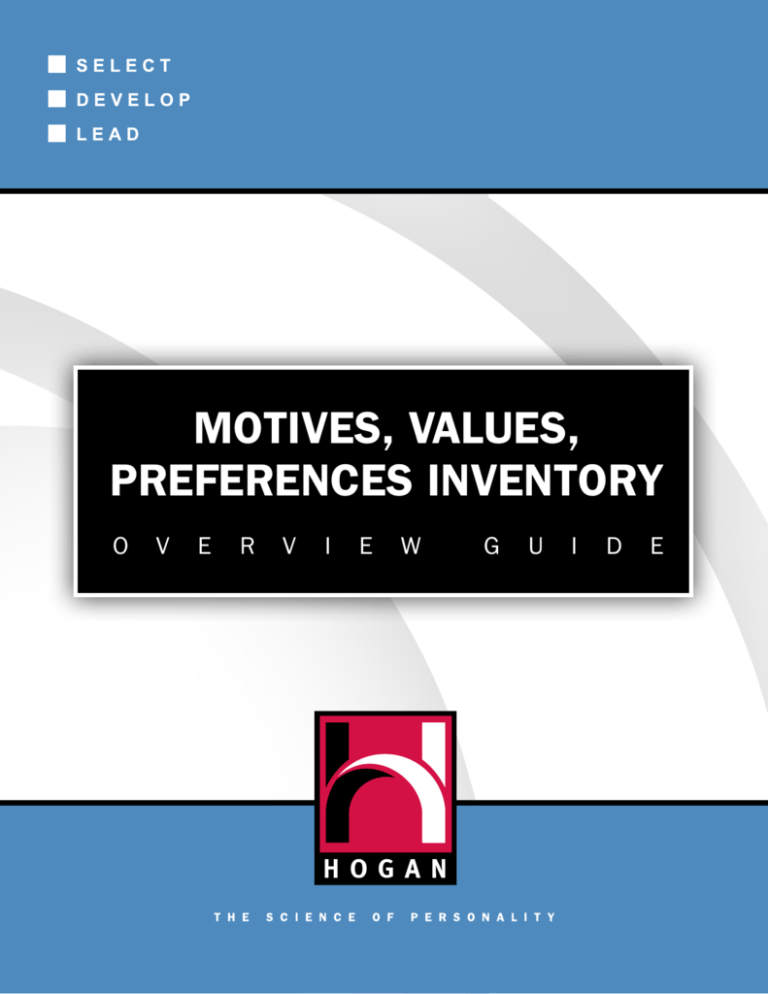 MOTIVES, VALUES,
PREFERENCES INVENTORY
O
V
E
R
V
I
E
W
G
U
I
D
E
M O T I V E S ,
V A L U E S ,
P R E F E R E N C E S
I N V E N T O R Y
MVPI
INTRODUCTION
The Motives, Values, Preferences Inventory (MVPI) is a personality inventory that reveals a person's
core values, goals and interests. Results indicated which type of position, job and environment will be
most motivating for the employee and when he/she will feel the most satisfied.
Organizations can use this information to ensure that a new hire's values are consistent with those
of the organization. The MVPI can also help diagnose areas of compatibility and conflict among team
members. Core values are part of a person's identity. Consequently, they are a person's key drivers they are what a person desires and strives to attain.
reveals a person's
core values, goals and
interests
M O T I V E S ,
V A L U E S ,
P R E F E R E N C E S
I N V E N T O R Y
Features & Benefits
The MVPI is an excellent tool to determine how well a person will fit with a job and with a team,
department, or organization. The inventory offers many unique features:
•
•
•
•
•
•
•
•
•
•
•
•
•
Provides a comprehensive, business-based taxonomy of values
Evaluates the fit between a person's values and an organization's culture
Predicts both occupational success and job satisfaction
User-friendly reports available for employee election or development
Describes the work environments created by leaders
Developed exclusively on working adults
Validated in over 100 organizations
No invasive or intrusive items
No adverse impact
Online administration by protected access
Test items and reports available in multiple languages
Based on motivational constructs from 85 years of research
Instantaneous scoring and reporting output
excellent tool
fit
an
to determine employee
M O T I V E S ,
V A L U E S ,
P R E F E R E N C E S
I N V E N T O R Y
MVPI
Primary Scales & Interpretations
The MVPI identifies a person's core values. Values concern what people want rather than how they
typically behave.
•
•
•
•
•
•
•
•
•
•
Recognition – responsive to attention, approval, and praise
Power – desire for success, accomplishment, status, and control
Hedonism – orientation for fun, pleasure, and enjoyment
Altruistic – desire to help others and contribute to society
Affiliation – desire for and enjoyment of social interaction
Tradition – dedication, strong personal beliefs, and obligation
Security – need for predictability, structure, and order
Commerce – interest in money, profits, investment, and business opportunities
Aesthetics – need for self-expression, concern over look, feel, and design of work products
Science – quest for knowledge, research, technology, and data
want
typically behave
what people
rather than how they
M O T I V E S ,
V A L U E S ,
P R E F E R E N C E S
I N V E N T O R Y
Technical Facts
• 200 items keyed agree, uncertain, or disagree that have been carefully reviewed for invasive
•
•
•
•
•
•
•
•
or intrusive content
15- to 20-minute completion time
Simple and comprehensible items based on a 5th-grade reading level
Research indicates no adverse impact by age, race, ethnicity or gender
MVPI scores stable over time; test-retest reliabilities range from .64 to .88 (mean = .79)
Normed on over 10,000 employed adults from a variety of industries
Over 250,000 individuals have completed the MVPI
Used in more than 100 validation studies
Validation research links MVPI scores with job performance and turnover
MVPI
Each scale is composed of five themes:
Lifestyles – concern the manner in which a person would like to live
Beliefs – involve "shoulds," ideals, and ultimate life goals
Occupational preferences – include the work an individual would like to do and what
constitutes a good job
Aversions – reflect attitudes and behavior that are disliked or distressing
Preferred associates – concern the kind of persons desired as coworkers and friends
research links MVPI scores
with job performance &
turnover
M O T I V E S ,
V A L U E S ,
P R E F E R E N C E S
I N V E N T O R Y
MVPI
Reports & Applications
Corporate culture is defined by leadership within an organization and determines what is valued, not
valued, and what is actively encouraged and discouraged.
The results of the MVPI are obtained through a variety of report formats that range in terms of scope
and complexity. The reports provide detailed MVPI graphs and also provide the following information:
•
•
•
•
•
•
Evaluates the fit between a person's identity and organizational culture
Pinpoints values that enhance or impede a person's performance as a leader
Identifies leadership and organizational implications
Notes a person's desires and plans
Explains a person's long-term themes and tendencies in life
Helps individuals formulate strategies for their careers by clarifying areas of interest to pursue
HOGANLEAD
VA L U E S
C O R E V A L U E S A N D M O T I V AT O R S F O R L E A D E R S H I P R O L E S
L E A D E R S H I P
F O R E C A S T
®
S E R I E S
M O T I V E S ,
V A L U E S ,
P R E F E R E N C E S
I N V E N T O R Y
Administration
The MVPI is self-administered and may be taken individually or in a group setting, using either online
computer administration or paper-and-pencil.
Hogan's state-of-the-art online assessment platform supports the administration of the inventories
in multiple languages, 24/7. Customers can log on to the Hogan site, access the MVPI, complete
the inventory online, and receive a report within seconds after completion. The process is fast, user
friendly, and convenient.
Ordering Information
For more information on the Motives, Values, Preferences Inventory or to purchase reports based on
the MVPI, contact us at info@hoganassessments.com or 800-756-0632.
fast,
user-friendly &
convenient
the process is
© 2009 hogan assessment systems INC.
THE HOGAN LOGO AND STYLIZED "H" ARE REGISTERED TRADEMARKS OF hogan assessment systems INC. NO PART OF THIS
PUBLICATION MAY BE REPRODUCED IN ANY FORM WITHOUT EXPRESS WRITTEN PERMISSION FROM THE THE COPYRIGHT OWNERS.