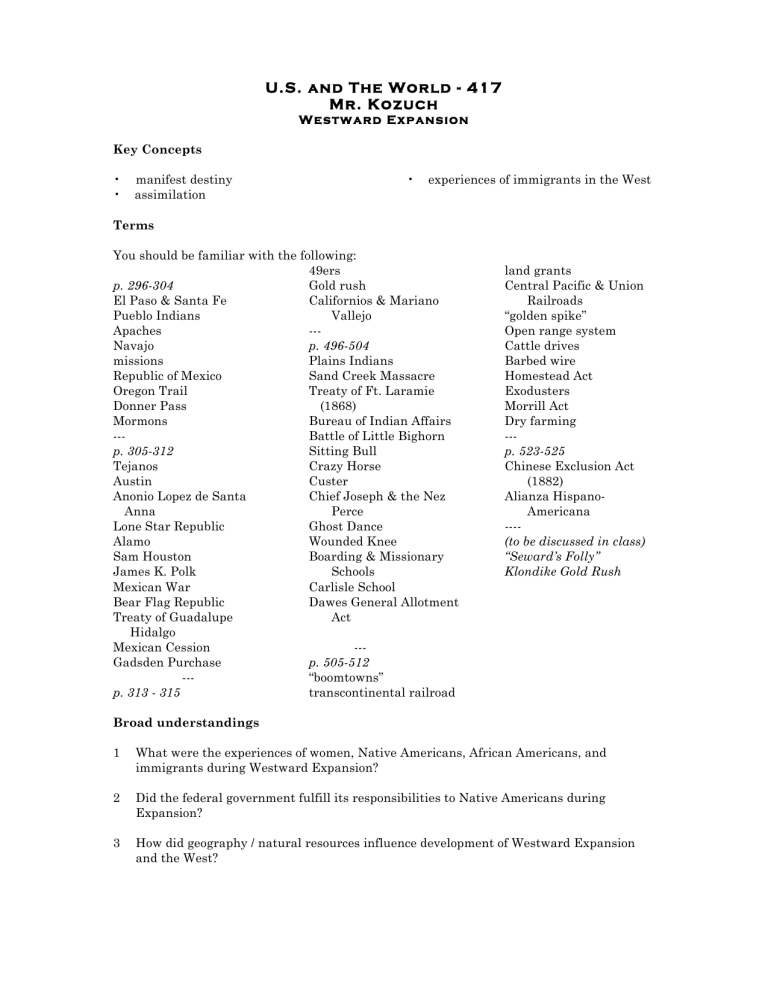 U.S. and The World - 417
Mr. Kozuch
W estw ard Expansion
Key Concepts
•
•
manifest destiny
assimilation
•
experiences of immigrants in the West
Terms
You should be familiar with the following:
49ers
p. 296-304
Gold rush
El Paso & Santa Fe
Californios & Mariano
Pueblo Indians
Vallejo
Apaches
--Navajo
p. 496-504
missions
Plains Indians
Republic of Mexico
Sand Creek Massacre
Oregon Trail
Treaty of Ft. Laramie
Donner Pass
(1868)
Mormons
Bureau of Indian Affairs
--Battle of Little Bighorn
p. 305-312
Sitting Bull
Tejanos
Crazy Horse
Austin
Custer
Anonio Lopez de Santa
Chief Joseph & the Nez
Anna
Perce
Lone Star Republic
Ghost Dance
Alamo
Wounded Knee
Sam Houston
Boarding & Missionary
James K. Polk
Schools
Mexican War
Carlisle School
Bear Flag Republic
Dawes General Allotment
Treaty of Guadalupe
Act
Hidalgo
Mexican Cession
--Gadsden Purchase
p. 505-512
--"boomtowns"
p. 313 - 315
transcontinental railroad
land grants
Central Pacific & Union
Railroads
"golden spike"
Open range system
Cattle drives
Barbed wire
Homestead Act
Exodusters
Morrill Act
Dry farming
--p. 523-525
Chinese Exclusion Act
(1882)
Alianza HispanoAmericana
---(to be discussed in class)
"Seward's Folly"
Klondike Gold Rush
Broad understandings
1
What were the experiences of women, Native Americans, African Americans, and
immigrants during Westward Expansion?
2
Did the federal government fulfill its responsibilities to Native Americans during
Expansion?
3
How did geography / natural resources influence development of Westward Expansion
and the West?