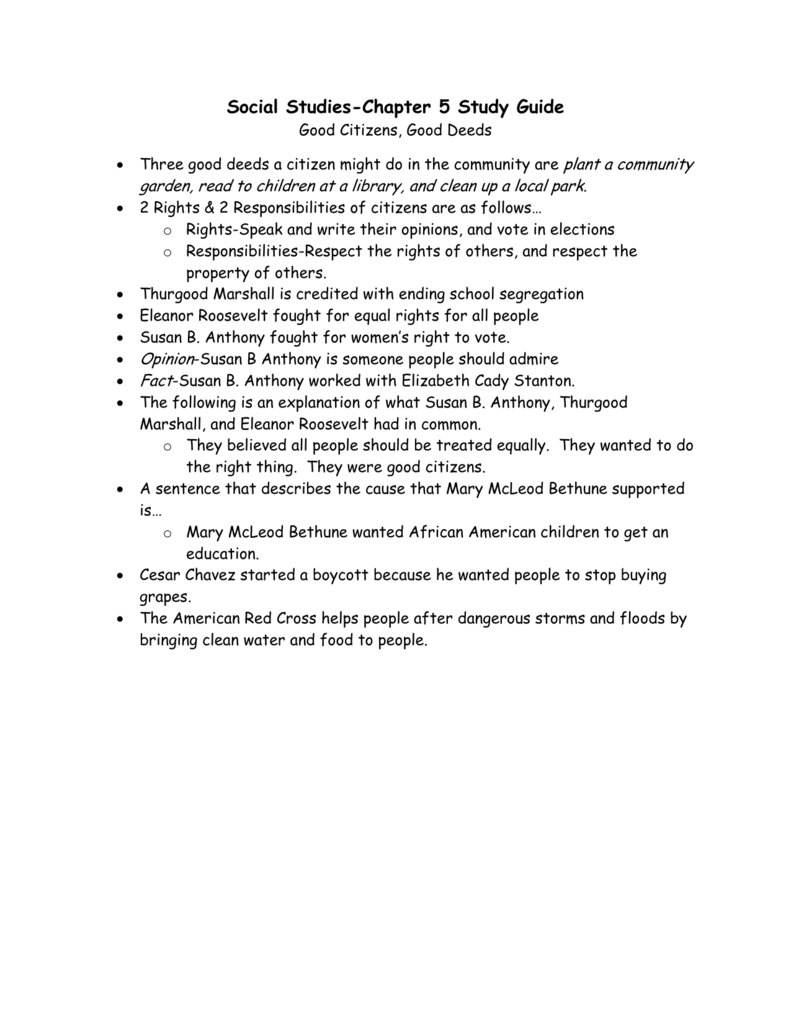 Social Studies-Chapter 5 Study Guide
Good Citizens, Good Deeds











Three good deeds a citizen might do in the community are plant a community
garden, read to children at a library, and clean up a local park.
2 Rights & 2 Responsibilities of citizens are as follows…
o Rights-Speak and write their opinions, and vote in elections
o Responsibilities-Respect the rights of others, and respect the
property of others.
Thurgood Marshall is credited with ending school segregation
Eleanor Roosevelt fought for equal rights for all people
Susan B. Anthony fought for women's right to vote.
Opinion-Susan B Anthony is someone people should admire
Fact-Susan B. Anthony worked with Elizabeth Cady Stanton.
The following is an explanation of what Susan B. Anthony, Thurgood
Marshall, and Eleanor Roosevelt had in common.
o They believed all people should be treated equally. They wanted to do
the right thing. They were good citizens.
A sentence that describes the cause that Mary McLeod Bethune supported
is…
o Mary McLeod Bethune wanted African American children to get an
education.
Cesar Chavez started a boycott because he wanted people to stop buying
grapes.
The American Red Cross helps people after dangerous storms and floods by
bringing clean water and food to people.