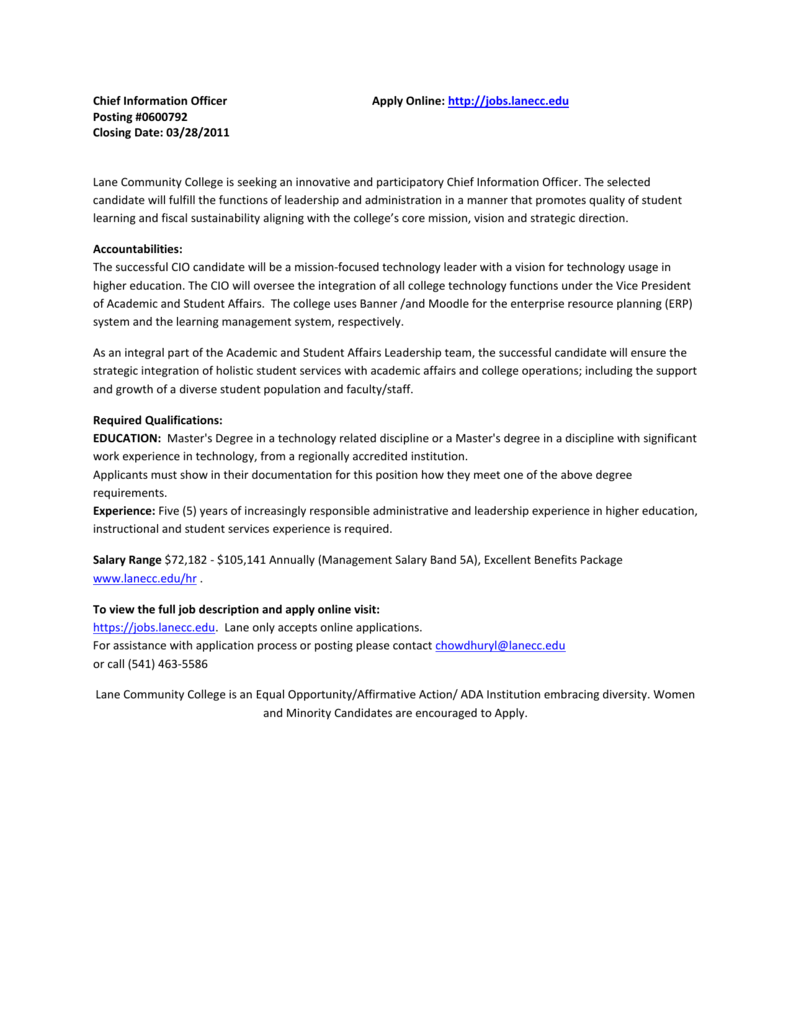 Chief Information Officer
Posting #0600792
Closing Date: 03/28/2011
Apply Online: http://jobs.lanecc.edu
Lane Community College is seeking an innovative and participatory Chief Information Officer. The selected
candidate will fulfill the functions of leadership and administration in a manner that promotes quality of student
learning and fiscal sustainability aligning with the college's core mission, vision and strategic direction.
Accountabilities:
The successful CIO candidate will be a mission-focused technology leader with a vision for technology usage in
higher education. The CIO will oversee the integration of all college technology functions under the Vice President
of Academic and Student Affairs. The college uses Banner /and Moodle for the enterprise resource planning (ERP)
system and the learning management system, respectively.
As an integral part of the Academic and Student Affairs Leadership team, the successful candidate will ensure the
strategic integration of holistic student services with academic affairs and college operations; including the support
and growth of a diverse student population and faculty/staff.
Required Qualifications:
EDUCATION: Master's Degree in a technology related discipline or a Master's degree in a discipline with significant
work experience in technology, from a regionally accredited institution.
Applicants must show in their documentation for this position how they meet one of the above degree
requirements.
Experience: Five (5) years of increasingly responsible administrative and leadership experience in higher education,
instructional and student services experience is required.
Salary Range $72,182 - $105,141 Annually (Management Salary Band 5A), Excellent Benefits Package
www.lanecc.edu/hr .
To view the full job description and apply online visit:
https://jobs.lanecc.edu. Lane only accepts online applications.
For assistance with application process or posting please contact [email protected]
or call (541) 463-5586
Lane Community College is an Equal Opportunity/Affirmative Action/ ADA Institution embracing diversity. Women
and Minority Candidates are encouraged to Apply.