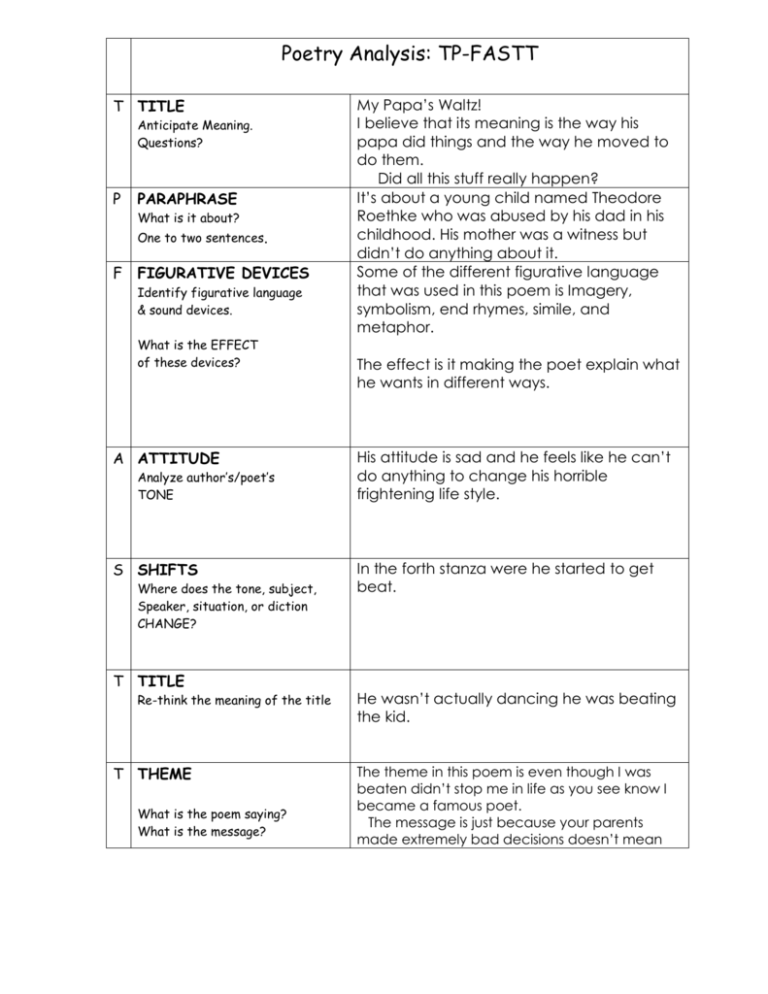 Poetry Analysis: TP-FASTT
T TITLE
Anticipate Meaning.
Questions?
P
PARAPHRASE
What is it about?
One to two sentences.
F
FIGURATIVE DEVICES
Identify figurative language
& sound devices.
What is the EFFECT
of these devices?
My Papa's Waltz!
I believe that its meaning is the way his
papa did things and the way he moved to
do them.
Did all this stuff really happen?
It's about a young child named Theodore
Roethke who was abused by his dad in his
childhood. His mother was a witness but
didn't do anything about it.
Some of the different figurative language
that was used in this poem is Imagery,
symbolism, end rhymes, simile, and
metaphor.
The effect is it making the poet explain what
he wants in different ways.
A ATTITUDE
His attitude is sad and he feels like he can't
do anything to change his horrible
frightening life style.
S SHIFTS
In the forth stanza were he started to get
beat.
Analyze author's/poet's
TONE
Where does the tone, subject,
Speaker, situation, or diction
CHANGE?
T TITLE
Re-think the meaning of the title
T THEME
What is the poem saying?
What is the message?
He wasn't actually dancing he was beating
the kid.
The theme in this poem is even though I was
beaten didn't stop me in life as you see know I
became a famous poet.
The message is just because your parents
made extremely bad decisions doesn't mean
that it should stop you from doing what you love
and in this case it is writing poetry.