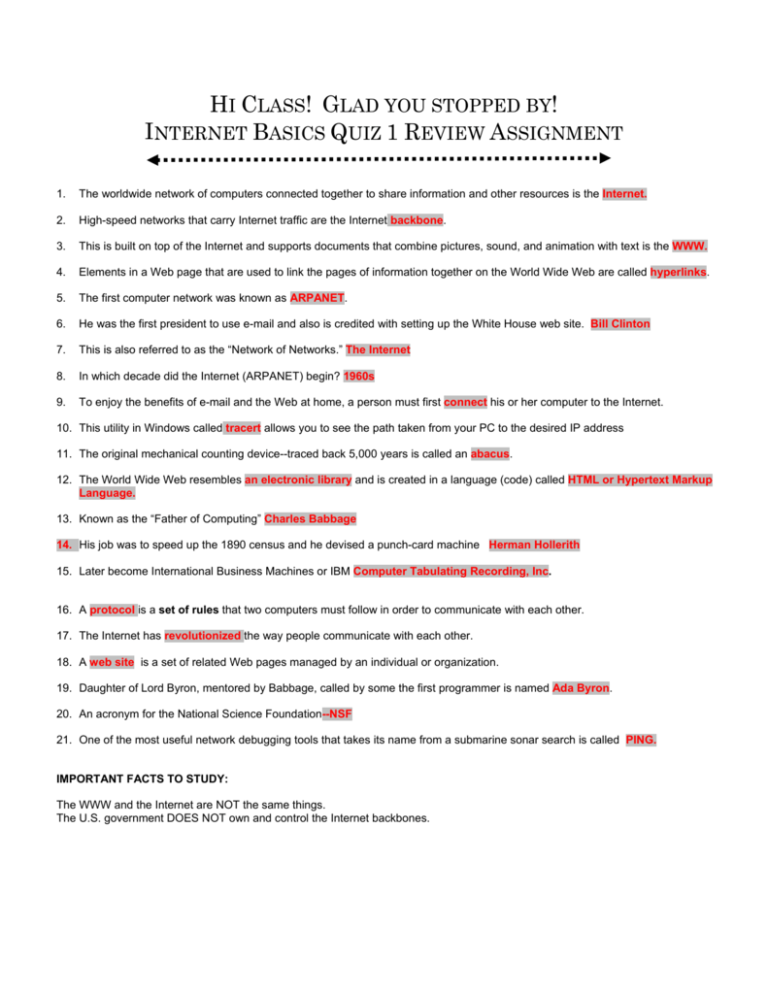 HI CLASS! GLAD YOU STOPPED BY!
INTERNET BASICS QUIZ 1 REVIEW ASSIGNMENT
1.
The worldwide network of computers connected together to share information and other resources is the Internet.
2.
High-speed networks that carry Internet traffic are the Internet backbone.
3.
This is built on top of the Internet and supports documents that combine pictures, sound, and animation with text is the WWW.
4.
Elements in a Web page that are used to link the pages of information together on the World Wide Web are called hyperlinks.
5.
The first computer network was known as ARPANET.
6.
He was the first president to use e-mail and also is credited with setting up the White House web site. Bill Clinton
7.
This is also referred to as the "Network of Networks." The Internet
8.
In which decade did the Internet (ARPANET) begin? 1960s
9.
To enjoy the benefits of e-mail and the Web at home, a person must first connect his or her computer to the Internet.
10. This utility in Windows called tracert allows you to see the path taken from your PC to the desired IP address
11. The original mechanical counting device--traced back 5,000 years is called an abacus.
12. The World Wide Web resembles an electronic library and is created in a language (code) called HTML or Hypertext Markup
Language.
13. Known as the "Father of Computing" Charles Babbage
14. His job was to speed up the 1890 census and he devised a punch-card machine Herman Hollerith
15. Later become International Business Machines or IBM Computer Tabulating Recording, Inc.
16. A protocol is a set of rules that two computers must follow in order to communicate with each other.
17. The Internet has revolutionized the way people communicate with each other.
18. A web site is a set of related Web pages managed by an individual or organization.
19. Daughter of Lord Byron, mentored by Babbage, called by some the first programmer is named Ada Byron.
20. An acronym for the National Science Foundation--NSF
21. One of the most useful network debugging tools that takes its name from a submarine sonar search is called PING.
IMPORTANT FACTS TO STUDY:
The WWW and the Internet are NOT the same things.
The U.S. government DOES NOT own and control the Internet backbones.