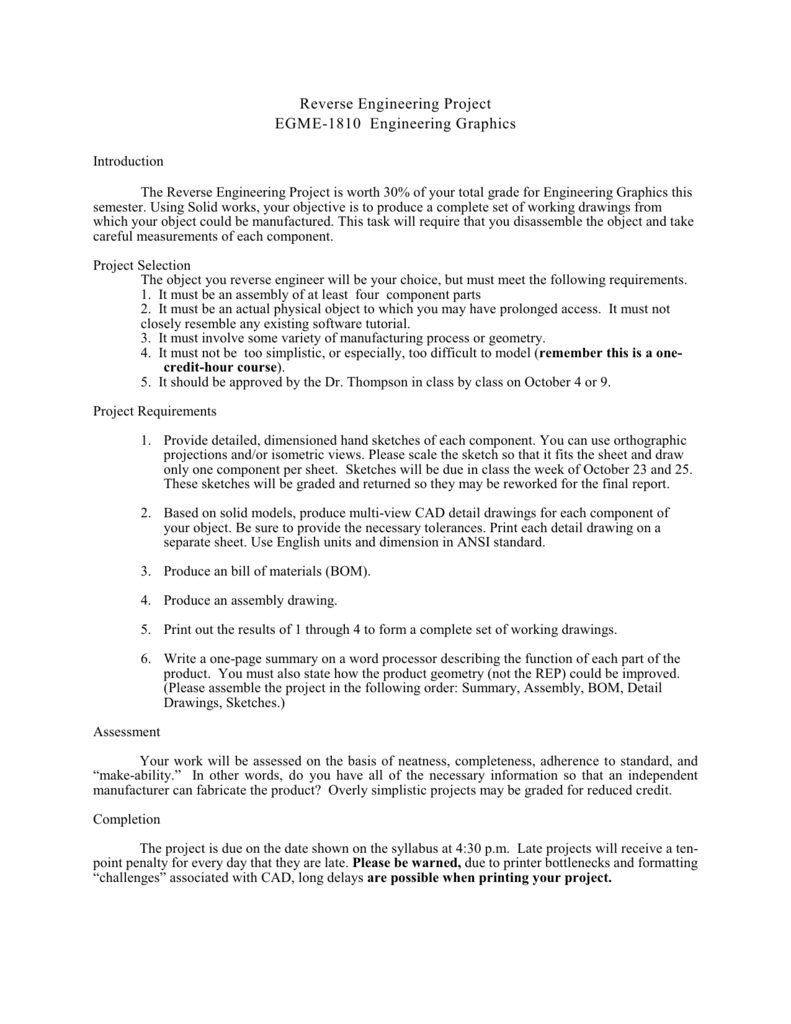 Reverse Engineering Project
EGME-1810 Engineering Graphics
Introduction
The Reverse Engineering Project is worth 30% of your total grade for Engineering Graphics this
semester. Using Solid works, your objective is to produce a complete set of working drawings from
which your object could be manufactured. This task will require that you disassemble the object and take
careful measurements of each component.
Project Selection
The object you reverse engineer will be your choice, but must meet the following requirements.
1. It must be an assembly of at least four component parts
2. It must be an actual physical object to which you may have prolonged access. It must not
closely resemble any existing software tutorial.
3. It must involve some variety of manufacturing process or geometry.
4. It must not be too simplistic, or especially, too difficult to model (remember this is a onecredit-hour course).
5. It should be approved by the Dr. Thompson in class by class on October 4 or 9.
Project Requirements
1. Provide detailed, dimensioned hand sketches of each component. You can use orthographic
projections and/or isometric views. Please scale the sketch so that it fits the sheet and draw
only one component per sheet. Sketches will be due in class the week of October 23 and 25.
These sketches will be graded and returned so they may be reworked for the final report.
2. Based on solid models, produce multi-view CAD detail drawings for each component of
your object. Be sure to provide the necessary tolerances. Print each detail drawing on a
separate sheet. Use English units and dimension in ANSI standard.
3. Produce an bill of materials (BOM).
4. Produce an assembly drawing.
5. Print out the results of 1 through 4 to form a complete set of working drawings.
6. Write a one-page summary on a word processor describing the function of each part of the
product. You must also state how the product geometry (not the REP) could be improved.
(Please assemble the project in the following order: Summary, Assembly, BOM, Detail
Drawings, Sketches.)
Assessment
Your work will be assessed on the basis of neatness, completeness, adherence to standard, and
"make-ability." In other words, do you have all of the necessary information so that an independent
manufacturer can fabricate the product? Overly simplistic projects may be graded for reduced credit.
Completion
The project is due on the date shown on the syllabus at 4:30 p.m. Late projects will receive a tenpoint penalty for every day that they are late. Please be warned, due to printer bottlenecks and formatting
"challenges" associated with CAD, long delays are possible when printing your project.