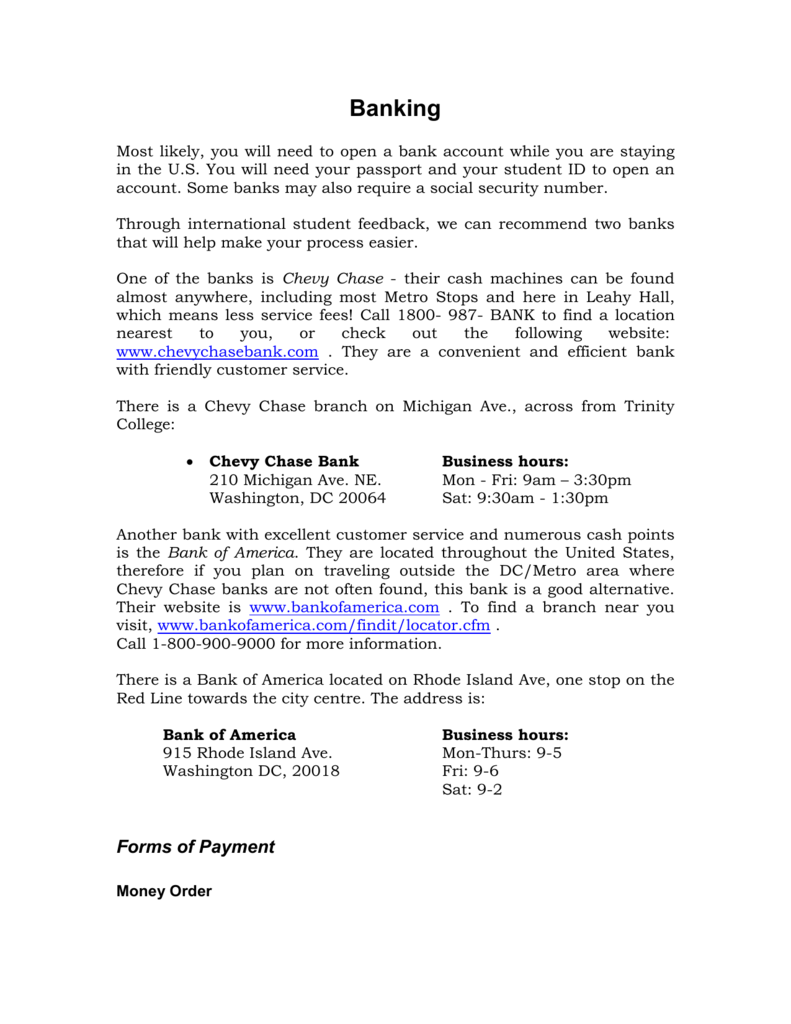 Banking
Most likely, you will need to open a bank account while you are staying
in the U.S. You will need your passport and your student ID to open an
account. Some banks may also require a social security number.
Through international student feedback, we can recommend two banks
that will help make your process easier.
One of the banks is Chevy Chase - their cash machines can be found
almost anywhere, including most Metro Stops and here in Leahy Hall,
which means less service fees! Call 1800- 987- BANK to find a location
nearest
to
you,
or
check
out
the
following
website:
www.chevychasebank.com . They are a convenient and efficient bank
with friendly customer service.
There is a Chevy Chase branch on Michigan Ave., across from Trinity
College:

Chevy Chase Bank
210 Michigan Ave. NE.
Washington, DC 20064
Business hours:
Mon - Fri: 9am – 3:30pm
Sat: 9:30am - 1:30pm
Another bank with excellent customer service and numerous cash points
is the Bank of America. They are located throughout the United States,
therefore if you plan on traveling outside the DC/Metro area where
Chevy Chase banks are not often found, this bank is a good alternative.
Their website is www.bankofamerica.com . To find a branch near you
visit, www.bankofamerica.com/findit/locator.cfm .
Call 1-800-900-9000 for more information.
There is a Bank of America located on Rhode Island Ave, one stop on the
Red Line towards the city centre. The address is:
Bank of America
915 Rhode Island Ave.
Washington DC, 20018
Forms of Payment
Money Order
Business hours:
Mon-Thurs: 9-5
Fri: 9-6
Sat: 9-2
Sending money through the mail isn't safe, so a Money Order is a
convenient, safe and economical alternative to personal and bank
checks. They can be purchased at a bank, a post office, a convenience
store or a gas station and are readily accepted as a form of currency.
They provide you with the security of a bank check, at a lower price, as
there's no need for a bank account.
You'll need to know the exact amount that you want to purchase as a
money order. Once you pay the amount, you will get a check with that
amount printed on it. You will need to fill out the front of the check with
the name of the person you are sending it to, your address, and then you
have to sign it. You will need to tear off the perforated stub attached to it
to keep for your own records in case the Money Order gets lost in the
mail. This will be your proof that you paid for the money order, so store it
at a safe place!
Cashier's checks
A Cashiers' check is not the same as a check from your regular checking
account. It is a check issued and purchased at a bank. Its face value is
paid to the bank when it is issued, and the bank then assumes an
obligation for this check. You'll need to know the exact amount of your
order and the name of the person the bank will be making the check out
to.
Personal checks
If you open a checking account at a U.S. bank, you will be able to write
personal checks. A personal check is a negotiable instrument drawn
against private funds, to pay a specified amount of money to a specific
person upon demand.
Traveler's checks
A traveler's check is a check issued by a financial institution that
functions as cash but is protected against loss or theft. Traveler's checks
are useful when traveling, especially in case of overseas travel when not
all credit and debit cards carried by a person will be accepted. A charge
or commission is usually incurred when a person exchanges cash for
traveler's checks, though some issuers provide them free of charge. You
can purchase traveler's checks at any American Express service centers.
Opening a Bank Account
As you begin to settle in to life in Washington, D.C. and begin your
academic life at The Catholic University of America, you will doubtlessly
need to open a bank account. Before you go to the bank, you need to be
familiar with the basic customer identification programs that financial
institutions must follow in opening any new accounts.
Banks' Customer Identification Programs (CIP)
In an effort to reduce money laundering, U.S. financial institutions are
required to verify the identity of every individual who opens a bank
account. In compliance with federal regulations, all banks operating in
the U.S. have established Customer Identification Programs (CIP) that
they are to follow for anyone who seeks to open an account. While the
specifics of the CIP may vary from one bank to another, Department of
Treasury regulations found at 31 CFR § 103.121 set forth the following
minimal information that the banks must obtain from you before
allowing you to open an account:
1. Your name
2. Your date of birth
3. Your street address – no P.O. Box
4. An identification number
The regulations 31 CFR § 103.121(b)(i)A)(4)(ii) clarify that for a non-U.S.
person the identification number shall be one or more of the following:
 a taxpayer identification number (see discussion below);
 passport number and country of issuance;
 alien identification card number;
 or number and country of issuance of any other governmentissued document evidencing nationality or residence and
bearing a photograph or similar safeguard."
It is important to remember that banks establish their own customer
identification programs and may ask for additional documentation than
is described above because they are ultimately responsible for
establishing the identity of their customers.
Documentation to bring with you
Documents you should take with you to open your account:
 Your unexpired passport
 Your I-94 card
 Your I-20, DS-2019, or I-797 approval notice
 Any secondary form of identification you may have
 Form W-8 BEN if you are a student not eligible for a SSN or ITIN
 Letter from ISSS (Optional, see below)
To assist you, ISSS will provide you with a letter to the bank confirming
your status at CUA and asking for their assistance in opening your
account.
Taxpayer Identification Numbers
Banks are required to report any earnings you receive on interest earned
on your account. For this reason they will ask you for a taxpayer
identification number such as the Social Security Number (SSN) issued
to those who work or the Individual Taxpayer Identification Number
(ITIN) issued by the Internal Revenue Service to those individuals who
are not eligible for a Social Security Number. Although the banks would
greatly prefer that you already have one of these numbers, you can still
open a bank account if you do not have one.
If you are eligible for a Social Security Number, we recommend that you
apply for your Social Security Number as soon as possible. You are
eligible for a Social Security Number if you are in a work-related
nonimmigrant status such as H-1B, TN, R-1, J-1, or if you are an F-1
student approved for curricular practical training, optional practical
training or have already secured on-campus employment. If you have
already applied for the SSN before you try to open a bank account, you
should take a copy of the receipt notice with you. The receipt notice can
serve as additional documentation that can help establish your identity.
As soon as you receive your SSN, you should inform your bank.
If you are not eligible for a Social Security Number, you should apply for
an Individual Taxpayer Identification Number and, once it is assigned,
inform your bank of this number.
If you are an F-1 student who is not employed, you are not eligible for a
Social Security Number. You must apply for an ITIN through the IRS
instead. ITIN application procedures require that you present evidence
that you own an interest-bearing bank account. You cannot obtain an
ITIN until you can establish that you have opened an account with a
bank. Once you have submitted your ITIN application, it will take the
IRS approximately 4 to 6 weeks to assign you a number. If the bank
account does not pay any interest, then you must wait to file for your
ITIN when you file your required tax forms in April.