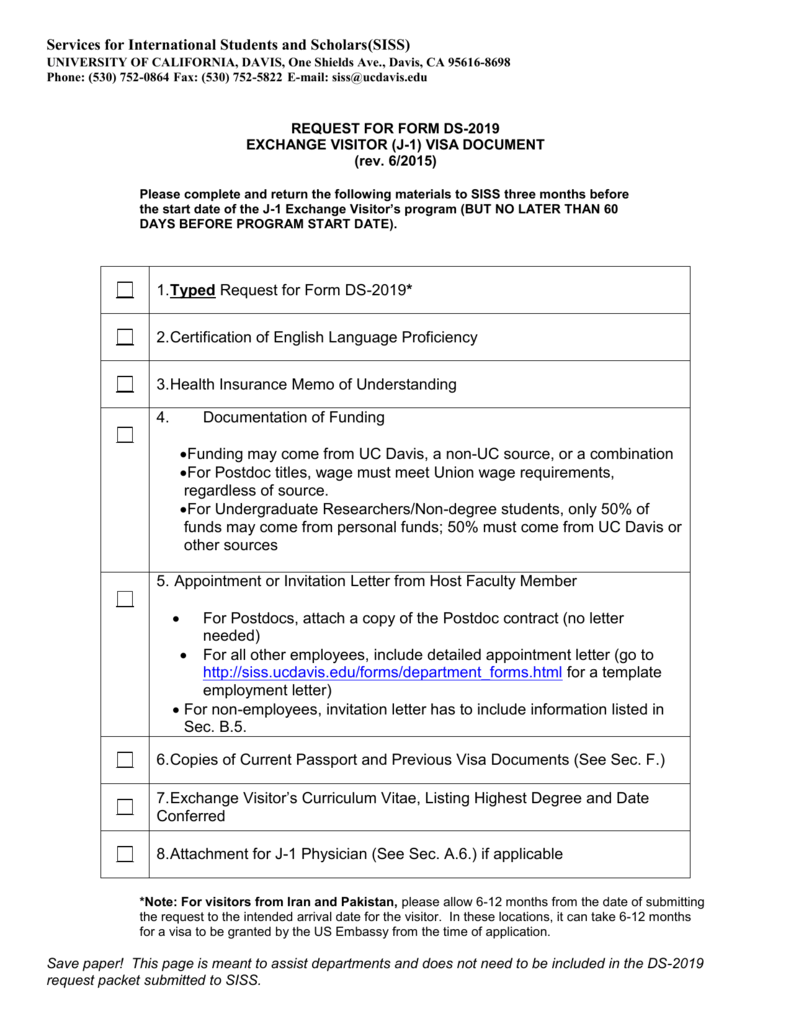 Services for International Students and Scholars(SISS)
UNIVERSITY OF CALIFORNIA, DAVIS, One Shields Ave., Davis, CA 95616-8698
Phone: (530) 752-0864 Fax: (530) 752-5822 E-mail: [email protected]
REQUEST FOR FORM DS-2019
EXCHANGE VISITOR (J-1) VISA DOCUMENT
(rev. 6/2015)
Please complete and return the following materials to SISS three months before
the start date of the J-1 Exchange Visitor's program (BUT NO LATER THAN 60
DAYS BEFORE PROGRAM START DATE).
1. Typed Request for Form DS-2019*
2. Certification of English Language Proficiency
3. Health Insurance Memo of Understanding
4.
Documentation of Funding
Funding may come from UC Davis, a non-UC source, or a combination
For Postdoc titles, wage must meet Union wage requirements,
regardless of source.
For Undergraduate Researchers/Non-degree students, only 50% of
funds may come from personal funds; 50% must come from UC Davis or
other sources
5. Appointment or Invitation Letter from Host Faculty Member

For Postdocs, attach a copy of the Postdoc contract (no letter
needed)
 For all other employees, include detailed appointment letter (go to
http://siss.ucdavis.edu/forms/department_forms.html for a template
employment letter)
 For non-employees, invitation letter has to include information listed in
Sec. B.5.
6. Copies of Current Passport and Previous Visa Documents (See Sec. F.)
7. Exchange Visitor's Curriculum Vitae, Listing Highest Degree and Date
Conferred
8. Attachment for J-1 Physician (See Sec. A.6.) if applicable
*Note: For visitors from Iran and Pakistan, please allow 6-12 months from the date of submitting
the request to the intended arrival date for the visitor. In these locations, it can take 6-12 months
for a visa to be granted by the US Embassy from the time of application.
Save paper! This page is meant to assist departments and does not need to be included in the DS-2019
request packet submitted to SISS.
REQUEST FOR FORM DS-2019
Certificate of Eligibility for Exchange Visitor (J-1) Status
To be completed by the University of California, Davis or UCDMC Department
Check the Applicable Box:
Initial Request for J-1 Exchange Visitor
Transfer of J-1 Program (See Sec. F)
Change of status to J-1 (See Sec. F)
A. INFORMATION ABOUT THE INTERNATIONAL SCHOLAR
3
1. Name:
(As it appears in the passport)
Family/last
Given/first
2. Date of birth:
middle
Place of birth:
Male
(month/day/year)
Female
(city/country)
3. Country of citizenship:
Country of legal permanent residence:
4. Position title in home country:
Please check appropriate category for position in home country:
Professor*
Researcher*
Other*
5. Name of home-country institution:
6. Highest Degree Received*:
Date Degree Received:
Field of Specialization:
7. Scholar's email address:
(*If M.D., please complete "Attachment to DS-2019 for J-1 Physician" page)
B. INFORMATION ABOUT THE APPOINTMENT / ACTIVITY
1. Initial visit period for which funding is guaranteed
From:
To:
(month/day/year)
2. UC Davis position title*:
Position title code:
(month/day/year)
NO UCD position title code:
3. Specific subject to be engaged in is (such as Anthropology or Biological Engineering)
4. Specific activity*:
undergraduate research
postgraduate research
teaching
other
____________
5. Site of activity if not on
UCD campus:
*Attach appt. letter from the host faculty; if postdoc, attach copy of postdoc contract only. Invitation letter for non-employees, include
detailed description of research project, dates, work address with zip code, fees & confirmation that there will be no salary & benefits.
C. DEPARTMENT AGREEMENT -- Signatures below confirm agreement with the following points:
1. The scholar and accompanying dependents have adequate financial support for the duration of the scholar's program. UCD salary is
commensurate with the proposed activity.
2. The department has determined that the scholar has English language proficiency adequate for the proposed activity and daily life.
3. The host faculty member has clarified expectations with the scholar regarding University support, benefits, length of program and
availability of office/lab space, equipment, computer access, clerical support, and faculty collaboration.
4. The scholar is aware of health insurance requirements and understands who is responsible for payment of premiums.
5. The department will assist the scholar upon arrival with transportation and housing arrangements, and will refer scholar to SISS for a
small group check-in/orientation session.
6. The scholar will engage only in activities consistent with the intended program and department will notify SISS of any changes in the
program such as changes in financial support, loss of funding, or transfer to a different department.
7. A departmental recharge (based on receipt date of request) is authorized for SISS services to support the above-named international
professor or researcher. This fee can be paid only on a department recharge basis and cannot be paid directly by the scholar.
Reimbursement for this recharge may be available through your dean's office. This recharge does not include visa fees at the U.S.
consulate or USCIS processing fees. A change in host department may require a new DS-2019 and recharge.
Recharge fee of $415 will be charged to:
(Lower case letters, please)
COA
DaFIS account number (seven digit)
DaFIS sub account number (five digit)
Host/Supervising Faculty Member
Signature
E-mail address
Phone #
Date
Department Chair
Signature
E-mail address
Phone #
Date
Department Administrative Contact
Signature
E-mail address
Phone #
Date
Department
UCD School of Medicine
Appointments:
College or Division
Dean's Office Signature
Date
D. SOURCE AND AMOUNT OF FINANCIAL SUPPORT
The required minimum support for scholars and their families: $2,000.00 per month for the scholar, $600.00 per month for a spouse and
$300.00 per month for each child. This does not include airfare, health insurance or child care expenses.
Please include funding information for the ENTIRE initial visit period listed in #B.1 above:
a. UCD (specify payroll, honorarium, per diem):
b. U.S. Government Agency:
……………………………………........
…………………………………………………………….
Amount:
$
Amount:
$
NOTE: This refers only to government agency funds granted directly to the scholar for the specific purpose of
participating in the Exchange Visitor Program. Salary from funds granted to UCD to support research projects
should be listed above as UCD payroll (see item a).
c. Exchange Visitor's Government: ……….……………..…………………………..............
Amount:
$
…………………………………………………………………………...
Amount:
$
e. Personal Funds: …………………………………………………………………………......
Amount:
$
Total funding for the initial visit period: ……………….…………………………………
Amount:
$
d. Other (specify):
Financial documentation (in English) is required for financial support not provided by UCD.
E. FAMILY INFORMATION
Please complete this section for J-2 dependent family members (spouse and children under 21) who will accompany the scholar to the
U.S. or follow to join at a later date.
1. Will the scholar's family travel with him or her to the U.S.?
Yes
no
2. If the family will arrive separately, when are they to arrive?
3. Please attach a copy of each J-2 dependent's passport (biographic data page)
4. J-2 spouse's e-mail (if applicable):
NAME OF FAMILY
MEMBER
(Family/Last,
First/given, middle)
RELATIONSHIP
(spouse, daughter,
son)
DATE OF
BIRTH
(mm/dd/yyyy)
CITY OF BIRTH
COUNTRY OF
BIRTH
COUNTRY OF
CITIZENSHIP
COUNTRY OF
PERM.
RESIDENCE
F. U.S. VISA HISTORY
1. Is the scholar currently in the U.S.?
Yes
No
If yes, please indicate current immigration status and check one:
S/he will be leaving the U.S. and returning before s/he begins the appointment at UCD.
S/he will be requesting a transfer of his or her current J-1 status.
S/he will be requesting a change of immigration status from:
status to J-1 status
2. During the past twenty four months, has the scholar been in the U.S. in any visa classification other than tourist?
Yes*
No
If yes*, visa status:
Date:
3. Please attach photocopies of the scholar's current passport page (biographic data and photo page), along with all current
and/or previous visa documents (if applicable), including I-94 cards, DS-2019s, I-20s, EAD cards, and/or H-1B approvals.
*IMPORTANT: Scholars applying in the research scholar/professor category might be subject to a 6 or 24-month bar based on
completion of a previous J-program. SISS will evaluate eligibility after reviewing the prospective scholar's immigration history and the
supporting documentation.
Certification of English Language Proficiency
This form has to be included with an Initial DS-2019 Request
Scholar's Name:
___________________________________________________________
The Department of State requires a scholar to have "sufficient proficiency in the English language, as determined by an
objective measurement of English language proficiency, successfully to participate in his or her program [of research] and
to function on a day-to-day basis." [22 CFR 62.11(a)(2)]
Check
One:
Indicate how the Department has certified English proficiency for the prospective exchange visitor.
Official Test
Score for
English
Language
Test
 A copy of the test score was provided to the department
 Any recognized testing agency is acceptable. If IELTS or TOEFL test score,
minimum scores are below:
 IELTS overall band score of 6 or higher
 TOEFL test score must be 500 (paper-based), 173 (computer based) or 61
(internet- based iBT)
Certification
by an
academic
institution or
English
language
school
 A copy of the letter is attached
 Verifies the exchange visitor possesses English language proficiency high enough to
function daily within the UCD position and within the local U.S. community.
 Issued on letterhead in English within the past 5 years
 Includes signature from school official
 Host Faculty Name:
 Date of Interview:
______________________________________________
__________________________________
 The Interview Was Conducted:
In person
By Videoconference
Certification
by the
Sponsoring
Professor
(signature
required from
the inviting
professor at
the bottom)
By Phone
 Suggested Interview Topics: The purpose of the interview is to ascertain whether an
international scholar is sufficiently conversant in English to function in day-to-day life,
both at the University and in the community. Therefore, this can be a casual conversation
regarding the research topic, the University, the city of Davis, expectations in the lab,
questions about housing or health insurance, etc. The purpose is for the faculty host to
be able to determine if the international scholar will be able to communicate on campus
and in the community at a level that will allow for basic daily interactions.
I declare that I have interviewed the prospective exchange visitor and I have
verified that the J-1 scholar's English language proficiency is sufficient to function
in daily life and in their daily research/teaching program at UCD.
_____________________________________________
Host Faculty Signature
_____________
Date
Print Host Faculty Name ______________________________________________
International Scholar Health Insurance Memo of Understanding
By signing this document, the scholar named below confirms his/her understanding of the medical insurance
requirements listed here:
1. I understand that the Department of State requires all J-1 Exchange Visitors and their accompanying
dependents to have health and accident insurance coverage that must begin no later than the "Program
Begin Date" as noted on the DS-2019 form and must not end before the effective "Program End Date."
2. I understand that if I am full-time employed or have the title of "postdoc" at UC Davis, I must check with
my department to find out if I will be offered health insurance through UC Davis or if I must buy it
independently. (In most cases, postdoc titles and other full-time employment at UC Davis will include health
benefits. Scholars must talk to their departments.)
3. I will maintain health benefits for myself and any J-2 dependents at minimum at the amounts listed below:
 - - Medical benefits per accident or illness of at least: $100,000 minimum*
 - -Repatriation of Remains: $25,000
 - -Expenses related to Medical Evacuation: $50,000
 - -Deductible per accident or illness not to exceed $500
*Please note: SISS considers the minimum medical coverage per accident or illness required by law to be low for
the cost of medical care in today's medical system. Therefore, we recommend that international scholars
purchase health care benefits at a minimum of $250,000.00 per accident or illness. Insurance policies may require
a waiting period for pre-existing conditions and provisions for co-insurance under which the J-1/J-2 may have to
pay up to 25% of covered benefits per accident or illness.
4. The insurance corporation underwriting the policy must have one of the following ratings. Note: Insurance
coverage backed by the full faith and credit of your home government meets these requirements:
 - -an A.M. Best rating of "A-" or above
 - -a McGraw Hill Financial/Standard & Poor's Claims-paying Ability rating of "A-" or above
 - -a Weiss Research, Inc. rating of "B+" or above
 - -a Fitch Ratings, Inc. of 'A-" or above
 - -a Moody's Investor Services rating of "A3" or above
Insurance information can be found on the SISS website at http://siss.ucdavis.edu/health_j1.cfm. Please
review this website for some US health insurance company options. Note that you and your J-2 dependents
may also be subject to the requirements of the Affordable Care Act (ACA). SISS recommends that J-1 scholars
purchase travel insurance coverage for the first month in the US, to provide health coverage until a longer-term
health insurance plan is selected and purchased for the J-1 program duration.
______________________________________________________________________________________
Scholar Declaration: I understand that I am responsible for the purchase of health insurance that meets the
above requirements. I understand the cost of insurance premiums (monthly payments) in the US is high and I
confirm that I will have sufficient finances to cover the cost of insurance premiums throughout my stay. I
understand that U.S. government regulations require the University to notify the U.S. Department of State and
to terminate my J-1 exchange visitor status if they determine that my family members or I willfully failed to
comply with the insurance requirements.
Name:
family (last)
Signature:
given (first)
middle
Date
J-1 Scholar Category Selection Form
SISS will evaluate the information submitted by the UCD department to make the final determination of the
most appropriate category for the scholar. UC Davis has authorization to issue DS-2019s for professors and
researchers in the "short-term scholar" and "research scholar/professor" J-categories. UC Davis can also use
the "specialist" category for visitors who will observe, consult or demonstrate skills, under special
circumstances that are not related to research.
Important Limitations to the Use of the J-1 Research Scholar/Professor Category:
12-month bar: This limitation applies when the scholar has previously been in any J status for more than 6
months during the 12 months prior to the new program start date in the J-1 Research Scholar/Professor
category. The scholar must wait 12 months after the end of any J status before beginning another J-1 program
in the research scholar/professor category.
24-month bar: This limitation applies when the scholar has already completed a J-1 program as a research
scholar/professor. In this case, the scholar will have to wait for 24 months to return to the US using a new J-1
program in the "research scholar/ professor" category. The 2 year home residency requirement is not the same
as the 24-month bar.
Please mark the J-1 category the department would like to request:
J-1 Short-Term Scholar - This category is appropriate for visiting scholars with a minimum of a bachelor's
degree and appropriate experience in the field in which research is to be conducted. This category is
appropriate for professors, research scholars, specialists, or a person with similar education or
accomplishments coming to the United States for a short-term visit for the purpose of research, lecturing,
observing, consulting, training or demonstrating special skills. The visit cannot be extended past 6 months
under any circumstances.
Advantage: Category does not subject the scholar to the 12- or 24-month bars. The scholar may return to the
U.S. in a J category again without a waiting period.
Disadvantage: Program duration in this category is limited to 6 months without the possibility of extension.
J-1 Research Scholar/Professor – This category is appropriate for visiting scholars with a minimum of a
bachelor's degree and appropriate experience in the field in which research is to be conducted, if the
individual will come to UC Davis primarily to conduct research, observe or consult in connection with a
research project. The research scholar may also teach or lecture within the same field, if the departmental
appointment permits.
Important Note: A J-1 research scholar/professor who has completed a previous J status (including
J-2 status) in the past might be affected by the 12- or 24-month bar. Please consult with an advisor at
SISS with any questions.
Advantage:
The Research Scholar/Professor may stay in the J-1 program for up to 5 years, which allows sufficient time for
a full postdoctoral appointment or other long-term, temporary research or teaching appointments.
Disadvantage:
Once the research scholar/professor completes his or her program at any point up to 5 years, there is a 24month bar that will prevent the scholar from using this category again for 24 months. In addition, if the
scholar has been in any other J category for 6 months or more (for example, short-term scholar or specialist),
he or she cannot use the Research Scholar/Professor category until 12 months have passed since last using
the J-1 status.
J-1 Undergraduate Researcher (non-degree student) – This category is appropriate for visiting
undergraduate researchers who have not attained a bachelor's level; who will receive at least half of their
funding from a source other than personal funds; who will participate full-time in a prescribed course of study or
research study toward a degree at a foreign institution; and who will maintain satisfactory advancement
towards the completion of their academic program at a foreign institution while at UC Davis.
Important Note: The 12-month bar applies to J-1 Undergraduate Researchers who have been in the J
program for more than 6 months. They will not be eligible to apply for a J-1 visa in the research
scholar/professor category once they obtain a degree until at least 12 months have passed since the date of
completing their Undergraduate Researcher J program.
Advantage:
This category allows undergraduates nearing a degree to do research or study toward their degree. It can be
used for up to 24 months.
Disadvantage:
Undergraduate researchers at UC Davis pay no student fees so they are not eligible for student benefits such
as student health insurance, free access to the ARC or free travel on Unitrans buses. In addition, this
category is only available to non-degree students who are funded at least 50% by UC Davis, their home
institution, a scholarship, or some other source of funds that is not personal funds.
J-1 Specialist – This category would be appropriate for an individual who is an expert in a field of
specialized knowledge or skill coming to the United States for observing, consulting, or demonstrating that
special skill. This category is not intended for individuals who would otherwise be considered researchers,
professors or short-term scholars. An example might be a person with a particular and unique knowledge of a
particular type of equipment who is coming to UC Davis to demonstrate the use of the equipment, observe the
appropriate use by others, and/or consult on that particular piece of machinery. As the use of this status is
limited to the definition above, please consult with an advisor at SISS for further information.
Advantage: This category emphasizes specialized skills for which an academic degree may not be necessary.
There is no 24-month bar with this category.
Disadvantage: This category may only be used for observing, consulting, or demonstrating a special skill and
stay is limited to 12 months without the possibility of extension. Given its limited nature, it is very important
for departments to consult with an advisor at SISS to determine if this category and the duration of stay are
appropriate. Note: this category has no relationship to the Junior Specialist title.
Please note: if a visiting scholar using the specialist category is a physician in his or her home
country, the department and the scholar should complete the "Attachment to Request for Form DS2019 for J-1 Physician using the J-1 Specialist category." Please ask an advisor at SISS for this form
(the form for physician specialists is not included in this packet).
Attachment to Request for Form DS-2019 for J-1 Physician*
Section I or II below is to be completed by the J-1 physician's host department chair and supervisor and is to
accurately reflect the type of patient contact that the physician will have. This form should be faxed to prospective
J-1 physician for signature on Section III. Please attach this completed form to the Request for Form DS-2019 and
return it to SISS.
I.
If the J-1 physician is coming to UCD to pursue a program that does not involve patient contact, the
applicant's UCD sponsor must certify the following:
This certifies that the program in which Dr
is to be engaged is solely for the purpose of
observation, consultation, teaching, or research and that no element of patient care services is involved.
Print or type name of Department
Chair
Signature of Department
Chair
Print or type name of Faculty
Sponsor
Signature of Faculty
Sponsor
Date
Date
II. If incidental patient contact is involved in the J-1 physician's duties, the UCD sponsor must certify the following
five points:
1. The program in which Dr.
will participate is predominantly involved with observation,
consultation, teaching, or research.
2. Any incidental patient contact involving the J-1 physician will be under the direct supervision of a
physician who is a U.S. citizen or resident alien and who is licensed to practice medicine in the state of
California.
3. The J-1 physician will not be given final responsibility for the diagnosis and treatment of patients.
4. Any activities of the J-1 physician will conform fully with state licensing requirements and regulations
for medical and health care professionals in the state of California.
5. Any experience gained in this program will not be creditable toward any clinical requirements for
medical specialty board certification.
Print or type name of Department
Chair
Signature of Department
Chair
Print or type name of Faculty
Sponsor
Signature of Faculty
Sponsor
Date
Date
III. To be completed by prospective J-1 Physician:
I understand and agree with the above statement(s) regarding the level of patient contact I will have during
my proposed activity at UC Davis.
Print or type name
Signature of Prospective J-1
Physician
Date
If the J-1 physician's program involves significant patient contact or otherwise does not conform with Section I or II
above, the physician cannot be sponsored through the UCD J-1 Exchange Visitor Program.
Clinical training for J-1 physicians who are interns, residents or who hold other clinical positions involving patient
contact can be authorized under a program sponsored by the Educational Commission for Foreign Medical
Graduates (ECFMG). For further information regarding ECFMG sponsorship, contact the School of Medicine
Office of the Dean: http://www.ucdmc.ucdavis.edu/dean/contactus/
*Note: If bringing a J-1 physician scholar in the J-1 specialist category, please consult with an international
scholar advisor before completing this form.