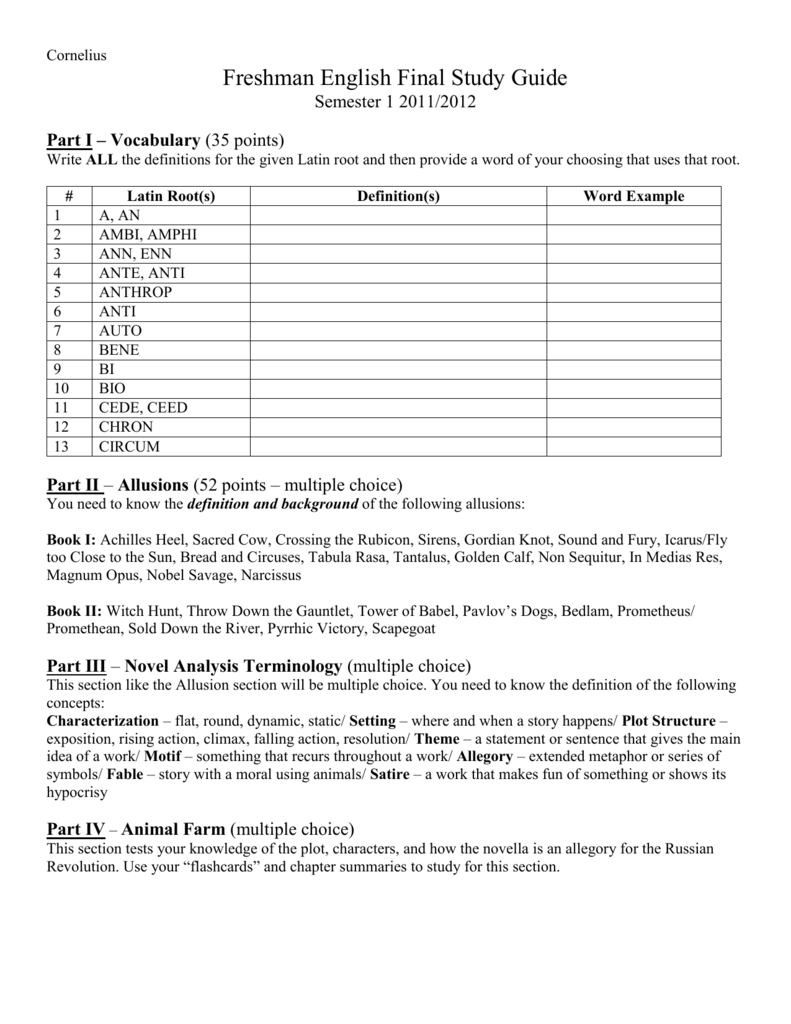 Cornelius
Freshman English Final Study Guide
Semester 1 2011/2012
Part I – Vocabulary (35 points)
Write ALL the definitions for the given Latin root and then provide a word of your choosing that uses that root.
#
1
2
3
4
5
6
7
8
9
10
11
12
13
Latin Root(s)
A, AN
AMBI, AMPHI
ANN, ENN
ANTE, ANTI
ANTHROP
ANTI
AUTO
BENE
BI
BIO
CEDE, CEED
CHRON
CIRCUM
Definition(s)
Word Example
Part II – Allusions (52 points – multiple choice)
You need to know the definition and background of the following allusions:
Book I: Achilles Heel, Sacred Cow, Crossing the Rubicon, Sirens, Gordian Knot, Sound and Fury, Icarus/Fly
too Close to the Sun, Bread and Circuses, Tabula Rasa, Tantalus, Golden Calf, Non Sequitur, In Medias Res,
Magnum Opus, Nobel Savage, Narcissus
Book II: Witch Hunt, Throw Down the Gauntlet, Tower of Babel, Pavlov's Dogs, Bedlam, Prometheus/
Promethean, Sold Down the River, Pyrrhic Victory, Scapegoat
Part III – Novel Analysis Terminology (multiple choice)
This section like the Allusion section will be multiple choice. You need to know the definition of the following
concepts:
Characterization – flat, round, dynamic, static/ Setting – where and when a story happens/ Plot Structure –
exposition, rising action, climax, falling action, resolution/ Theme – a statement or sentence that gives the main
idea of a work/ Motif – something that recurs throughout a work/ Allegory – extended metaphor or series of
symbols/ Fable – story with a moral using animals/ Satire – a work that makes fun of something or shows its
hypocrisy
Part IV – Animal Farm (multiple choice)
This section tests your knowledge of the plot, characters, and how the novella is an allegory for the Russian
Revolution. Use your "flashcards" and chapter summaries to study for this section.