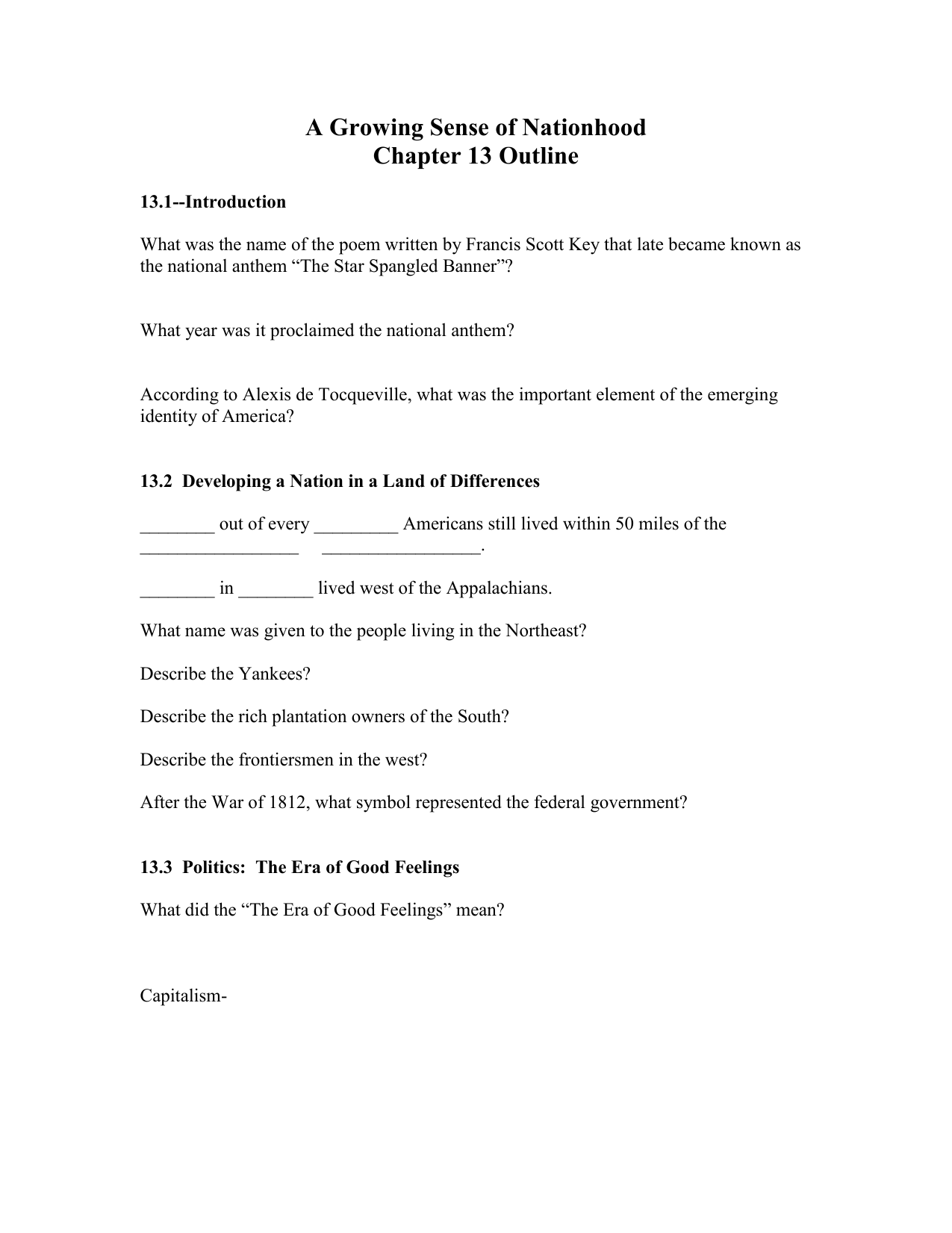 A Growing Sense of Nationhood
Chapter 13 Outline
13.1--Introduction
What was the name of the poem written by Francis Scott Key that late became known as
the national anthem "The Star Spangled Banner"?
What year was it proclaimed the national anthem?
According to Alexis de Tocqueville, what was the important element of the emerging
identity of America?
13.2 Developing a Nation in a Land of Differences
________ out of every _________ Americans still lived within 50 miles of the
_________________ _________________.
________ in ________ lived west of the Appalachians.
What name was given to the people living in the Northeast?
Describe the Yankees?
Describe the rich plantation owners of the South?
Describe the frontiersmen in the west?
After the War of 1812, what symbol represented the federal government?
13.3 Politics: The Era of Good Feelings
What did the "The Era of Good Feelings" mean?
Capitalism-
Henry Clay's 3-part plan for America.
1.
2.
3.
What state did Henry Clay represent?
What did John C Calhoun support?
1.
2.
3.
What state did John C Calhoun represent?
Who was nicknamed "Black Dan"?
What was Daniel Webster view of the Government?
Who wrote some of the most important decisions in American history?
What were the two major impacts of these decisions?
1.
2.
In 1828, what political party emerged?
13.4 Early American Art
Folk artGilbert Stuart was best known for ________________________________________
____________________________________________________________________
Who inspired the Hudson River School?
Who painted detailed pictures of birds?
Who took interest in the Native Americans?
13.5 Early American Music
SpiritualsCotillionMinstrel songsJim Crow lawsStephen Foster was known for the composing what songs
1.
2.
3.
4.
13.6 Early American Literature
Who wrote the German folklore "Rip Van Winkle" and the "Legend of Sleepy Hollow"?
What two books was James Fennimore Cooper write..
1.
2.
Who spun tall tales of a real-life frontiersman?
What were Henry Wadsworth Longfellow's famous poems?
1.
2.
3.
13.7 Chapter Summary
What were the four aspects of life developed the identity of a united America. Explain
each.
1.
2.
3.
4.