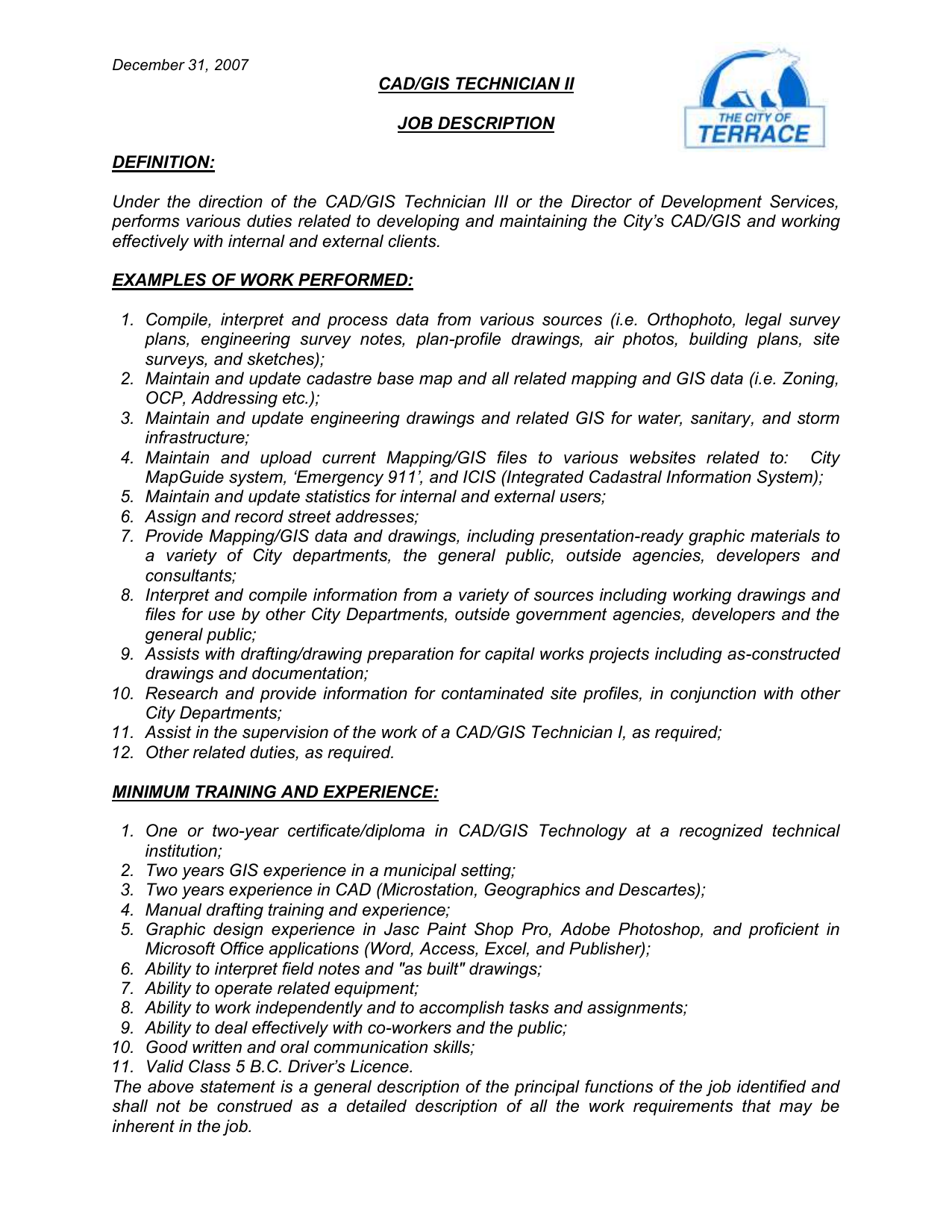 December 31, 2007
CAD/GIS TECHNICIAN II JOB DESCRIPTION DEFINITION:
Under the direction of the CAD/GIS Technician III or the Director of Development Services, performs various duties related to developing and maintaining the City's CAD/GIS and working effectively with internal and external clients.
EXAMPLES OF WORK PERFORMED:
1. Compile, interpret and process data from various sources (i.e. Orthophoto, legal survey plans, engineering survey notes, plan-profile drawings, air photos, building plans, site surveys, and sketches); 2. Maintain and update cadastre base map and all related mapping and GIS data (i.e. Zoning, OCP, Addressing etc.); 3. Maintain and update engineering drawings and related GIS for water, sanitary, and storm infrastructure; 4. Maintain and upload current Mapping/GIS files to various websites related to: City MapGuide system, 'Emergency 911', and ICIS (Integrated Cadastral Information System); 5. Maintain and update statistics for internal and external users; 6. Assign and record street addresses; 7. Provide Mapping/GIS data and drawings, including presentation-ready graphic materials to a variety of City departments, the general public, outside agencies, developers and consultants; 8. Interpret and compile information from a variety of sources including working drawings and files for use by other City Departments, outside government agencies, developers and the general public; 9. Assists with drafting/drawing preparation for capital works projects including as-constructed drawings and documentation; 10. Research and provide information for contaminated site profiles, in conjunction with other City Departments; 11. Assist in the supervision of the work of a CAD/GIS Technician I, as required; 12. Other related duties, as required.
MINIMUM TRAINING AND EXPERIENCE:
1. One or two-year certificate/diploma in CAD/GIS Technology at a recognized technical institution; 2. Two years GIS experience in a municipal setting; 3. Two years experience in CAD (Microstation, Geographics and Descartes); 4. Manual drafting training and experience; 5. Graphic design experience in Jasc Paint Shop Pro, Adobe Photoshop, and proficient in Microsoft Office applications (Word, Access, Excel, and Publisher); 6. Ability to interpret field notes and "as built" drawings; 7. Ability to operate related equipment; 8. Ability to work independently and to accomplish tasks and assignments; 9. Ability to deal effectively with co-workers and the public; 10. Good written and oral communication skills; 11. Valid Class 5 B.C. Driver's Licence. The above statement is a general description of the principal functions of the job identified and shall not be construed as a detailed description of all the work requirements that may be inherent in the job.
CAD/GIS Technician II
2007 WAGE RATE: $26.89 2008 WAGE RATE: $27.43 2009 WAGE RATE: $27.98
Page 2