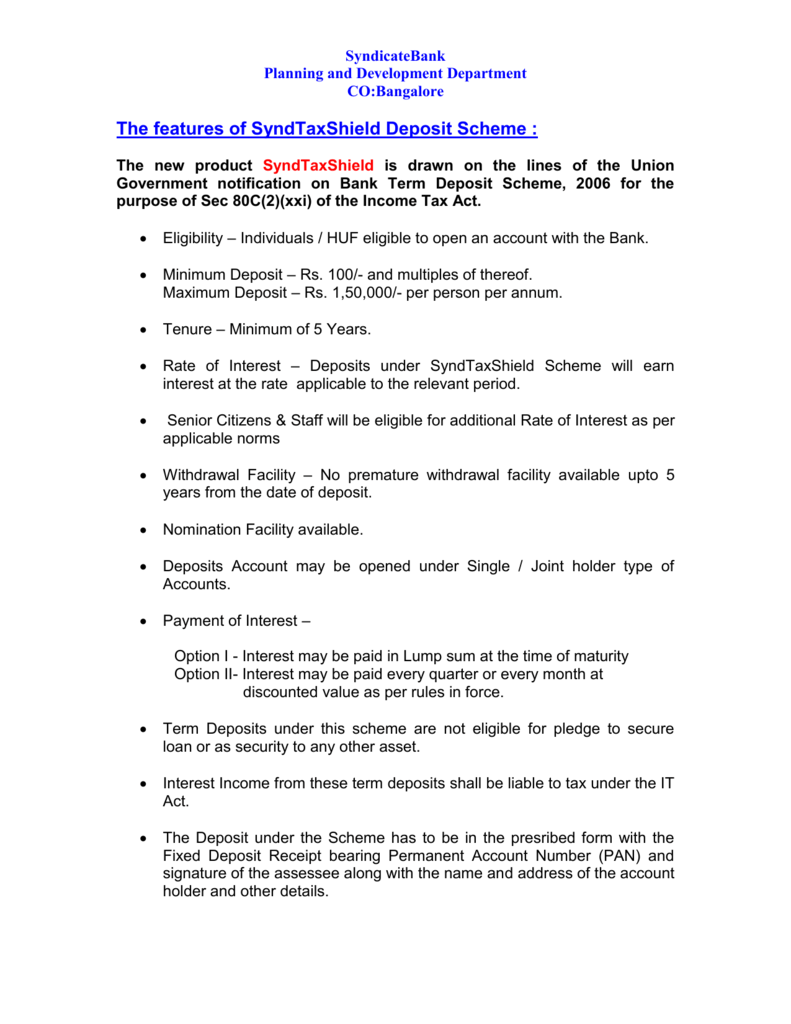 SyndicateBank
Planning and Development Department
CO:Bangalore
The features of SyndTaxShield Deposit Scheme :
The new product SyndTaxShield is drawn on the lines of the Union
Government notification on Bank Term Deposit Scheme, 2006 for the
purpose of Sec 80C(2)(xxi) of the Income Tax Act.

Eligibility – Individuals / HUF eligible to open an account with the Bank.

Minimum Deposit – Rs. 100/- and multiples of thereof.
Maximum Deposit – Rs. 1,50,000/- per person per annum.

Tenure – Minimum of 5 Years.

Rate of Interest – Deposits under SyndTaxShield Scheme will earn
interest at the rate applicable to the relevant period.

Senior Citizens & Staff will be eligible for additional Rate of Interest as per
applicable norms

Withdrawal Facility – No premature withdrawal facility available upto 5
years from the date of deposit.

Nomination Facility available.

Deposits Account may be opened under Single / Joint holder type of
Accounts.

Payment of Interest –
Option I - Interest may be paid in Lump sum at the time of maturity
Option II- Interest may be paid every quarter or every month at
discounted value as per rules in force.

Term Deposits under this scheme are not eligible for pledge to secure
loan or as security to any other asset.

Interest Income from these term deposits shall be liable to tax under the IT
Act.

The Deposit under the Scheme has to be in the presribed form with the
Fixed Deposit Receipt bearing Permanent Account Number (PAN) and
signature of the assessee along with the name and address of the account
holder and other details.