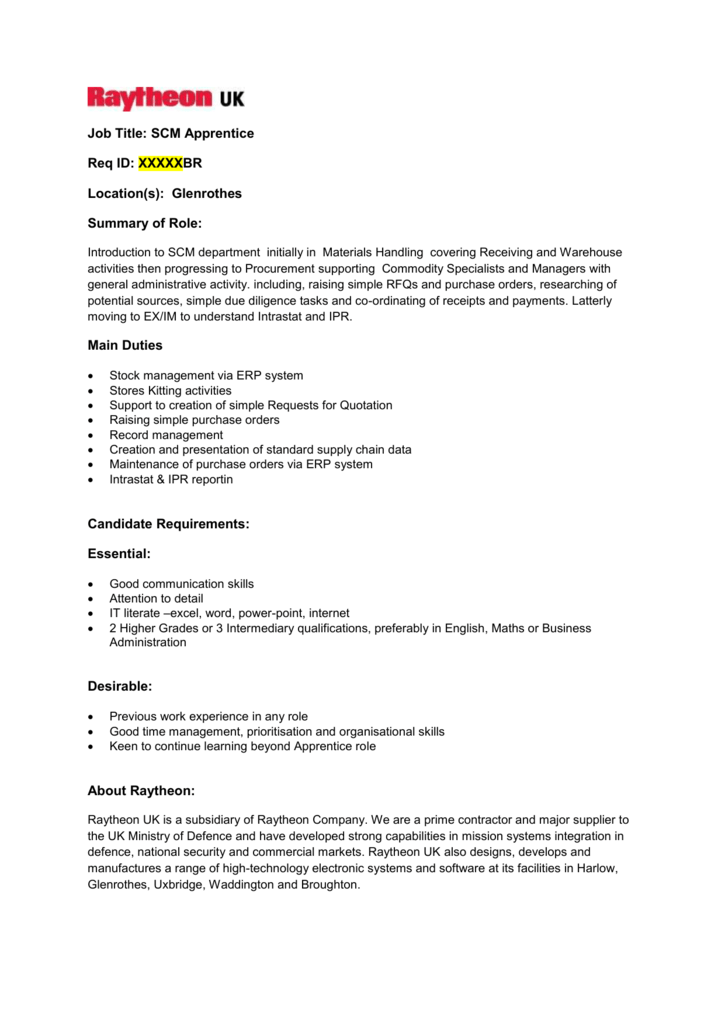 Job Title: SCM Apprentice
Req ID: XXXXXBR
Location(s): Glenrothes
Summary of Role:
Introduction to SCM department initially in Materials Handling covering Receiving and Warehouse
activities then progressing to Procurement supporting Commodity Specialists and Managers with
general administrative activity. including, raising simple RFQs and purchase orders, researching of
potential sources, simple due diligence tasks and co-ordinating of receipts and payments. Latterly
moving to EX/IM to understand Intrastat and IPR.
Main Duties








Stock management via ERP system
Stores Kitting activities
Support to creation of simple Requests for Quotation
Raising simple purchase orders
Record management
Creation and presentation of standard supply chain data
Maintenance of purchase orders via ERP system
Intrastat & IPR reportin
Candidate Requirements:
Essential:




Good communication skills
Attention to detail
IT literate –excel, word, power-point, internet
2 Higher Grades or 3 Intermediary qualifications, preferably in English, Maths or Business
Administration
Desirable:



Previous work experience in any role
Good time management, prioritisation and organisational skills
Keen to continue learning beyond Apprentice role
About Raytheon:
Raytheon UK is a subsidiary of Raytheon Company. We are a prime contractor and major supplier to
the UK Ministry of Defence and have developed strong capabilities in mission systems integration in
defence, national security and commercial markets. Raytheon UK also designs, develops and
manufactures a range of high-technology electronic systems and software at its facilities in Harlow,
Glenrothes, Uxbridge, Waddington and Broughton.
Raytheon Company, with 2011 sales of $25 billion and 71,000 employees worldwide, is a technology
and innovation leader specialising in defence, homeland security and other government markets
throughout the world. With a history of innovation spanning 90 years, Raytheon provides state-of-theart electronics, mission systems integration and other capabilities in the areas of sensing; effects; and
command, control, communications and intelligence systems, as well as a broad range of mission
support services. Raytheon is headquartered in Waltham, Mass. For more about Raytheon, visit us at
www.raytheon.co.uk
Raytheon Career Development:
Raytheon has a wealth of resources available to help you develop your career from the moment you
join. Activities range from on-line learning modules, to external training and support for taking
professional qualifications relevant to your role.