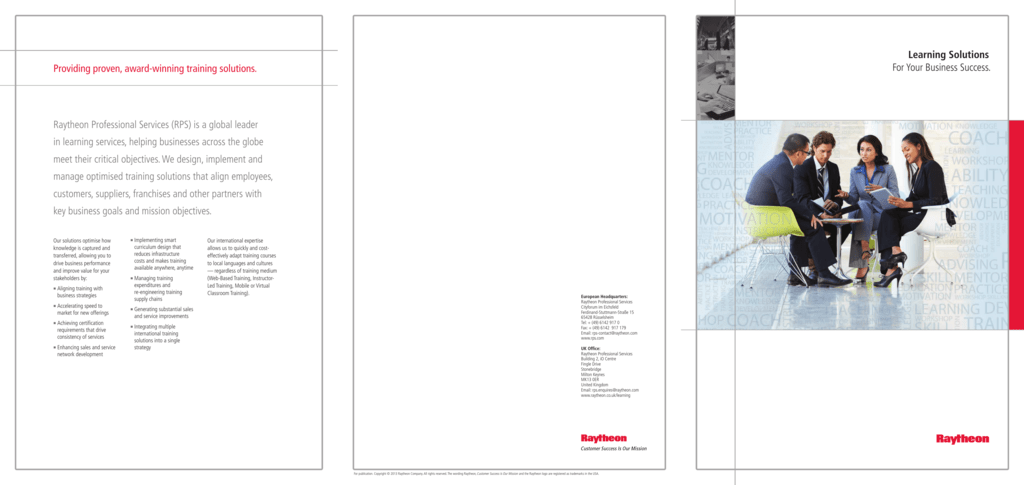 Learning Solutions
For Your Business Success.
Providing proven, award-winning training solutions.
Raytheon Professional Services (RPS) is a global leader
in learning services, helping businesses across the globe
meet their critical objectives. We design, implement and
manage optimised training solutions that align employees,
customers, suppliers, franchises and other partners with
key business goals and mission objectives.
Our solutions optimise how
knowledge is captured and
transferred, allowing you to
drive business performance
and improve value for your
stakeholders by:
n
n
Implementing smart
curriculum design that
reduces infrastructure
costs and makes training
available anywhere, anytime
n
M
anaging training
expenditures and
re-engineering training
supply chains
A
ligning training with
business strategies
n
A
ccelerating speed to
market for new offerings
n
A
chieving certification
requirements that drive
consistency of services
n
E nhancing sales and service
network development
n
G
enerating substantial sales
and service improvements
n
Integrating multiple
international training
solutions into a single
strategy
Our international expertise
allows us to quickly and costeffectively adapt training courses
to local languages and cultures
— regardless of training medium
(Web-Based Training, InstructorLed Training, Mobile or Virtual
Classroom Training).
European Headquarters:
Raytheon Professional Services
Cityforum im Eichsfeld
Ferdinand-Stuttmann-Straße 15
65428 Rüsselsheim
Tel: + (49) 6142 917 0
Fax: + (49) 6142 917 179
Email: [email protected]
www.rps.com
UK Office:
Raytheon Professional Services
Building 2, iO Centre
Fingle Drive
Stonebridge
Milton Keynes
MK13 0ER
United Kingdom
Email: [email protected]
www.raytheon.co.uk/learning
For publication. Copyright © 2013 Raytheon Company. All rights reserved. The wording Raytheon, Customer Success Is Our Mission and the Raytheon logo are registered as trademarks in the USA.
Delivering proven training innovations that maximise your ROI.
Drawing from a full service portfolio and a broad range of technological expertise,
RPS takes a customer-oriented approach to training. So we can improve personnel
performance quickly, flexibly and cost-effectively.
A diverse portfolio of learning solutions.
Commitment, reliability, experience
and creativity enable us to deliver the
training solutions that are right for your
organisation. We offer a wide variety
of solutions in a number of key training
areas, including:
n
Product Launches
n
Sales
n
Service
n
Technology
n
Technical Training Management
As a part of Raytheon—a USD 25
billion provider of defence, homeland
security and other government
markets—we are guided by a wellhoned programme management
discipline. We are backed by a rich
heritage of innovation, and remain
focused on meeting schedule and
quality commitments for our customers.
Innovative training technologies.
Offering world-class partnership trusted worldwide.
RPS delivers a full spectrum of innovative
training technologies and mediums. In
addition to classroom training methodology,
we offer e-Learning, mobile learning
technologies and virtual classroom training.
RPS has remained a trusted business partner to organisations spanning the globe
by delivering unmatched experience, capability and reach. Our customers cite many
reasons for selecting us, including:
Each offering is supplemented with
Learning Management Systems, Content
Management Systems and other training Through flexible, efficient training
support tools. So you can do everything
concepts and targeted implementation,
from converting classroom training to
we're able to reduce costs for you
Web-Based Training (with our Convertix™ and your partners — generating
solution) to optimising curricula (with
the optimal return on your training
our Architect™ solution) to streamlining
investment.
your training vendor database.
Capabilities
Delivery
Strategy, Design,
Development & Deployment
Instructor-Led
Virtual Classroom
Web-Based
n
A
focus on business results
n
W
orldwide coverage in nearly
100 countries
n
C
omprehensive capabilities for
customised training solutions
n
P roven expertise in analysing
and optimising curricula
n
V
endor management capabilities
n
R eputation for top
operational performance
n
E xcellent international
training solutions
n
F inancial stability
n
M
ore than 70 years of
training experience
RPS has offices around the world with
headquarters in Dallas, Detroit, Frankfurt,
Melbourne, Shanghai and Moscow
and servers customers in more than 90
countries and 27 languages.
Mobile
Carrying on a long tradition of innovation.
UAV Flight Controller
Military Training
Johnson Space Center's Neutral Buoyancy Laboratory
Automotive Training Solutions
Convertix™
1930s:
1950s:
1960s:
1990s:
Today:
Ed Link builds the first flight
simulator. His invention
revolutionises pilot training —
and marks the beginning of
Raytheon's training experience.
Raytheon dominates the
military training sector. With
our comprehensive training
approach, we're able to support
the international deployment of
multi-national armed forces.
Raytheon captures the world
market. Our market-leading
simulator training supports
NASA's Apollo, Skylab, Space
Shuttle and Space Station
programmes.
Raytheon enters the commercial
market. Our comprehensive
training services allow us to
reach over 250,000 people
worldwide per year in the sales,
service and technical fields.
Raytheon sets the standard.
Every year, we receive new
awards from leading training
institutes and organisations in
recognition of innovation and
quality.
High Consequence Training
Over the years, RPS has been recognized
around the world for the scope, quality
and impact of our training solutions. For
example, HRO Today magazine rated us
the Number 1 Outsourcing Provider in
its Baker's Dozen in Learning, a ranking
determined by direct customer feedback
on provider quality and scope of services.