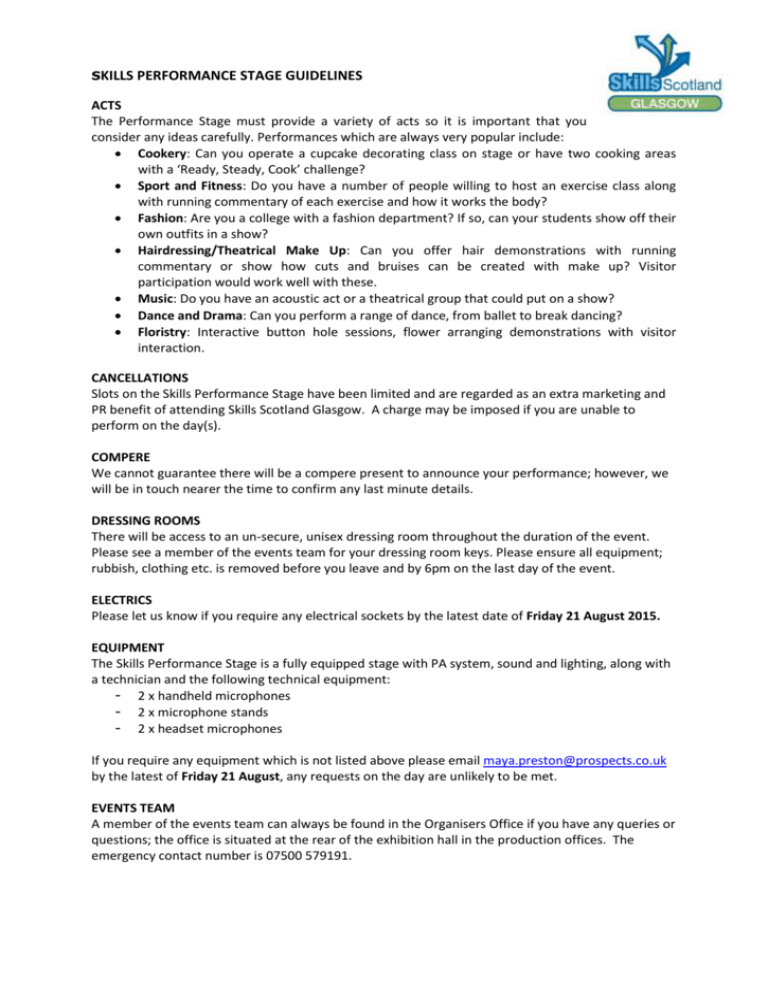 SKILLS PERFORMANCE STAGE GUIDELINES
ACTS
The Performance Stage must provide a variety of acts so it is important that you
consider any ideas carefully. Performances which are always very popular include:
 Cookery: Can you operate a cupcake decorating class on stage or have two cooking areas
with a 'Ready, Steady, Cook' challenge?
 Sport and Fitness: Do you have a number of people willing to host an exercise class along
with running commentary of each exercise and how it works the body?
 Fashion: Are you a college with a fashion department? If so, can your students show off their
own outfits in a show?
 Hairdressing/Theatrical Make Up: Can you offer hair demonstrations with running
commentary or show how cuts and bruises can be created with make up? Visitor
participation would work well with these.
 Music: Do you have an acoustic act or a theatrical group that could put on a show?
 Dance and Drama: Can you perform a range of dance, from ballet to break dancing?
 Floristry: Interactive button hole sessions, flower arranging demonstrations with visitor
interaction.
CANCELLATIONS
Slots on the Skills Performance Stage have been limited and are regarded as an extra marketing and
PR benefit of attending Skills Scotland Glasgow. A charge may be imposed if you are unable to
perform on the day(s).
COMPERE
We cannot guarantee there will be a compere present to announce your performance; however, we
will be in touch nearer the time to confirm any last minute details.
DRESSING ROOMS
There will be access to an un-secure, unisex dressing room throughout the duration of the event.
Please see a member of the events team for your dressing room keys. Please ensure all equipment;
rubbish, clothing etc. is removed before you leave and by 6pm on the last day of the event.
ELECTRICS
Please let us know if you require any electrical sockets by the latest date of Friday 21 August 2015.
EQUIPMENT
The Skills Performance Stage is a fully equipped stage with PA system, sound and lighting, along with
a technician and the following technical equipment:
- 2 x handheld microphones
- 2 x microphone stands
- 2 x headset microphones
If you require any equipment which is not listed above please email maya.preston@prospects.co.uk
by the latest of Friday 21 August, any requests on the day are unlikely to be met.
EVENTS TEAM
A member of the events team can always be found in the Organisers Office if you have any queries or
questions; the office is situated at the rear of the exhibition hall in the production offices. The
emergency contact number is 07500 579191.
FURNITURE
Please advise if you require any furniture during your slot(s) on the Skills Performance Stage by
Friday 21 August.
MUSIC
Please ensure you bring along any backing music on CD or iPod.
NOISE
Live bands are not permitted on the Skills Performance Stage. While we understand that it is
important for the Skills Performance Stage to be a vibrant and buzzing part of Skills Scotland
Glasgow, we have to respect those exhibitors that are situated close to the Skills Performance Stage.
Should we feel it necessary, we reserve the right to reduce the volume of music etc and would
appreciate your co-operation in this matter. Live acoustic sets are permitted and encouraged.
REHEARSALS
You have the opportunity to do a 30 minute rehearsal time slot on Tuesday 28 October between 3pm
– 5pm. Please confirm by Friday 21 August if you require this and a time will be allocated and
confirmed to you.
TECHNICIAN
A technician will be available throughout your time slot(s) on the Skills Performance Stage; please
introduce yourself and make sure you are available 5 – 10 minutes prior to your performance.
TIMINGS
Your allocated time slot includes the set up and take down of your performance, however you can be
backstage preparing while the performance before you is on stage. Please ensure you adhere to the
times allocated as the timetable is full and delays could affect other performers.