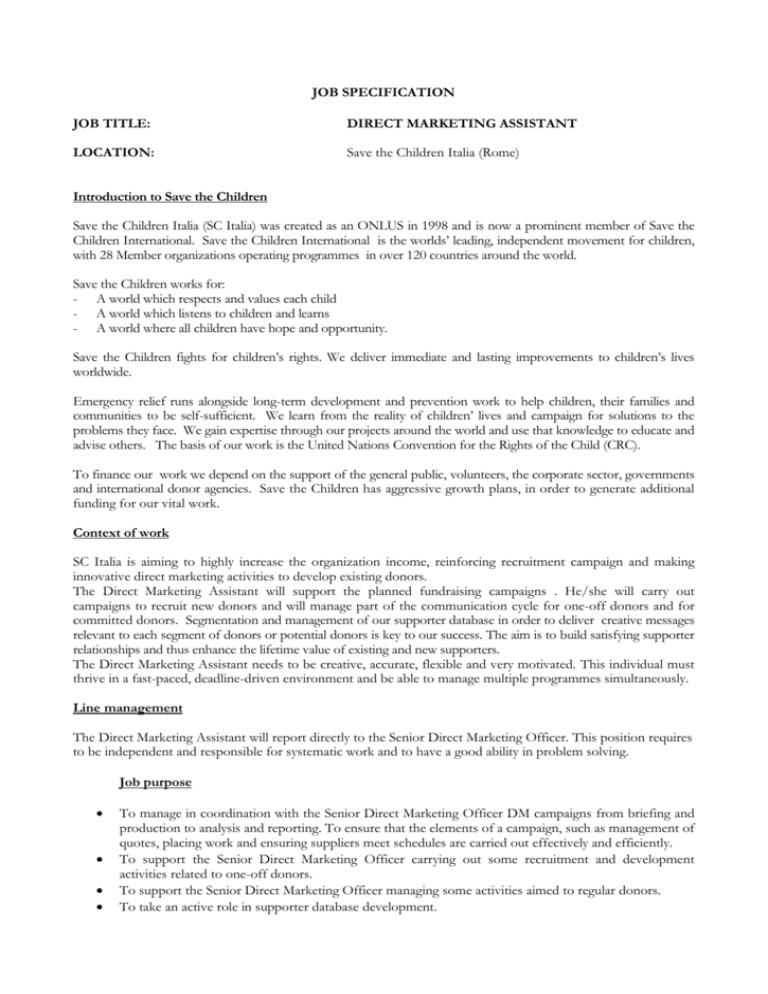 JOB SPECIFICATION
JOB TITLE:
DIRECT MARKETING ASSISTANT
LOCATION:
Save the Children Italia (Rome)
Introduction to Save the Children
Save the Children Italia (SC Italia) was created as an ONLUS in 1998 and is now a prominent member of Save the
Children International. Save the Children International is the worlds' leading, independent movement for children,
with 28 Member organizations operating programmes in over 120 countries around the world.
Save the Children works for:
- A world which respects and values each child
- A world which listens to children and learns
- A world where all children have hope and opportunity.
Save the Children fights for children's rights. We deliver immediate and lasting improvements to children's lives
worldwide.
Emergency relief runs alongside long-term development and prevention work to help children, their families and
communities to be self-sufficient. We learn from the reality of children' lives and campaign for solutions to the
problems they face. We gain expertise through our projects around the world and use that knowledge to educate and
advise others. The basis of our work is the United Nations Convention for the Rights of the Child (CRC).
To finance our work we depend on the support of the general public, volunteers, the corporate sector, governments
and international donor agencies. Save the Children has aggressive growth plans, in order to generate additional
funding for our vital work.
Context of work
SC Italia is aiming to highly increase the organization income, reinforcing recruitment campaign and making
innovative direct marketing activities to develop existing donors.
The Direct Marketing Assistant will support the planned fundraising campaigns . He/she will carry out
campaigns to recruit new donors and will manage part of the communication cycle for one-off donors and for
committed donors. Segmentation and management of our supporter database in order to deliver creative messages
relevant to each segment of donors or potential donors is key to our success. The aim is to build satisfying supporter
relationships and thus enhance the lifetime value of existing and new supporters.
The Direct Marketing Assistant needs to be creative, accurate, flexible and very motivated. This individual must
thrive in a fast-paced, deadline-driven environment and be able to manage multiple programmes simultaneously.
Line management
The Direct Marketing Assistant will report directly to the Senior Direct Marketing Officer. This position requires
to be independent and responsible for systematic work and to have a good ability in problem solving.
Job purpose




To manage in coordination with the Senior Direct Marketing Officer DM campaigns from briefing and
production to analysis and reporting. To ensure that the elements of a campaign, such as management of
quotes, placing work and ensuring suppliers meet schedules are carried out effectively and efficiently.
To support the Senior Direct Marketing Officer carrying out some recruitment and development
activities related to one-off donors.
To support the Senior Direct Marketing Officer managing some activities aimed to regular donors.
To take an active role in supporter database development.
Job tasks and responsibilities












In coordination with the Senior Direct Marketing Officer, the Direct Marketing Assistant will carry out
DM campaigns with the aim of: recruiting new supporters and developing long term relationships with
existing supporters of Save the Children
To ensure these plans are carried out with monitoring, control and feedback systems in place.
To carry out translations from and into English.
Proof-reading is required to make sure copy is accurate.
To write up and produce spreadsheets of "results" for undertaken campaigns.
To respond with flexibly to Save the Children's Marketing need by taking on a variety of projects which
will be allocated at the discretion of the Senior Direct Marketing Officer and the Individual Donors
Manager.
It is required a deep level of understanding of the application of relationship marketing concepts in a
voluntary organisation, including clear knowledge, understanding and experience of the principles and
current practice in the use of database to build support and loyalty.
To obtain and assess quotations from suppliers in terms of both price and ability to meet schedules for
printing and mailing, etc.
To set schedules for direct marketing campaigns. Make sure suppliers understand schedules – and
respect the timetable. Visit suppliers such as printers to approve work-in-progress and resolve
problems.
To maintain and develop the existing library of direct marketing resources; trade cuttings, sample SC
Italy mail packs, samples of other charity mail packs, copies of press ads and inserts, etc.
To brief and manage the service provided by external suppliers.
To work closely within the Marketing team to develop the long-term strategies, which will allow the
team to maximise its income for SC Italia. To work in a collaborative way with all the colleagues to
increase opportunities to raise funds.
Working Contacts
The post holder has the following working contacts within Save the Children Italia:






Senior Direct Marketing Officer: line management, support, assistance and exchange of information.
Committed Donors Officer: to ensure support and exchange of information related to common defined
activities.
Supporter Services: to liaise with matters such as fulfilment of responses to direct marketing activities
and to deal with problems and queries as they might arise, with associated database amendments.
Data Base and Marketing Analyst Coordinator: to ensure related reporting requirements are developed
and scheduled for relevant projects and that lessons-learned reported is documented and communicated.
Corporate and Communication: supporting in producing materials if necessary.
Programme: sourcing and checking factual information.
Others
Suppliers of different services (especially direct mail suppliers). Contact includes:
 Writing brief and providing information
 Getting and assessing quotations
 Negotiating quotes
 Progress-chasing work
 Proof-reading
General


To work as a member of the SC Italia team to help ensure that the office functions in a cooperative
manner.
To carry out any other task as required by the Senior Direct Marketing Officer, the Individual Donors
Manager, the Head of Marketing and Communications and the CEO.
Knowledge, skills and abilities















A minimum of 2 years experience of working in the fund raising sector is required.
Experience of managing direct marketing programmes from targeting and creative briefing to
fulfilment execution.
A good level of understanding of the application of relationship marketing concepts in a voluntary
organisation, including clear knowledge, understanding and experience of the principles and current
practice in the use of databases to build support and loyalty.
A very good capacity to write direct mailing pieces and an excellent capacity to translate into Italian
from English and vice versa.
Verbal fluency in Italian and English is essential.
Experience of using database preferably in the non profit sector.
Good IT literacy, including expertise in spreadsheet analysis.
Proven ability to develop good and effective working relationships both with colleagues and with SC
Alliance and members, who are based throughout the world.
Ability to prioritise tasks and to respond to rapidly changing situations, such as during an
international emergency fundraising campaign.
Proactive attitude and capability to work under pressure.
Very good organisational skills and the ability to work in respect of tight deadlines.
Enthusiasm and ability to work as part of a team.
Awareness, understanding and genuine interest in current and emerging trends.
Ability to contribute to strategic thinking and planning.
Commitment to Save the Children's aims and objectives.