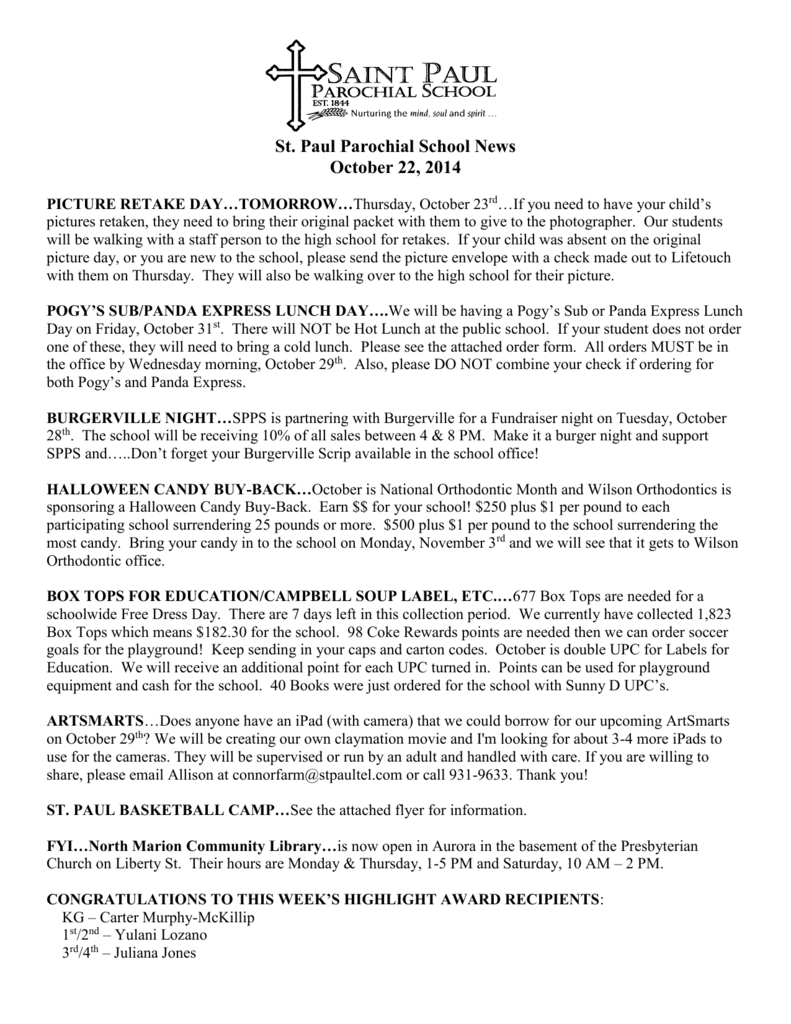 St. Paul Parochial School News
October 22, 2014
PICTURE RETAKE DAY…TOMORROW…Thursday, October 23rd…If you need to have your child's
pictures retaken, they need to bring their original packet with them to give to the photographer. Our students
will be walking with a staff person to the high school for retakes. If your child was absent on the original
picture day, or you are new to the school, please send the picture envelope with a check made out to Lifetouch
with them on Thursday. They will also be walking over to the high school for their picture.
POGY'S SUB/PANDA EXPRESS LUNCH DAY….We will be having a Pogy's Sub or Panda Express Lunch
Day on Friday, October 31st. There will NOT be Hot Lunch at the public school. If your student does not order
one of these, they will need to bring a cold lunch. Please see the attached order form. All orders MUST be in
the office by Wednesday morning, October 29th. Also, please DO NOT combine your check if ordering for
both Pogy's and Panda Express.
BURGERVILLE NIGHT…SPPS is partnering with Burgerville for a Fundraiser night on Tuesday, October
28th. The school will be receiving 10% of all sales between 4 & 8 PM. Make it a burger night and support
SPPS and…..Don't forget your Burgerville Scrip available in the school office!
HALLOWEEN CANDY BUY-BACK…October is National Orthodontic Month and Wilson Orthodontics is
sponsoring a Halloween Candy Buy-Back. Earn $$ for your school! $250 plus $1 per pound to each
participating school surrendering 25 pounds or more. $500 plus $1 per pound to the school surrendering the
most candy. Bring your candy in to the school on Monday, November 3rd and we will see that it gets to Wilson
Orthodontic office.
BOX TOPS FOR EDUCATION/CAMPBELL SOUP LABEL, ETC.…677 Box Tops are needed for a
schoolwide Free Dress Day. There are 7 days left in this collection period. We currently have collected 1,823
Box Tops which means $182.30 for the school. 98 Coke Rewards points are needed then we can order soccer
goals for the playground! Keep sending in your caps and carton codes. October is double UPC for Labels for
Education. We will receive an additional point for each UPC turned in. Points can be used for playground
equipment and cash for the school. 40 Books were just ordered for the school with Sunny D UPC's.
ARTSMARTS…Does anyone have an iPad (with camera) that we could borrow for our upcoming ArtSmarts
on October 29th? We will be creating our own claymation movie and I'm looking for about 3-4 more iPads to
use for the cameras. They will be supervised or run by an adult and handled with care. If you are willing to
share, please email Allison at [email protected] or call 931-9633. Thank you!
ST. PAUL BASKETBALL CAMP…See the attached flyer for information.
FYI…North Marion Community Library…is now open in Aurora in the basement of the Presbyterian
Church on Liberty St. Their hours are Monday & Thursday, 1-5 PM and Saturday, 10 AM – 2 PM.
CONGRATULATIONS TO THIS WEEK'S HIGHLIGHT AWARD RECIPIENTS:
KG – Carter Murphy-McKillip
1st/2nd – Yulani Lozano
3rd/4th – Juliana Jones
5th/6th – Lesley Sloan
7th/8th – Alex Dela Cerda
BE SURE TO CHECK OUT THE FOLLOWING ATTACHMENTS:
-Pogy's Sub Order Form
-Panda Express Order Form
-Burgerville Night Flyer
-Basketball Camp Flyer
DATES TO REMEMBER:
- Picture Retake Day – Thursday, October 23rd
- Tuesday, October 28th – Burgerville Night Fundraiser, 4-8 PM
- Friday, October 31st – NO AM or PM Bus Service – NO Hot Lunch
Pogy's/Panda Express Lunch Day
- Sunday, November 2nd – Daylight Savings Time Ends…turn clocks back 1 hour
- Monday, November 3rd – NOON Dismissal – Teacher Prof. Dev.
- Tuesday, November 11th – NO School – Veteran's Day
- Wednesday, November 26th- 11 AM Dismissal
- Thursday, November 27th & Friday, November 28th – NO School – Thanksgiving Holiday
- Thursday, December 4th – Christmas Concert
- Thursday, December 18th – Middle School Play (5th-8th graders)
FAMILY FAITH SHARING QUESTIONS…
October 26th – 30th Sunday in Ordinary Time – Matthew 22:34-40
In Matthew's Gospel reading today, we hear Jesus talking about the commandments. He says, "You shall
love your God with all your heart, with all your soul, and with all your mind. This is the greatest and the
first commandment. The second is like it: You shall love your neighbor as yourself. The whole law and
the prophets depend on these two commandments." How do you love God with all your hearts, your soul,
and your mind? Who is your neighbor? How do you show your love for your neighbor?