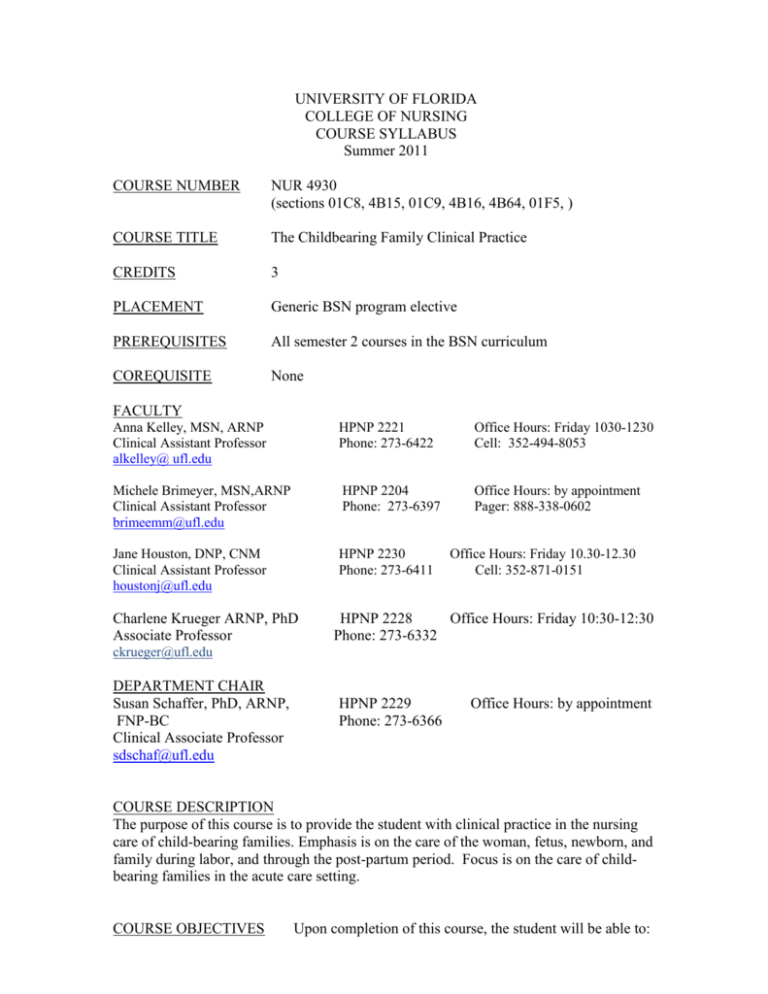 UNIVERSITY OF FLORIDA
COLLEGE OF NURSING
COURSE SYLLABUS
Summer 2011
COURSE NUMBER
NUR 4930
(sections 01C8, 4B15, 01C9, 4B16, 4B64, 01F5, )
COURSE TITLE
The Childbearing Family Clinical Practice
CREDITS
3
PLACEMENT
Generic BSN program elective
PREREQUISITES
All semester 2 courses in the BSN curriculum
COREQUISITE
None
FACULTY
Anna Kelley, MSN, ARNP
Clinical Assistant Professor
[email protected] ufl.edu
HPNP 2221
Phone: 273-6422
Office Hours: Friday 1030-1230
Cell: 352-494-8053
Michele Brimeyer, MSN,ARNP
Clinical Assistant Professor
[email protected]
HPNP 2204
Phone: 273-6397
Office Hours: by appointment
Pager: 888-338-0602
Jane Houston, DNP, CNM
Clinical Assistant Professor
[email protected]
HPNP 2230
Phone: 273-6411
Charlene Krueger ARNP, PhD
Associate Professor
Office Hours: Friday 10.30-12.30
Cell: 352-871-0151
HPNP 2228
Office Hours: Friday 10:30-12:30
Phone: 273-6332
[email protected]
DEPARTMENT CHAIR
Susan Schaffer, PhD, ARNP,
FNP-BC
Clinical Associate Professor
[email protected]
HPNP 2229
Phone: 273-6366
Office Hours: by appointment
COURSE DESCRIPTION
The purpose of this course is to provide the student with clinical practice in the nursing
care of child-bearing families. Emphasis is on the care of the woman, fetus, newborn, and
family during labor, and through the post-partum period. Focus is on the care of childbearing families in the acute care setting.
COURSE OBJECTIVES
Upon completion of this course, the student will be able to:
1. Integrate nursing knowledge, theory, and evidence based practice with knowledge from
the humanities and sciences to provide a structure for nursing practice with the
childbearing family.
COURSE OBJECTIVES (continued)
2. Assess family functioning and implement evidence-based strategies to facilitate
adaptation of the childbearing family to life with a newborn.
3. Apply appropriate communication techniques with members of the childbearing
family.
4. Collaborate with members of the health care team caring for the child bearing
family using appropriate language.
5. Apply critical thinking to set priorities, problem solve, implement care, and
evaluate outcomes in the health care management of the childbearing family in the
acute care setting.
6. Demonstrate respectful care of childbearing families from culturally diverse
backgrounds.
7. Utilize legal and ethical guidelines to provide safe, accountable, and responsible
nursing care to the childbearing family.
CLINICAL SCHEDULE
The student will complete 135 CLINICAL HOURS.
SAKAI is the course management system that you will use for this course. Sakai is
accessed by using your Gatorlink account name and password at http://lss.at.ufl.edu.
There are several tutorials and student help links on the E-Learning login site. If you have
technical questions call the UF Computer Help Desk at 352-392-HELP or send email to
[email protected]
It is important that you regularly check your Gatorlink account email for College and
University wide information and the course E-Learning site for announcements and
notifications.
Course websites are generally made available on the Friday before the first day of classes.
ATTENDANCE
Students are expected to be present for all scheduled clinical practice experiences
and seminars. Students who have extraordinary circumstances preventing attendance
should explain these circumstances to the course instructor prior to the scheduled clinical
practice experience or seminar. Instructors will make an effort to accommodate
reasonable requests. A grade penalty may be assigned for unexcused seminar or clinical
absences. The faculty member will advise the method of notification for absences to the
clinical site e.g. phone, email, and notification of facility.
ACCOMMODATIONS DUE TO DISABILITY
Each semester, students are responsible for requesting a memorandum from the
Disability Resource Center to notify faculty of their requested individual
accommodations. This should be done at the start of the semester.
STUDENT HANDBOOK
Students are to refer to the College of Nursing Student Handbook for information
about College of Nursing student policies, honor code, and professional behavior. Of
particular importance for this course are the sections on appearance in clinical practice
areas, personal liability insurance, and student safety.
TEACHING METHODS
Skills demonstration, simulated practice demonstration, post-conference, supervision
of clinical experiences, use of audiovisual materials, and individual/group clinical
conferences.
LEARNING ACTIVITIES
Supervised nursing care, demonstration of nursing skills, and participation
conferences.
EVALUATION METHODS or CLINICAL EVALUATION
Clinical experience will be evaluated through faculty observation, verbal
communication with the student, written work, and agency staff reports using a College of
Nursing Clinical Evaluation Form. Faculty reserve the right to alter clinical experiences,
including removal from client care areas, of any student to maintain patient safety and to
provide instructional experiences to support student learning.
Evaluation will be based on achievement of course and program objectives using a
College of Nursing Clinical Evaluation Form. All areas are to be rated. A rating of
Satisfactory represents satisfactory performance and a rating of Unsatisfactory represents
unsatisfactory performance. The student must achieve a rating of Satisfactory in each
area by completion of the semester in order to achieve a passing grade for the course.
A rating of less than satisfactory in any of the areas at semester end will constitute an
Unsatisfactory course grade.
The faculty member will hold evaluation conferences with the student and clinical
preceptor, if applicable. The faculty member will document or summarize each conference
on the Clinical Evaluation Form or Incidental Advisement Record. This summary will be
signed by the faculty member and student. Mid-rotation evaluation conferences will be
made available to each student. Final evaluation conferences with faculty members are
mandatory and will be held during the last week of each clinical rotation. A student may
request additional conferences at any time by contacting the faculty member.
GRADING SCALE/QUALITY POINTS
S
Satisfactory
U
Unsatisfactory
REQUIRED TEXT
Perry, S., Hockenberry, M., Lowdermilk, D. & Wilson, D. (2010). Maternal child
nursing care (4th ed.). Maryland Heights, MO: Mosby
WEEKLY CONFERENCE to be arranged.