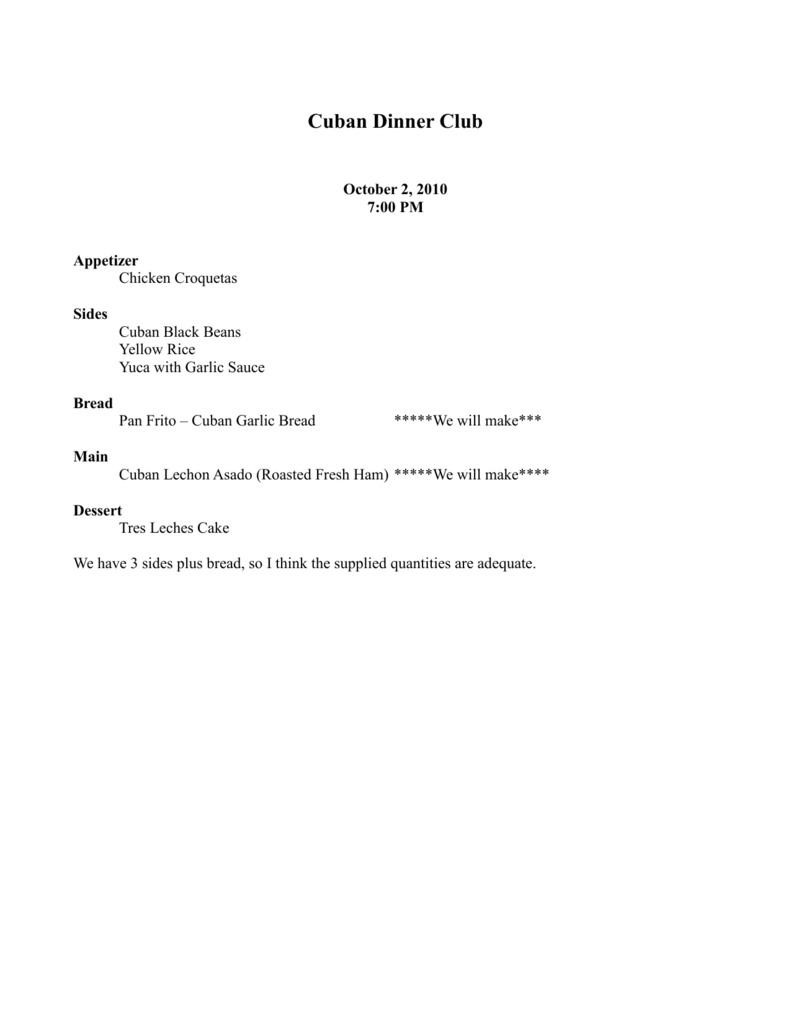 Cuban Dinner Club
October 2, 2010
7:00 PM
Appetizer
Chicken Croquetas
Sides
Cuban Black Beans
Yellow Rice
Yuca with Garlic Sauce
Bread
Pan Frito – Cuban Garlic Bread
*****We will make***
Main
Cuban Lechon Asado (Roasted Fresh Ham) *****We will make****
Dessert
Tres Leches Cake
We have 3 sides plus bread, so I think the supplied quantities are adequate.
Chicken Croquetas
(This recipe could probably be cut in half)
Ingredients:
• 5 medium chicken breasts (skinless)
• 4 eggs
• 3 cups bread crumbs (you can make your own or buy a container of plain crumbs)
• 1/4 cup salt
• 1 cup fresh parsley (chopped)
• 1 medium Spanish onion (minced)
• 6 garlic cloves (minced)
• 1 tbsp nutmeg
• 1 tsp black pepper
• 1 12 oz can evaporated milk
• 3 cups white flour (sifting is optional)
• 1 stick of butter
• 3 tbsp dry white cooking wine
• Enough vegetable or olive oil for deep fry
Chicken Dough:
Bring chicken to boil in salted water and cook until tender. Drain and let cool. Once cooled, pull
chicken into really thin "strings" and set aside. In a medium sauce pan, lightly sauteé butter, parsley,
onion, garlic on medium heat; add all of evaporated milk and mix well. Before milk begins to boil,
add nutmeg and black pepper, stirring constantly for 3 minutes. Maintaining the mixture without a
boil, stir in flour and begin folding mixture. Slowly add chicken and continue to stir constantly at
medium speed, making sure the dough does not stick to sides of pan. Reduce heat to low. Right
before you remove dough from pan, mix in cooking wine. Place dough on large platter and let cool
for two hours, before refrigerating . You should have a beautiful, large and round ball of chicken
dough!
Croquetas
Whisk eggs in bowl and set aside. Place bread crumbs in separate bowl and set aside. Pinch about
1-2 tbsps of dough and shape into small sausage size .
Using a spoon, roll twice in egg yolk mix, covering entire croquette. Roll and fully cover with bread
crumbs.
As you shape and cover the croquettes, line up on wax paper. After you have finished all of them,
set aside for about 15 minutes. In large frying pan or small deep fryer if you have one, cook
croquettes in 375 degree heat, until golden brown.
Serve hot! Yields 60 fabulous croquettes. Ration carefully and enjoy!
* you can store extra ones in the freezer for up to 4 weeks!!
Yuca with Garlic Sauce
1 1/2 pounds yuca, peeled, halved and cut into chunks
(Note: I've seen yuca at several Hen House and Price Chopper stores locally)
1 teaspoon salt
Juice of one lime
6 cloves garlic, mashed into 1 teaspoon salt
1/3 cup fresh lemon juice
1/2 cup olive oil
1 onion, chopped fine
Place yuca in a saucepan; add water until yuca is just covered. Add salt and lime juice, and bring to a
boil. Reduce heat, cover, and simmer until tender -- about 30 minutes. Drain. (Remove any "woody"
parts from center of yuca.)
Mash garlic cloves into salt with mortar and pestle. Add garlic, lemon juice, and onions to olive oil in a
separate saucepan, heat until bubbling, and then pour over yuca.
Toss the yuca and all ingredients lightly while continuing to sauté over medium heat until barely
browned, but not crisp!
Cuban Black Beans
A staple common to Cuban cooking is black beans. You will find that although they may seem
common, they can be used in a variety of different dishes.
1 pound dried black beans
4 cups of water
3 cloves of garlic, peeled and crushed
1 medium onion, peeled and chopped
¼ pound salt pork, chopped
1 pound smoked ham hocks, cut in 1 inch pieces
2 teaspoons paprika
3 teaspoons ground cumin
2 bay leaves
4 cups chicken stock
½ teaspoon chili powder
1 tablespoon vinegar
salt and pepper to taste
Place black beans and water in large stock pot. Cover and boil two minutes. Turn off heat and let stand
covered for 1 hour.
Remove the lid and add the rest of the ingredients, except the vinegar, salt and pepper. There should be
enough water to just cover the beans, so if necessary add a bit or water. Cover and simmer until the
beans are tender, about 2 hours. Take out the hocks and remove the bones. Return the meat to the pot.
Add the vinegar, salt and pepper. Simmer long enough to heat the vinegar.
Yellow Rice
Makes: 8 to 10 servings
(This could probably be prepared here)
Ingredients:
2 cups long-grain rice
4 cups water
½ small onion, chopped
1 teaspoon sea salt
1/8 teaspoon annatto powder (annato is available at Hy Vee and Price Chopper in the Produce Section
May be seeds that need ground I have enough seeds here if need be)
1/8 teaspoon paprika
Black pepper to taste
Place rice in a sieve and rinse under cold water until water runs clear. Shake sieve to remove excess
water from rice. Place rice in rice cooker or large saucepan with a tightly fitting lid and add the water.
Stir in onion, salt, annatto powder, paprika and pepper.
Bring mixture to a boil over medium-high heat. Reduce heat to low, cover pan and simmer. Cook until
water is evaporated and rice is tender, about 20 minutes.
Adjust seasoning before serving.
Pan Cubano (Authentic Cuban bread recipe)
The distinctive taste is due to the use of a starter, which is made the day before. Also the dough is
enriched with lard. You can substitute the lard with solid vegetable shortening if you prefer, but the
bread acquires its' basic smoothness through the addition of the lard.
STARTER
3/4 tsp active dry yeast(1/3 envelope)
1/3 cup warm water
1/3 cup bread or all-purpose flour
The day before baking; mix the starter ingredients, dissolving the yeast in the water first. You want a
thick paste when you add the flour. Cover bowl with plastic wrap and let "ripen" in refrigerator for 24
hours. Leftover starter will keep for several days in the refrigerator and can be frozen.
DOUGH
4-1/2 tsp active dry yeast -(2 envelopes or 2 cakes of compressed yeast)
1 Tbsp sugar
1-1/2 cups warm water
3 to 4 Tbsp lard or solid vegetable shortening, at room temperature
1/2 batch starter (see above recipe)
1 Tbsp salt
4 to 5 cups bread or all-purpose flour
Dissolve yeast and sugar in 3 tablespoons of water in a large mixing bowl. When the mixture is foamy
(5 to 10 minutes), stir in the lard, the remaining water, and the 1/2 batch of starter.
Mix well with your fingers or a wooden spoon. Stir in salt and flour, 1 cup at a time. You want to get a
dough that is stiff enough to knead. You can also mix and knead in a mixer fitted with the dough hook
or in a food processor fitted with the double blade, as the processor dough hook will not handle this job
easily.
Turn dough onto a lightly floured work surface and knead until smooth and elastic, about 6 to 8
minutes, adding flour as necessary. The dough should be pliable and not sticky.
Transfer to a lightly oiled bowl, cover and let rise in a warm, draft-free spot until it doubles its' bulk,
about 45 minutes. Punch down.
To form the loaves, divide the dough in 4 pieces. Roll out each to form a 14-inch long tube, with
rounded ends (sort of like a long meat loaf) Put 2 of the loaves on a baking sheet, about 6 inches apart.
Cover with dampened cotton dish towels and let rise in warm, draft-free spot until double their bulk,
about 1 hour. If you want to let it rise at a slower pace, you can do it in a cooler spot and even in the
refrigerator, but give it 3 to 4 hours instead.
Preheat oven to 350 F
Lay a dampened piece of thick kitchen string or twine (about 1/8 " thick) all along the top length of the
loaf. Bake until the breads are lightly browned on top and sound hollow when lightly tapped, about 30
minutes.
Let them cool slightly and remove the strings. They will leave a distinct little ridge on top. Transfer
loaves onto a wire rack for cooling.
Pan Frito – Cuban Garlic Bread
1/4 cup olive oil for sautéing
3 cloves garlic, crushed with a pinch of salt
1 tablespoon chopped fresh parsley
1 loaf Cuban bread sliced into one-inch thick slices
Lemon juice to taste
Freshly grated Parmesan cheese (Optional)
Slice Cuban or French bread in one-inch slices. Place the rounds on a cutting board and use a heavy
frying pan or bacon press to compress them slightly.
Heat the oil in a large sauté pan. Toss in the crushed garlic and parsley and sauté for one minute only,
stirring constantly. Add the bread and sauté over medium heat until the bread is browned on both sides.
Just before removing the toast from the pan, sprinkle the slices with a little fresh lemon juice. We're
talking about a tiny sprinkle, not a shower!
Cuban Lechon Asado (Roasted Fresh Ham)
Ingredients
1 (8 lb) fresh ham ( pork leg or butt)
1 head garlic, broken into cloves, peeled and minced
1 tablespoon salt
1 1/2 teaspoons dried oregano
1 1/2 teaspoons ground cumin
1/2 teaspoon fresh ground black pepper
1/4 teaspoon bay leaf powder
1 tablespoon olive oil
1 cup fresh sour orange juice (seville) or 1 cup lime juice
1/4 cup dry sherry
2 large onions, thinly sliced
Directions
1. The day before you plan to serve this dish, trim the excess fat off the pork leg; make shallow slits all
over the pork, using the tip of a knife; mash the garlic, salt, oregano, cumin, pepper, bay leaf and
olive oil to a paste in a mortar; rub this mixture all over the roast, forcing it into the slits; combine
the sour orange juice, sherry, and onions in a small bowl; place the roast in a large, heavy plastic
bag; add the sour OJ mixture, making sure that the whole roast gets covered with the mixture;
refrigerate and marinate the roast in the bag overnight, turning occasionally during the time.
2. Preheat the oven to 350 degrees F.
3. Drain the roast, and pat dry, reserving the marinade; place it in a lightly oiled, nonreactive, heavy
roasting pan; cook the roast for 1 hour, turning once or twice to brown it on all sides.
4. Reduce the heat to 325 degrees; pour the marinade and onions over the pork; tent the pan with
heavy-duty aluminum foil; (tear off a piece that is 1 1/2 times the width of your pan; fold it in half
and crease the top; open it up, and place over the pan like a tent, tightly crimping edges to seal)
continue roasting the pork, basting from time to time with the pan juices, until almost cooked, about
1 hour; add a little water or sherry if the pan dries out.
5. Uncover the roast and continue cooking until the internal temp reads at least 150 degrees F on a
meat thermometer, about 30 minutes more; (most Cubans like the meat well done, so after sitting, it
should be up to 180 degrees--it's safer, also).
Let the roast stand for 10 minutes before carving.
Tres Leche Cake
Ingredients
For the cake:
Vegetable oil
6 3/4 ounces cake flour, plus extra for pan
1 teaspoon baking powder
1/2 teaspoon kosher salt
4 ounces unsalted butter, room temperature
8 ounces sugar
5 whole eggs
1 1/2 teaspoons vanilla extract
For the glaze:
1 (12-ounce) can evaporated milk
1 (14-ounce) can sweetened condensed milk
1 cup half-and-half
For the topping:
2 cups heavy cream
8 ounces sugar
1 teaspoon vanilla extract
For the cake:
Directions
Preheat the oven to 350 degrees F. Lightly oil and flour a 13 by 9-inch metal pan and set aside.
Whisk together the cake flour, baking powder and salt in a medium mixing bowl and set aside.
Place the butter into the bowl of a stand mixer. Using the paddle attachment, beat on medium speed
until fluffy, approximately 1 minute. Decrease the speed to low and with the mixer still running,
gradually add the sugar over 1 minute. Stop to scrape down the sides of the bowl, if necessary. Add the
eggs, 1 at a time, and mix to thoroughly combine. Add the vanilla extract and mix to combine. Add the
flour mixture to the batter in 3 batches and mix just until combined. Transfer the batter to the prepared
pan and spread evenly. This will appear to be a very small amount of batter. Bake on the middle rack of
the oven for 20 to 25 minutes or until the cake is lightly golden and reaches an internal temperature of
200 degrees F.
Remove the cake pan to a cooling rack and allow to cool for 30 minutes. Poke the top of the cake all
over with a skewer or fork. Allow the cake to cool completely and then prepare the glaze.
For the glaze:
Whisk together the evaporated milk, sweetened condensed milk and the half-and-half in a 1-quart
measuring cup. Once combined, pour the glaze over the cake. Refrigerate the cake overnight.
Topping:
Place the heavy cream, sugar and vanilla into the bowl of a stand mixer. Using the whisk attachment,
whisk together on low until stiff peaks are formed. Change to medium speed and whisk until thick.
Spread the topping over the cake and allow to chill in the refrigerator until ready to serve.