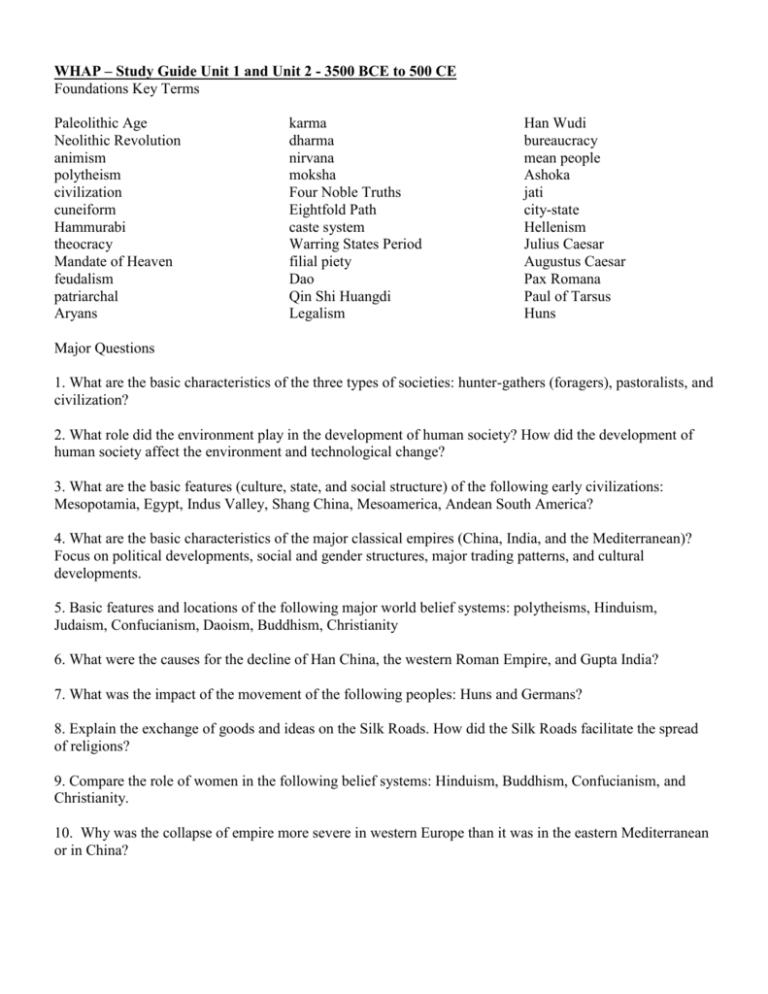 WHAP – Study Guide Unit 1 and Unit 2 - 3500 BCE to 500 CE
Foundations Key Terms
Paleolithic Age
Neolithic Revolution
animism
polytheism
civilization
cuneiform
Hammurabi
theocracy
Mandate of Heaven
feudalism
patriarchal
Aryans
karma
dharma
nirvana
moksha
Four Noble Truths
Eightfold Path
caste system
Warring States Period
filial piety
Dao
Qin Shi Huangdi
Legalism
Han Wudi
bureaucracy
mean people
Ashoka
jati
city-state
Hellenism
Julius Caesar
Augustus Caesar
Pax Romana
Paul of Tarsus
Huns
Major Questions
1. What are the basic characteristics of the three types of societies: hunter-gathers (foragers), pastoralists, and
civilization?
2. What role did the environment play in the development of human society? How did the development of
human society affect the environment and technological change?
3. What are the basic features (culture, state, and social structure) of the following early civilizations:
Mesopotamia, Egypt, Indus Valley, Shang China, Mesoamerica, Andean South America?
4. What are the basic characteristics of the major classical empires (China, India, and the Mediterranean)?
Focus on political developments, social and gender structures, major trading patterns, and cultural
developments.
5. Basic features and locations of the following major world belief systems: polytheisms, Hinduism,
Judaism, Confucianism, Daoism, Buddhism, Christianity
6. What were the causes for the decline of Han China, the western Roman Empire, and Gupta India?
7. What was the impact of the movement of the following peoples: Huns and Germans?
8. Explain the exchange of goods and ideas on the Silk Roads. How did the Silk Roads facilitate the spread
of religions?
9. Compare the role of women in the following belief systems: Hinduism, Buddhism, Confucianism, and
Christianity.
10. Why was the collapse of empire more severe in western Europe than it was in the eastern Mediterranean
or in China?