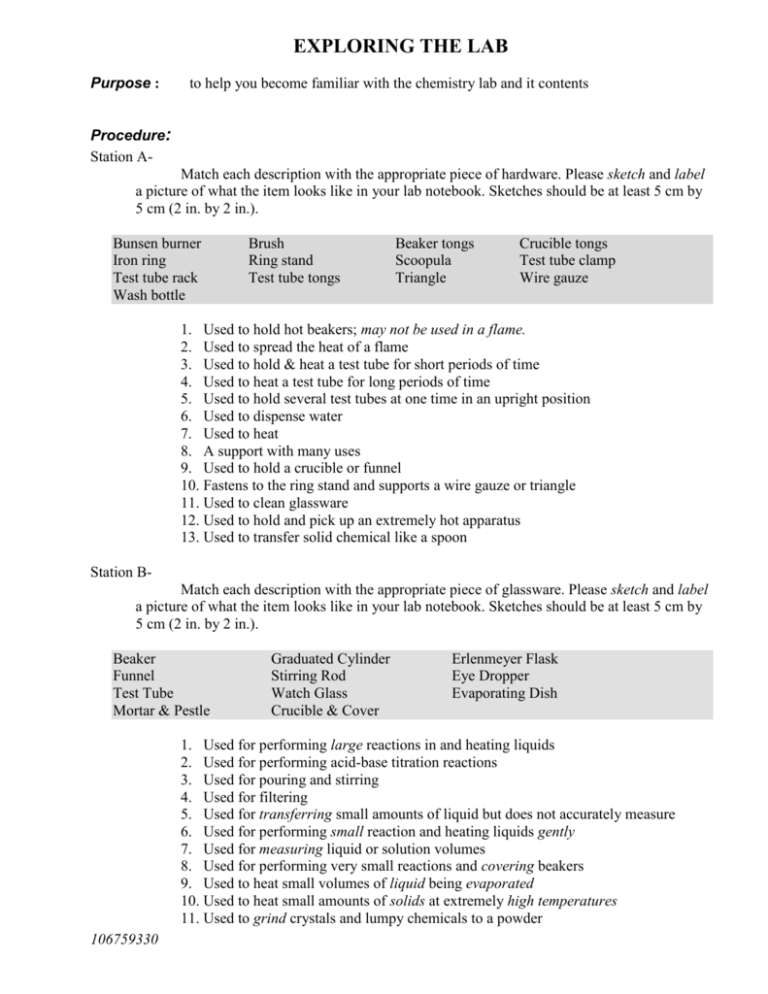 EXPLORING THE LAB
Purpose :
to help you become familiar with the chemistry lab and it contents
Procedure:
Station AMatch each description with the appropriate piece of hardware. Please sketch and label
a picture of what the item looks like in your lab notebook. Sketches should be at least 5 cm by
5 cm (2 in. by 2 in.).
Bunsen burner
Iron ring
Test tube rack
Wash bottle
Brush
Ring stand
Test tube tongs
Beaker tongs
Scoopula
Triangle
Crucible tongs
Test tube clamp
Wire gauze
1. Used to hold hot beakers; may not be used in a flame.
2. Used to spread the heat of a flame
3. Used to hold & heat a test tube for short periods of time
4. Used to heat a test tube for long periods of time
5. Used to hold several test tubes at one time in an upright position
6. Used to dispense water
7. Used to heat
8. A support with many uses
9. Used to hold a crucible or funnel
10. Fastens to the ring stand and supports a wire gauze or triangle
11. Used to clean glassware
12. Used to hold and pick up an extremely hot apparatus
13. Used to transfer solid chemical like a spoon
Station BMatch each description with the appropriate piece of glassware. Please sketch and label
a picture of what the item looks like in your lab notebook. Sketches should be at least 5 cm by
5 cm (2 in. by 2 in.).
Beaker
Funnel
Test Tube
Mortar & Pestle
Graduated Cylinder
Stirring Rod
Watch Glass
Crucible & Cover
Erlenmeyer Flask
Eye Dropper
Evaporating Dish
1. Used for performing large reactions in and heating liquids
2. Used for performing acid-base titration reactions
3. Used for pouring and stirring
4. Used for filtering
5. Used for transferring small amounts of liquid but does not accurately measure
6. Used for performing small reaction and heating liquids gently
7. Used for measuring liquid or solution volumes
8. Used for performing very small reactions and covering beakers
9. Used to heat small volumes of liquid being evaporated
10. Used to heat small amounts of solids at extremely high temperatures
11. Used to grind crystals and lumpy chemicals to a powder
106759330
Station CList the 10 things wrong with Messy Marvin's lab station.
Station DRedraw/trace the diagram of the lab in your lab book and place the letter of each safety item
listed below in its correct location.
To chem. stock
room
A.
B.
C.
D.
E.
F.
G.
H.
I.
J.
K.
Eyewash station
Fire blanket
Fire extinguishers (2)
Sand for spill control
Exhaust hoods (2)
Shower
Phone
First aid kit
Glass disposal
MSDS binders
Fire Alarm (not in
room, list the
location in the
nearest alarm box
below)
Hall
H
K.
Hall
Station EUsing the material safety data sheets (MSDS), answer the questions in complete sentences.
A. If copper II chloride is ingested, what steps should be taken?
B. What appearance and odor would potassium metal have?
C. What is the boiling point of ethyl alcohol?
D. Based on this data, what state is ethyl alcohol in at room temperature?
E. What are the effects of an overexposure to the skin from silver nitrate?
Station FConsider the questions below. In complete sentences, develop some reasonable answers.
A. Your lab partner gets acid in his or her eyes. What should you do?
B. What should you do if you severely cut yourself with a piece of broken glass?
C. What should you do if your hair catches on fire?
D. If you notice smoke or chemical fumes in the laboratory, what should you do?
E. You accidentally get a chemical in your mouth. What would you do?
Conclusion:
106759330
What are two things you learned in this lab?