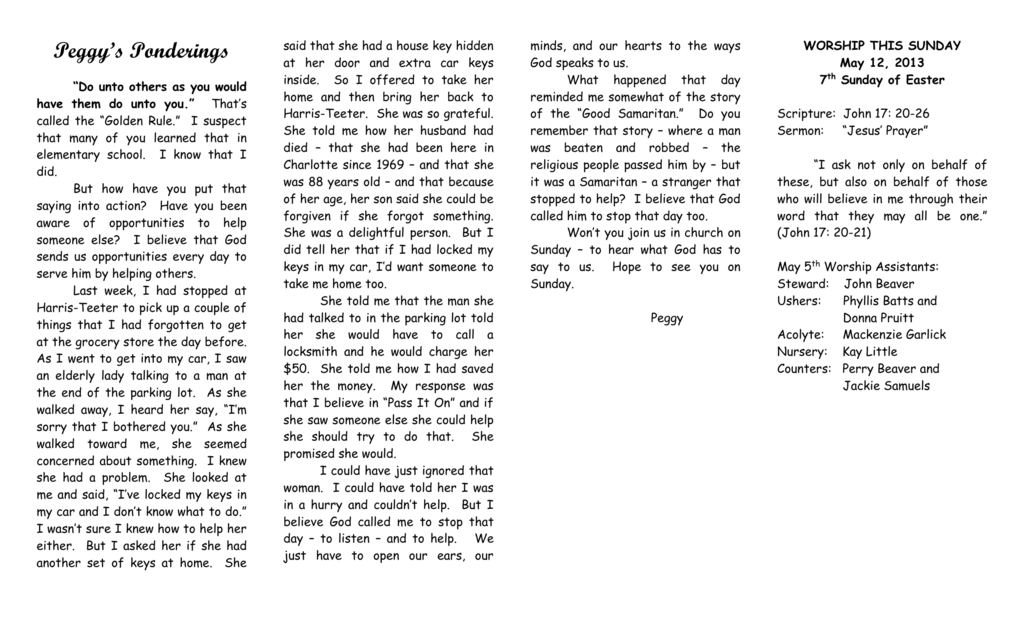 Peggy's Ponderings
"Do unto others as you would
have them do unto you." That's
called the "Golden Rule." I suspect
that many of you learned that in
elementary school. I know that I
did.
But how have you put that
saying into action? Have you been
aware of opportunities to help
someone else? I believe that God
sends us opportunities every day to
serve him by helping others.
Last week, I had stopped at
Harris-Teeter to pick up a couple of
things that I had forgotten to get
at the grocery store the day before.
As I went to get into my car, I saw
an elderly lady talking to a man at
the end of the parking lot. As she
walked away, I heard her say, "I'm
sorry that I bothered you." As she
walked toward me, she seemed
concerned about something. I knew
she had a problem. She looked at
me and said, "I've locked my keys in
my car and I don't know what to do."
I wasn't sure I knew how to help her
either. But I asked her if she had
another set of keys at home. She
said that she had a house key hidden
at her door and extra car keys
inside. So I offered to take her
home and then bring her back to
Harris-Teeter. She was so grateful.
She told me how her husband had
died – that she had been here in
Charlotte since 1969 – and that she
was 88 years old – and that because
of her age, her son said she could be
forgiven if she forgot something.
She was a delightful person. But I
did tell her that if I had locked my
keys in my car, I'd want someone to
take me home too.
She told me that the man she
had talked to in the parking lot told
her she would have to call a
locksmith and he would charge her
$50. She told me how I had saved
her the money. My response was
that I believe in "Pass It On" and if
she saw someone else she could help
she should try to do that. She
promised she would.
I could have just ignored that
woman. I could have told her I was
in a hurry and couldn't help. But I
believe God called me to stop that
day – to listen – and to help. We
just have to open our ears, our
minds, and our hearts to the ways
God speaks to us.
What happened that day
reminded me somewhat of the story
of the "Good Samaritan." Do you
remember that story – where a man
was beaten and robbed – the
religious people passed him by – but
it was a Samaritan – a stranger that
stopped to help? I believe that God
called him to stop that day too.
Won't you join us in church on
Sunday – to hear what God has to
say to us. Hope to see you on
Sunday.
Peggy
WORSHIP THIS SUNDAY
May 12, 2013
th
7 Sunday of Easter
Scripture: John 17: 20-26
Sermon: "Jesus' Prayer"
"I ask not only on behalf of
these, but also on behalf of those
who will believe in me through their
word that they may all be one."
(John 17: 20-21)
May 5th Worship Assistants:
Steward: John Beaver
Ushers:
Phyllis Batts and
Donna Pruitt
Acolyte:
Mackenzie Garlick
Nursery: Kay Little
Counters: Perry Beaver and
Jackie Samuels
LOAVES & FISHES
Letter Carrier's Food Drive
This Saturday, May 11, 2013
Grocery
Bags
will
be
distributed.
Place non-perishable
food items in bag and place at your
mail box. Letter Carriers will pick
them up this Saturday, May 11.
+++++
FREE BOOKS
As Peggy cleans out her
office, there will be a table of FREE
BOOKS in the Fellowship Hall.
Please help yourself to as many as
you would like. Anyone can take
some. You do not have to be a
member of the church to get a free
book.
MOTHER'S DAY BREAKFAST
This Sunday, May 12
8:00 a.m.
Fellowship Hall
Our UMM will again provide us
with a wonderful Mother's Day
Breakfast honoring all of our
Mothers, Grandmothers, and all
women of the church. Please join us
for breakfast along with a Mother's
Day Devotional this Sunday, May 12
at 8:00 a.m. If you have not signed
up, please call the church office as
soon as possible. We want to have
enough signed up in order to
continue
the
Mother's
Day
Breakfast.
PLEASE NOTE !
OUR STEWARDSHIP
The kitchen committee has
cleaned out the 2 refrigerators and
the freezer. Some of the food was
out-of-date or even molded.
If you need to leave food
here at the church, please put your
name on it along with a date so that
we will know who it belongs to and
how long it's been there.
Thank you so much.
The Kitchen Committee
SUNDAY SCHOOL
CHURCH ATTEDANCE
MAY 5, 2013
Sunday School 10
Church 38
+++++
+++++
CHURCH GIVING
MAY 5, 2013
Mother's Day Bulletin,
And Budget $2878.00
WITH SYMPATHY
2013 CHURCH DIRECTORY
The Commonwealth Church
Family would like to express its
sympathy to the family of Rev. Bob
Arnold who died on Monday, April
29. His funeral was on Saturday,
May 4 at Hawthorne Lane UMC. Bob
was an interim pastor at this church
many years ago and over the years
has preached here.
May God comfort his family in
this time of grief and sorrow.
DON'T FORGET TO LET US
KNOW IF THERE ARE ADDITIONS
OR
CORRECTIONS
TO
OUR
DIRETORY. WE WANT TO KEEP
OUR DIRECTORY CORRECT AND
CURRENT.
ALSO, KNOW THAT WE ARE
ALWAYS GLAD TO MAIL YOU A
NEW DIRECTORY. JUST LET US
KNOW.
PLEASE NOTE !
OUR PRAYER LIST
We have started a new prayer
list. We will continue to print the
names of our persons in assisted
living. But if you want to add a name
to our prayer list or continue a
name, you must call the church
office.
Please let us know the
person's name and their relationship
to you – friend – co-worker – cousin,
etc.
We want our prayer list to be
current and relevant. Therefore,
each person's name will be on our list
for a month unless you indicate that
it is a long-term concern.
Thanks for your cooperation.
Sonya Garlick, Milton Burgess,
Sheila Coppala,
Ann Hughes (Ec
Little's sister), Martha Lee, Iris
Mattey, Elijah Parker, Katie Parker,
Carl and Frances Stinson, Margery
and O.J. Weaver
NURSING/
ASSISTED LIVING CARE
Mable Davis, Maxine Kincaid, Hazel
Lands, Judy Ledwell, Ann Pike, Ralph
Stephenson, Jean Stoneman, Mabel
Winn
Shepherd's Center SouthEast
Charlotte, Inc.
Adventures In Learning
Adventures in Learning South
at St. Stephen UMC have begun.
Adventures in Learning East at
Central UMC will begin June 6, 2013.
A variety of classes are being
offered including Knitting, Bible
Study, Bunco, Creative Writing, and
Jewelry Making. Call 704-321-0325
for more information or pick up a
registration form in the church
office.
PLEASE NOTE !
BRIEF CHARGE CONFERENCE
May 26, 2013
12:00 p.m. after church
Open to the Congregation
This is to approve the new
minister's salary for the conference
year that begins in July, 2013.
++++
+++++
AVON ORDERS
WELCOME TO SUMMER !
Don't forget that our own
Sarah
Lever
is
an
Avon
representative. We now have new
Avon books in the office if
you'd like to look at them and
place an order. You can email
Sarah at [email protected]
or call
her at 704-532-6853
or look at her website at
http://www.youravon.com/slever.
Beginning June 2, Commonwealth
Church Services will begin at 11:30
a.m. with Sunday School at 10:30 am.
Not only will some of us get a few
extra moments of sleep, but we will
also begin our Casual Sundays for
the Summer! Come dressed as you
are for the warm Summer Months
and Worship The Lord!
UPCOMING NEWS !
We are blessed to welcome
Reverend
Sheila
Bishop
and
Reverend Patience Brumley to
Commonwealth Church!
As you know, Peggy is retiring
at the end of this Conference year.
Her last service with us will
be June 30, 2013.
Please mark
your calendars for a Big June 30th
send off after the service!
Reverend Bishop and Reverend
Brumley will begin working with
Commonwealth beginning on Sunday,
July 14, 2013. We are honored to
share their gifts and talents along
with
Cole
Memorial
United
Methodist Church as we will share
them on a two point charge. We will
have upcoming news of their arrival
soon!
MOTHER'S DAY
By Helen Steiner Rice
Mother's Day is remembrance day
And we pause on the path of the
year
To pay honor and worshipful tribute
To the mother our heart holds dear.
For, whether here or in heaven.
Her love is our haven and guide,
For always the memory of mother
Is a bacon light shining inside . . .
Time cannot destroy her memory
And years can never erase
The tenderness and the beauty
Of the love in a mother's face . . .
And when we think of our mother,
We draw near to God above,
For only God in His greatness
Could fashion a mother's love.