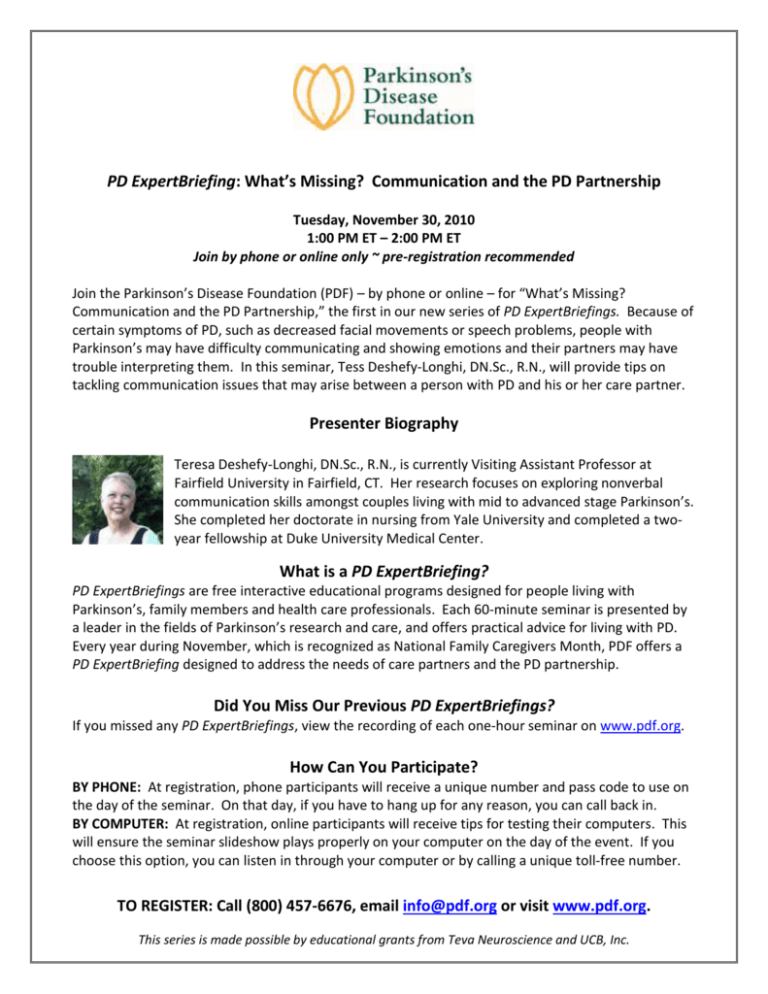 PD ExpertBriefing: What's Missing? Communication and the PD Partnership
Tuesday, November 30, 2010
1:00 PM ET – 2:00 PM ET
Join by phone or online only ~ pre-registration recommended
Join the Parkinson's Disease Foundation (PDF) – by phone or online – for "What's Missing?
Communication and the PD Partnership," the first in our new series of PD ExpertBriefings. Because of
certain symptoms of PD, such as decreased facial movements or speech problems, people with
Parkinson's may have difficulty communicating and showing emotions and their partners may have
trouble interpreting them. In this seminar, Tess Deshefy-Longhi, DN.Sc., R.N., will provide tips on
tackling communication issues that may arise between a person with PD and his or her care partner.
Presenter Biography
Teresa Deshefy-Longhi, DN.Sc., R.N., is currently Visiting Assistant Professor at
Fairfield University in Fairfield, CT. Her research focuses on exploring nonverbal
communication skills amongst couples living with mid to advanced stage Parkinson's.
She completed her doctorate in nursing from Yale University and completed a twoyear fellowship at Duke University Medical Center.
What is a PD ExpertBriefing?
PD ExpertBriefings are free interactive educational programs designed for people living with
Parkinson's, family members and health care professionals. Each 60-minute seminar is presented by
a leader in the fields of Parkinson's research and care, and offers practical advice for living with PD.
Every year during November, which is recognized as National Family Caregivers Month, PDF offers a
PD ExpertBriefing designed to address the needs of care partners and the PD partnership.
Did You Miss Our Previous PD ExpertBriefings?
If you missed any PD ExpertBriefings, view the recording of each one-hour seminar on www.pdf.org.
How Can You Participate?
BY PHONE: At registration, phone participants will receive a unique number and pass code to use on
the day of the seminar. On that day, if you have to hang up for any reason, you can call back in.
BY COMPUTER: At registration, online participants will receive tips for testing their computers. This
will ensure the seminar slideshow plays properly on your computer on the day of the event. If you
choose this option, you can listen in through your computer or by calling a unique toll-free number.
TO REGISTER: Call (800) 457-6676, email info@pdf.org or visit www.pdf.org.
This series is made possible by educational grants from Teva Neuroscience and UCB, Inc.