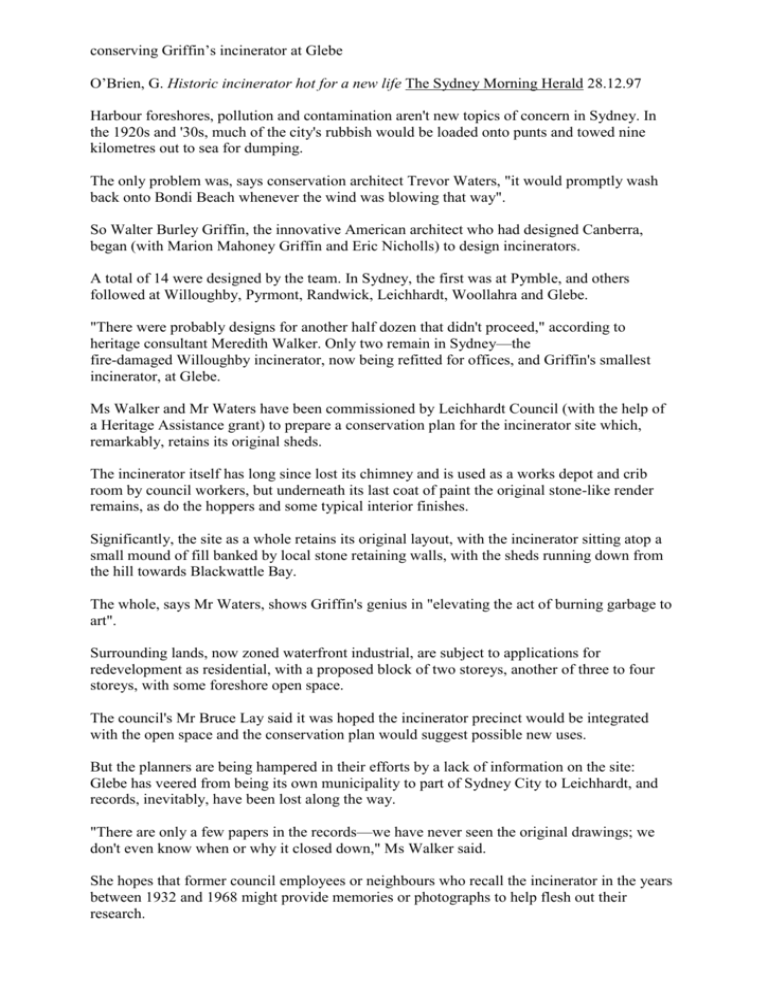 conserving Griffin's incinerator at Glebe
O'Brien, G. Historic incinerator hot for a new life The Sydney Morning Herald 28.12.97
Harbour foreshores, pollution and contamination aren't new topics of concern in Sydney. In
the 1920s and '30s, much of the city's rubbish would be loaded onto punts and towed nine
kilometres out to sea for dumping.
The only problem was, says conservation architect Trevor Waters, "it would promptly wash
back onto Bondi Beach whenever the wind was blowing that way".
So Walter Burley Griffin, the innovative American architect who had designed Canberra,
began (with Marion Mahoney Griffin and Eric Nicholls) to design incinerators.
A total of 14 were designed by the team. In Sydney, the first was at Pymble, and others
followed at Willoughby, Pyrmont, Randwick, Leichhardt, Woollahra and Glebe.
"There were probably designs for another half dozen that didn't proceed," according to
heritage consultant Meredith Walker. Only two remain in Sydney—the
fire-damaged Willoughby incinerator, now being refitted for offices, and Griffin's smallest
incinerator, at Glebe.
Ms Walker and Mr Waters have been commissioned by Leichhardt Council (with the help of
a Heritage Assistance grant) to prepare a conservation plan for the incinerator site which,
remarkably, retains its original sheds.
The incinerator itself has long since lost its chimney and is used as a works depot and crib
room by council workers, but underneath its last coat of paint the original stone-like render
remains, as do the hoppers and some typical interior finishes.
Significantly, the site as a whole retains its original layout, with the incinerator sitting atop a
small mound of fill banked by local stone retaining walls, with the sheds running down from
the hill towards Blackwattle Bay.
The whole, says Mr Waters, shows Griffin's genius in "elevating the act of burning garbage to
art".
Surrounding lands, now zoned waterfront industrial, are subject to applications for
redevelopment as residential, with a proposed block of two storeys, another of three to four
storeys, with some foreshore open space.
The council's Mr Bruce Lay said it was hoped the incinerator precinct would be integrated
with the open space and the conservation plan would suggest possible new uses.
But the planners are being hampered in their efforts by a lack of information on the site:
Glebe has veered from being its own municipality to part of Sydney City to Leichhardt, and
records, inevitably, have been lost along the way.
"There are only a few papers in the records—we have never seen the original drawings; we
don't even know when or why it closed down," Ms Walker said.
She hopes that former council employees or neighbours who recall the incinerator in the years
between 1932 and 1968 might provide memories or photographs to help flesh out their
research.