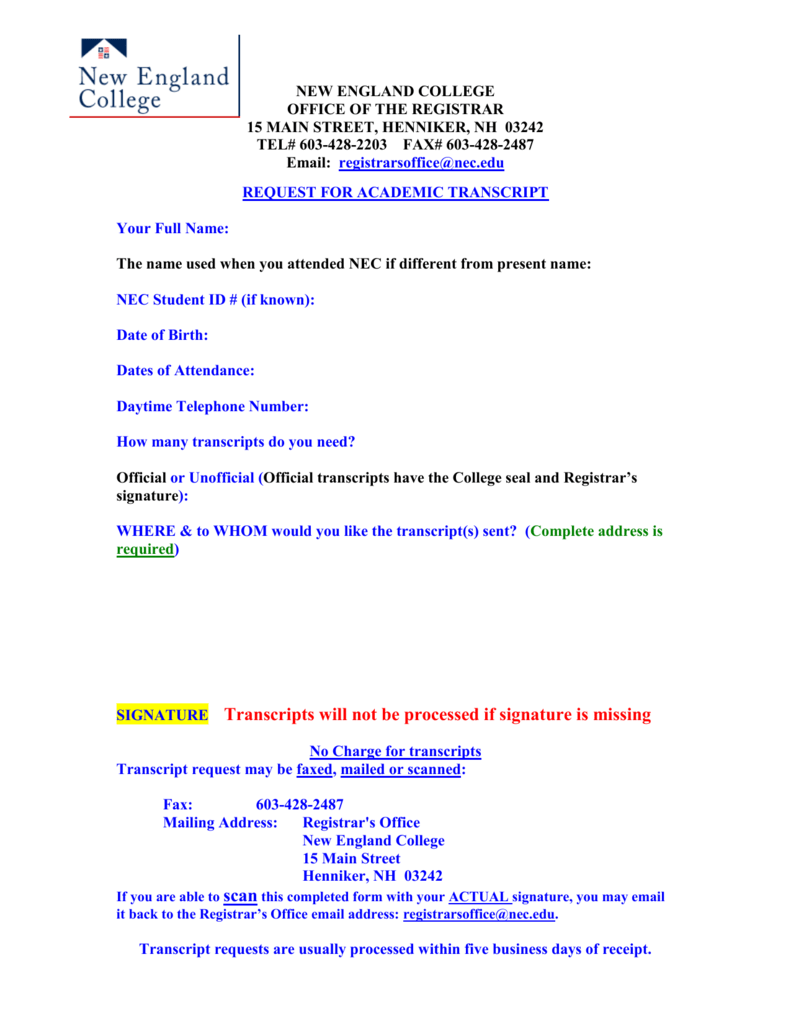 NEW ENGLAND COLLEGE
OFFICE OF THE REGISTRAR
15 MAIN STREET, HENNIKER, NH 03242
TEL# 603-428-2203 FAX# 603-428-2487
Email: [email protected]
REQUEST FOR ACADEMIC TRANSCRIPT
Your Full Name:
The name used when you attended NEC if different from present name:
NEC Student ID # (if known):
Date of Birth:
Dates of Attendance:
Daytime Telephone Number:
How many transcripts do you need?
Official or Unofficial (Official transcripts have the College seal and Registrar's
signature):
WHERE & to WHOM would you like the transcript(s) sent? (Complete address is
required)
SIGNATURE
Transcripts will not be processed if signature is missing
No Charge for transcripts
Transcript request may be faxed, mailed or scanned:
Fax:
603-428-2487
Mailing Address:
Registrar's Office
New England College
15 Main Street
Henniker, NH 03242
If you are able to scan this completed form with your ACTUAL signature, you may email
it back to the Registrar's Office email address: [email protected]
Transcript requests are usually processed within five business days of receipt.