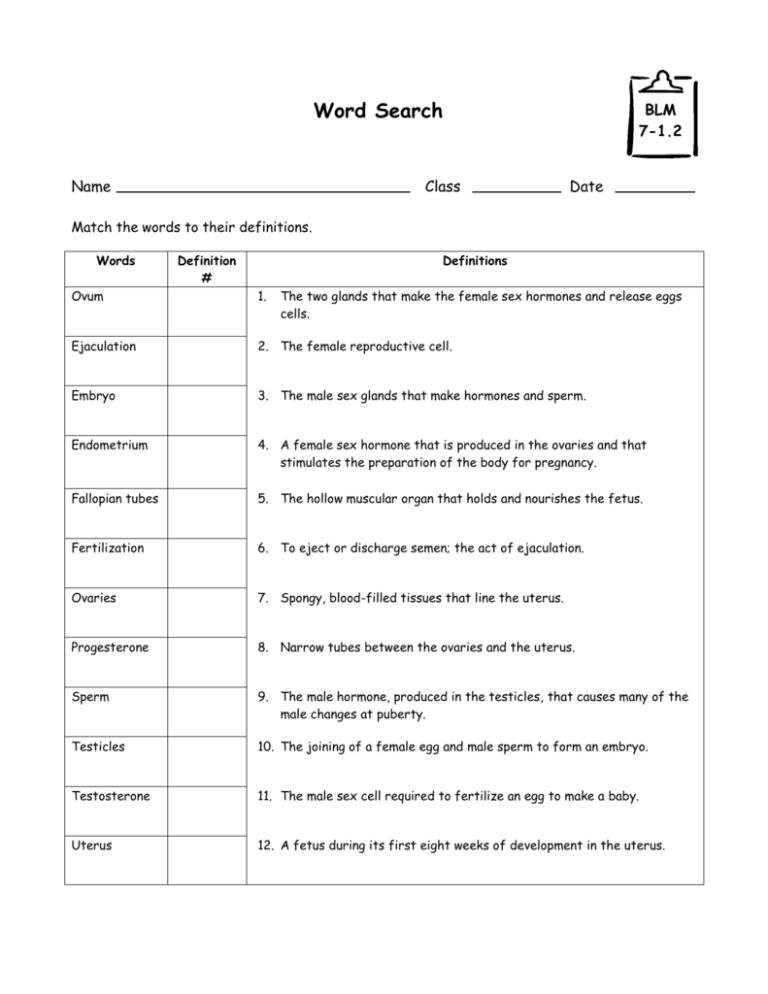 Word Search
Name
Class
BLM
7-1.2
Date
Match the words to their definitions.
Words
Definition
#
Definitions
Ovum
1.
The two glands that make the female sex hormones and release eggs
cells.
Ejaculation
2. The female reproductive cell.
Embryo
3. The male sex glands that make hormones and sperm.
Endometrium
4. A female sex hormone that is produced in the ovaries and that
stimulates the preparation of the body for pregnancy.
Fallopian tubes
5. The hollow muscular organ that holds and nourishes the fetus.
Fertilization
6. To eject or discharge semen; the act of ejaculation.
Ovaries
7. Spongy, blood-filled tissues that line the uterus.
Progesterone
8. Narrow tubes between the ovaries and the uterus.
Sperm
9. The male hormone, produced in the testicles, that causes many of the
male changes at puberty.
Testicles
10. The joining of a female egg and male sperm to form an embryo.
Testosterone
11. The male sex cell required to fertilize an egg to make a baby.
Uterus
12. A fetus during its first eight weeks of development in the uterus.