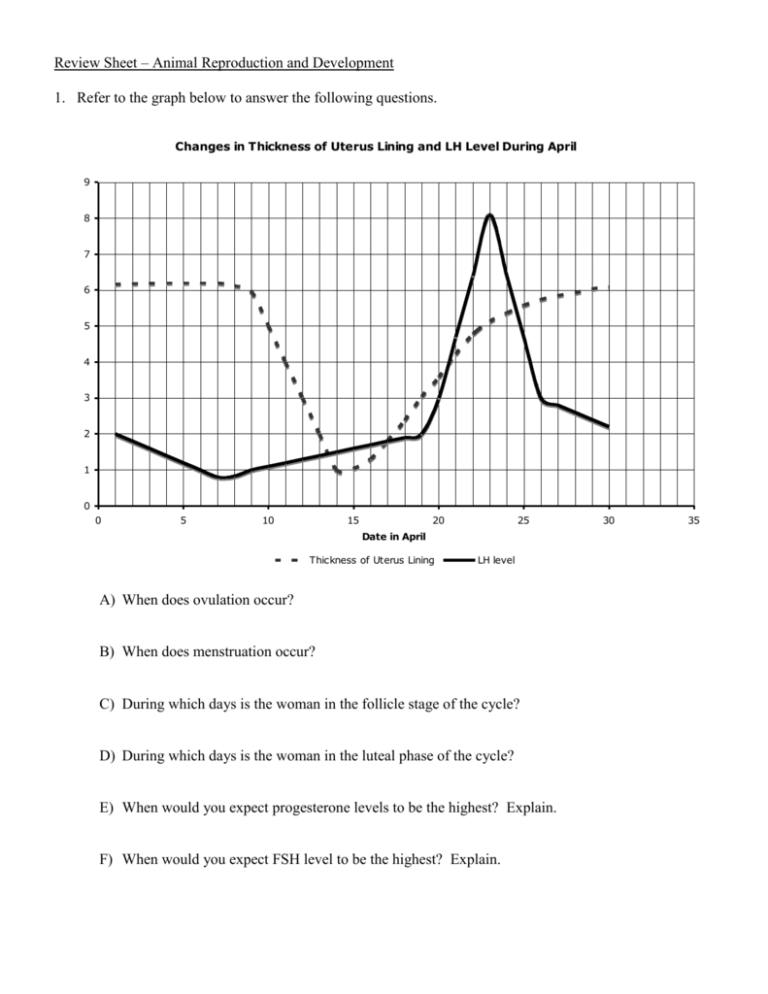 Review Sheet – Animal Reproduction and Development
1. Refer to the graph below to answer the following questions.
Changes in Thickness of Uterus Lining and LH Level During April
9
8
Uterus Thickness or LH Level
7
6
5
4
3
2
1
0
0
5
10
15
20
25
Date in April
Thickness of Uterus Lining
LH level
A) When does ovulation occur?
B) When does menstruation occur?
C) During which days is the woman in the follicle stage of the cycle?
D) During which days is the woman in the luteal phase of the cycle?
E) When would you expect progesterone levels to be the highest? Explain.
F) When would you expect FSH level to be the highest? Explain.
30
35
2. Name each of the structures of the female and male reproductive system described below and be able to
locate it on a diagram.
A) The organ where sperm are made.
B) Structure where fertilization would take place.
C) The organ where testosterone is made.
D) The sac-like structure that encloses the testes.
E) Structure where egg cells are produced.
F) Structure where the primary female hormones are made.
G) The glands that make the semen.
H) Structure where an embryo would develop.
I) Place where mature sperm are stored.
J) Structure whose lining thickens in response to hormone signals.
K) Structure where sperm may be deposited.
L) Tube that carries both urine and sperm.
M) Tube that carries only sperm.
3. Identify each stage in the early development of an embryo below:
4. Label the 3 primary germ layers on the appropriate picture in #3 above.
5. Tell what types of tissues come from each of the primary germ layers.
6. Describe the sequence of events in the birth of a baby.
7. Name at least 6 ways in which the sperm and its semen are well adapted to reach and fertilize the egg.