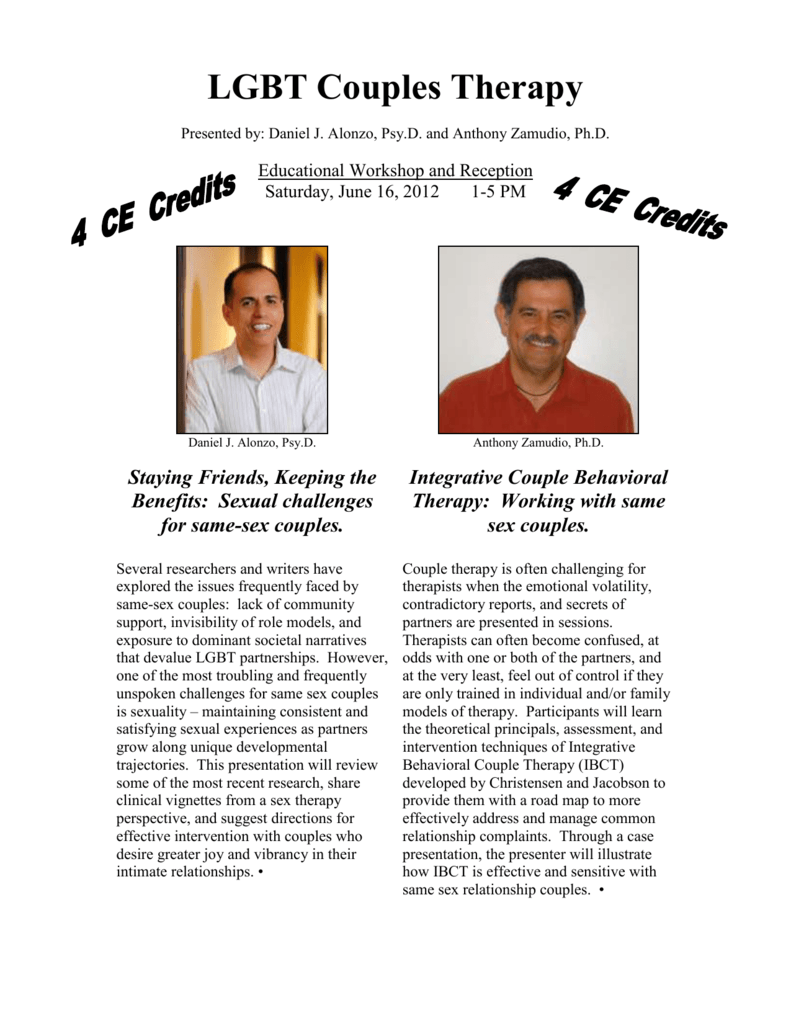 LGBT Couples Therapy
Presented by: Daniel J. Alonzo, Psy.D. and Anthony Zamudio, Ph.D.
Educational Workshop and Reception
Saturday, June 16, 2012
1-5 PM
Daniel J. Alonzo, Psy.D.
Anthony Zamudio, Ph.D.
Staying Friends, Keeping the
Benefits: Sexual challenges
for same-sex couples.
Integrative Couple Behavioral
Therapy: Working with same
sex couples.
Several researchers and writers have
explored the issues frequently faced by
same-sex couples: lack of community
support, invisibility of role models, and
exposure to dominant societal narratives
that devalue LGBT partnerships. However,
one of the most troubling and frequently
unspoken challenges for same sex couples
is sexuality – maintaining consistent and
satisfying sexual experiences as partners
grow along unique developmental
trajectories. This presentation will review
some of the most recent research, share
clinical vignettes from a sex therapy
perspective, and suggest directions for
effective intervention with couples who
desire greater joy and vibrancy in their
intimate relationships. •
Couple therapy is often challenging for
therapists when the emotional volatility,
contradictory reports, and secrets of
partners are presented in sessions.
Therapists can often become confused, at
odds with one or both of the partners, and
at the very least, feel out of control if they
are only trained in individual and/or family
models of therapy. Participants will learn
the theoretical principals, assessment, and
intervention techniques of Integrative
Behavioral Couple Therapy (IBCT)
developed by Christensen and Jacobson to
provide them with a road map to more
effectively address and manage common
relationship complaints. Through a case
presentation, the presenter will illustrate
how IBCT is effective and sensitive with
same sex relationship couples. •
Daniel J. Alonzo, Psy.D., is a both a Licensed Clinical Psychologist and a Licensed Marriage and Family
Therapist, specializing in LGBT mental health for over 20 years. In addition, Dr. Alonzo is a Certified Sex
Therapist, credentialed through the American Association of Sexuality Educators, Counselors, and
Therapists (AASECT). In addition to seeing clients in his private practice, he serves as a member of the
core faculty at Phillips Graduate Institute in Chatsworth, California, and also serves as a staff psychologist
in University Counseling Services at California State University, Northridge. Several years ago Dr.
Alonzo was presented the Award for Outstanding Service to the Los Angeles Lesbian, Gay, Bisexual, and
Transgender Community by the Los Angeles Gay Psychotherapy Association.
Anthony Zamudio, Ph.D., received his Ph.D. from UCLA in Clinical Psychology and practices in
Glendale where he specializes in couple therapy. He received training in the Integrative Behavioral
Couples Therapy (IBCT) model from Andrew Christensen and Neil Jacobson through their five-year
NIMH research grant on the effectiveness of IBCT. He is an Associate Professor of Clinical Family
Medicine at the USC Keck School of Medicine and the Behavioral Science Director at the USC Family
Medicine Residency Program at California Hospital. He has journal publications and twenty years
experience teaching residents, medical students, and psychology graduate students on the psychosocial
aspects of primary care. He currently serves as a member for the Los Angeles County Psychological
Association ethics committee and a former ethics member of the California Psychological Association. In
his practice, he also specializes in Latin, Gay and Lesbian issues.
4 CE Units, APA/BBS for Psychotherapists
Saturday June 16, 1-5 PM
Hors d'oeuvres Reception to Follow
Hosted in the home of Liliane Quon McCain
608 N. Hillcrest Road
Beverly Hills, CA 90210
$30 for members; $50 for non-members
Unrestricted street parking.
RSVP – Chuck Stewart, Ph.D., at [email protected]
Payment is accepted at the door in cash, check, or credit card.
Continuing Education Credit Disclosure
LAGPA is approved to provide Continuing Education Credits for Psychologists, Marriage and Family
Therapists, Social Workers, and Nurses. The exact number of credits awarded is equal to the number of
contact hours for each event and is specified on the Syllabus and the Registration Form. BBS CE Credits
— Course approved for continuing education credit for LCSWs and MFTs as required by the California
Board of Behavioral Sciences (BBS) provider # PCE 3992. APA CE Credits — LAGPA is approved by
the American Psychological Association (APA) to sponsor continuing education for psychologists.
LAGPA maintains responsibility for this program and its content. All requests for refund must be made in
writing and sent to: LAGPA, PO Box 34142, Los Angeles, CA 90034.