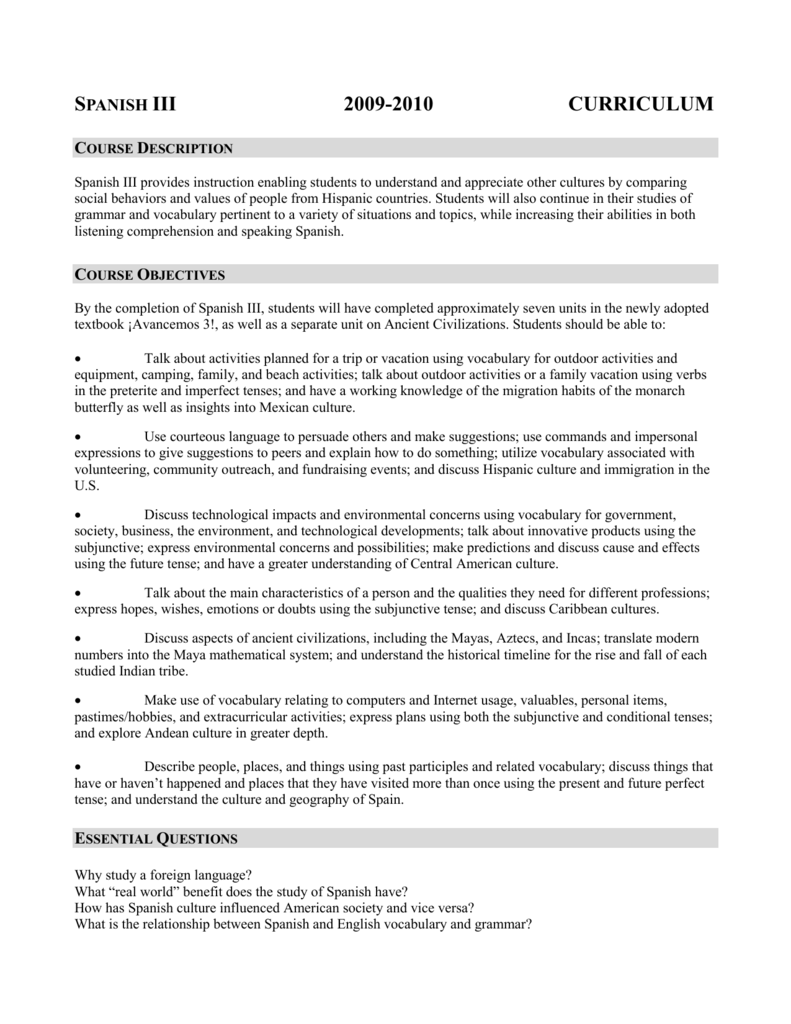 SPANISH III
2009-2010
CURRICULUM
COURSE DESCRIPTION
Spanish III provides instruction enabling students to understand and appreciate other cultures by comparing
social behaviors and values of people from Hispanic countries. Students will also continue in their studies of
grammar and vocabulary pertinent to a variety of situations and topics, while increasing their abilities in both
listening comprehension and speaking Spanish.
COURSE OBJECTIVES
By the completion of Spanish III, students will have completed approximately seven units in the newly adopted
textbook ¡Avancemos 3!, as well as a separate unit on Ancient Civilizations. Students should be able to:

Talk about activities planned for a trip or vacation using vocabulary for outdoor activities and
equipment, camping, family, and beach activities; talk about outdoor activities or a family vacation using verbs
in the preterite and imperfect tenses; and have a working knowledge of the migration habits of the monarch
butterfly as well as insights into Mexican culture.

Use courteous language to persuade others and make suggestions; use commands and impersonal
expressions to give suggestions to peers and explain how to do something; utilize vocabulary associated with
volunteering, community outreach, and fundraising events; and discuss Hispanic culture and immigration in the
U.S.

Discuss technological impacts and environmental concerns using vocabulary for government,
society, business, the environment, and technological developments; talk about innovative products using the
subjunctive; express environmental concerns and possibilities; make predictions and discuss cause and effects
using the future tense; and have a greater understanding of Central American culture.

Talk about the main characteristics of a person and the qualities they need for different professions;
express hopes, wishes, emotions or doubts using the subjunctive tense; and discuss Caribbean cultures.

Discuss aspects of ancient civilizations, including the Mayas, Aztecs, and Incas; translate modern
numbers into the Maya mathematical system; and understand the historical timeline for the rise and fall of each
studied Indian tribe.

Make use of vocabulary relating to computers and Internet usage, valuables, personal items,
pastimes/hobbies, and extracurricular activities; express plans using both the subjunctive and conditional tenses;
and explore Andean culture in greater depth.

Describe people, places, and things using past participles and related vocabulary; discuss things that
have or haven't happened and places that they have visited more than once using the present and future perfect
tense; and understand the culture and geography of Spain.
ESSENTIAL QUESTIONS
Why study a foreign language?
What "real world" benefit does the study of Spanish have?
How has Spanish culture influenced American society and vice versa?
What is the relationship between Spanish and English vocabulary and grammar?
INDIANA STATE STANDARDS

Standard 1: Communications – Write and speak in a language other than English

Standard 2: Communications – Interpret information in a language other than English

Standard 3: Communications – Present information in a language other than English

Standard 4: Cultures – Develop awareness of other cultures

Standard 5: Connections – Make connections to other content areas

Standard 6: Connections – Access and connect information through various media

Standard 7: Comparisons – Investigate the nature of language and culture

Standard 8: Communities – Become an active global citizen by experiencing languages and cultures
in multiple settings
DESIRED RESULTS
Students will be able to:

Engage in written and spoken conversations on a variety of topics

Interpret written and spoken language on a variety of topics

Present to an audience of listeners or readers on a variety of topics

Examine, experience, and reflect on the relationships among the practices, products, and
perspectives of the cultures studied

Use the target language to expand their knowledge of and make connections among multiple
content areas

Strengthen language proficiency and cultural knowledge by using current digital media and
authentic resources

Understand the nature of language and culture through comparisons of the languages and cultures
studied and their own

Use their knowledge of the target language and cultures both within and beyond the school setting
for personal enrichment and civic engagement
KEY TERMS AND CONCEPTS















Similarities and differences between American and Hispanic cultures
Commonality of the root meanings of words in various Latin-based languages
Preterite tense of irregular and stem-changing verbs
Imperfect tense of regular and irregular verbs
Imperfect versus preterite tense and their usage
Saber vs. conocer
Ancient cultural beliefs and practices and the modern view on these past civilizations
Past participles and their usage
Impersonal expressions
Por vs. para
Present and future perfect tense verbs
Future tense of regular and irregular verbs
Affirmative and negative commands
Present subjunctive tense of regular and irregular verbs
Conditional tense of regular verbs
APPLICATIONS OF TECHNOLOGY
TV with VCR and DVD players; computers with internet connection; CD players; music CDs; videotapes and
DVDs; textbook website (www.classzone.com); eEdition Online; @Home Tutor; United Streaming (if
available); and course-provided CDs, PowerPoints, and videos; laptop with LCD projector; Harmony student
record-keeping package.
UNITS OF INSTRUCTION (STATE STANDARDS)
For Spanish 3A
Preliminary Unit: Review of Spanish II Grammar/Vocabulary
Unit 1: Outdoor Fun
Unit 2: Volunteer Activities
Unit 3: Environmental Issues
For Spanish 3B
Unit 4: What I Want to Be
Unit 6: City and Rural Living
Independent Unit: Incan, Aztec, and Mayan history, culture, and civilization
COURSE ASSESSMENTS
STUDENT PRODUCTS FOR ASSESSMENT

Chapter quizzes

Chapter exams

Oral presentations and skits

Cultural projects

Classroom participation

Written translations

Homework assignments

Worksheets

Trimester final exam
TIMELINE
Spanish 3A
Week
1-3
4-6
7-9
9-12
Orientation to new text and materials, review past concepts throughout Lesson 1 and 2 of the
Preliminary Unit (1.1, 1.6, 2.1, 2.2, 3.3, 4.2, 4.3, 5.1, 6.1, 6.2, 7.1, 7.2, 7.5)
Unit 1 – Lesson 1 and 2: Let's Enjoy the Outdoors (1.1, 1.2, 1.3, 1.6, 2.1, 2.3, 3.1, 4.6, 4.7,
5.1)
Unit 2 – Lesson 1 and 2: It's Time to Help (1.1, 1.2, 2.1, 2.2, 3.1, 4.1, 5.1, 7.2, 7.5, 8.2, 8.3)
Unit 3 – Lesson 1 and 2: The Future of Our Planet….along with trimester review and final
exam (1.1, 1.3, 2.1, 2.2, 3.1, 3.3, 4.1, 4.2, 4.4, 5.1, 6.2, 8.3)
Spanish 3B
Week
1-4
5-6
7-11
12
Unit 4 – Lesson 1 and 2: I Want to Be Like This (1.1, 1.3, 2.1, 2.2, 3.1, 4.1, 4.2, 5.1, 7.1, 8.1,
8.3)
Unit 6 – Where Do We Live? (1.1, 1.3, 2.1, 2.2, 3.1, 4.1, 4.2, 5.1, 7.1, 8.1, 8.3)
Independent Unit – The Inca, Aztec, and Maya (1.2, 2.2, 2.3, 3.3, 4.1, 4.2, 4.3, 4.4, 4.5, 4.6,
4.7, 5.1, 6.2, 7.3, 7.5, 8.2)
Trimester review and final exam
COURSE MATERIALS: MAJOR TEXTS, PRINCIPAL MATERIALS AND FILMS
KEY TEXT:
¡Avancemos 3! - McDougal Littell, 2007 edition
SUPPLEMENTARY MATERIALS:
¡Avancemos 3! Workbook
501 Spanish Verbs
Spanish-English Dictionary
Eggspert Game
Jeopardy Game
* Parents should contact the teacher or department chair to discuss concerns with texts. If required, the teacher will provide
a substitute text of comparable length that approximates the stated academic purpose. Selected essays, short stories,
poems and articles will be used to teachers to augment major units.
COMMERCIAL FILMS/VIDEOS:*
Teachers may select from the following:
Trimester One
Video – "Do You Speak American?" (from PBS)
Trimester Two
Video – "Incas Remembered" (by Nova)
Video – "In Search of the Aztec Empire" (from the History Channel)
Video – "Lost Kingdoms of the Maya" (from National Geographic)
Video – "Do You Speak American?" (from PBS)
Film – "Apocalyto" (rated R for graphic violence – permission slips from parent/guardian required)
OTHER FILMS/VIDEOS *
Trimesters One and Two
Home video of trip to Costa Rica
Home video of trip to Mexico
Home video of trip to Spain
*A parent may excuse his/her child from the viewing of a commercial film/video. The parent should contact the
teacher or Department Chair to discuss his/her concerns. The teacher will provide any excused student an
alternative assignment of comparable length that is relevant to the stated academic purpose.