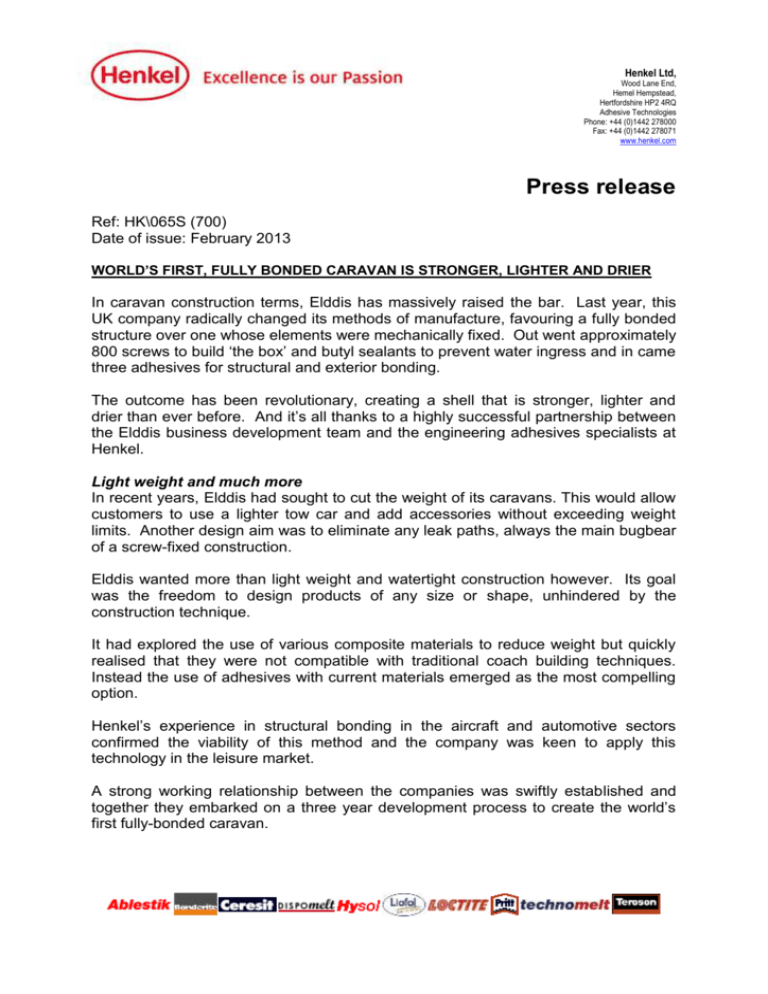 Henkel Ltd,
Wood Lane End,
Hemel Hempstead,
Hertfordshire HP2 4RQ
Adhesive Technologies
Phone: +44 (0)1442 278000
Fax: +44 (0)1442 278071
www.henkel.com
Press release
Ref: HK\065S (700)
Date of issue: February 2013
WORLD'S FIRST, FULLY BONDED CARAVAN IS STRONGER, LIGHTER AND DRIER
In caravan construction terms, Elddis has massively raised the bar. Last year, this
UK company radically changed its methods of manufacture, favouring a fully bonded
structure over one whose elements were mechanically fixed. Out went approximately
800 screws to build 'the box' and butyl sealants to prevent water ingress and in came
three adhesives for structural and exterior bonding.
The outcome has been revolutionary, creating a shell that is stronger, lighter and
drier than ever before. And it's all thanks to a highly successful partnership between
the Elddis business development team and the engineering adhesives specialists at
Henkel.
Light weight and much more
In recent years, Elddis had sought to cut the weight of its caravans. This would allow
customers to use a lighter tow car and add accessories without exceeding weight
limits. Another design aim was to eliminate any leak paths, always the main bugbear
of a screw-fixed construction.
Elddis wanted more than light weight and watertight construction however. Its goal
was the freedom to design products of any size or shape, unhindered by the
construction technique.
It had explored the use of various composite materials to reduce weight but quickly
realised that they were not compatible with traditional coach building techniques.
Instead the use of adhesives with current materials emerged as the most compelling
option.
Henkel's experience in structural bonding in the aircraft and automotive sectors
confirmed the viability of this method and the company was keen to apply this
technology in the leisure market.
A strong working relationship between the companies was swiftly established and
together they embarked on a three year development process to create the world's
first fully-bonded caravan.
'Seam welding' with adhesive
Henkel's Macroplast UK 1366 B10/UK 5452 structural bonding adhesive was
recommended for its ability to provide the elasticity needed to withstand the vibration
caused by travelling across uneven road surfaces.
Initially the panels of a caravan were butt joined with Macroplast; rigorous testing
proved its strength. Next, a keyway joint on all mating surfaces was introduced,
increasing the bond area by 63%.
The resultant, bonded construction is more than 10 times stronger than the original.
Flimsy panels are now stiff structural components so many of the original, timber
support structures have become redundant, allowing even more weight saving.
27,000 test miles
The next step was to road test the bonded caravan design at the Ford track at
Lommel. The fully loaded vehicle completed 27,000 miles, easily meeting the
requirements of BS EN1645 Part 1, the master standard for caravan construction.
The bonded structure was then put through tests that mimicked annual rain fall and
also subjected to temperature extremes of -40◦C to +50◦C. No sign of water ingress
could be seen but that was insufficient proof for Elddis.
Its engineers completely dismantled the structure to confirm all elements were dry
and there were no joint failures. And on the strength of this Elddis has been able to
introduce its 10 years bodyshell warranty.
Still not content. Elddis returned to Lommel with another test caravan. This time it
was overloaded by an extreme 500kg for another simulated 27,000 mile test. Yet
again the caravan survived but the 4 x 4 tow vehicle had to be retired from service.
SoLiD in production
With the design well and truly proven the Elddis SoLiD concept was put into
production; SoLiD is the acronym the company has chosen for its Stronger, Lighter
and Drier method of construction.
With Henkel's help Elddis also chose dedicated dispensing equipment, a vital
ingredient in ensuring the correct amount of adhesive is applied to achieve the joint
elasticity required to absorb the forces.
End result
The bonded structure has proved to be a major differentiator between Elddis and its
competitors. The company had its best ever order intake at the main industry
exhibition in 2012 and even in a fairly flat market caravan sales are above target.
Henkel know-how is also essential to the company's forward plans. "Our working
partnership has been better than anyone expected," confirmed Alan Beel, Business
Development Manager at Elddis. "I have worked with many suppliers throughout my
30 years in industry and Henkel is by far the best. Their support has been
unbelievable."
-ENDS-
Web link for enquiries: www.loctite.co.uk
-ENDSFor press enquiries and additional images please contact NEW RIVER
Tel: 01920 468443 Email: info@newriver.co.uk
www.newriver.co.uk
Henkel operates worldwide with leading brands and technologies in three business areas: Laundry & Home Care,
Cosmetics/Toiletries and Adhesive Technologies. Founded in 1876, Henkel holds globally leading market positions both in the
consumer and industrial businesses with well-known brands such as Persil, Schwarzkopf and Loctite. Henkel employs about
47,000 people and reported sales of 15,605 million euros and adjusted operating profit of 2,029 million euros in fiscal 2011.
Henkel's preferred shares are listed in the German stock index DAX and the company ranks among the Fortune Global 500.