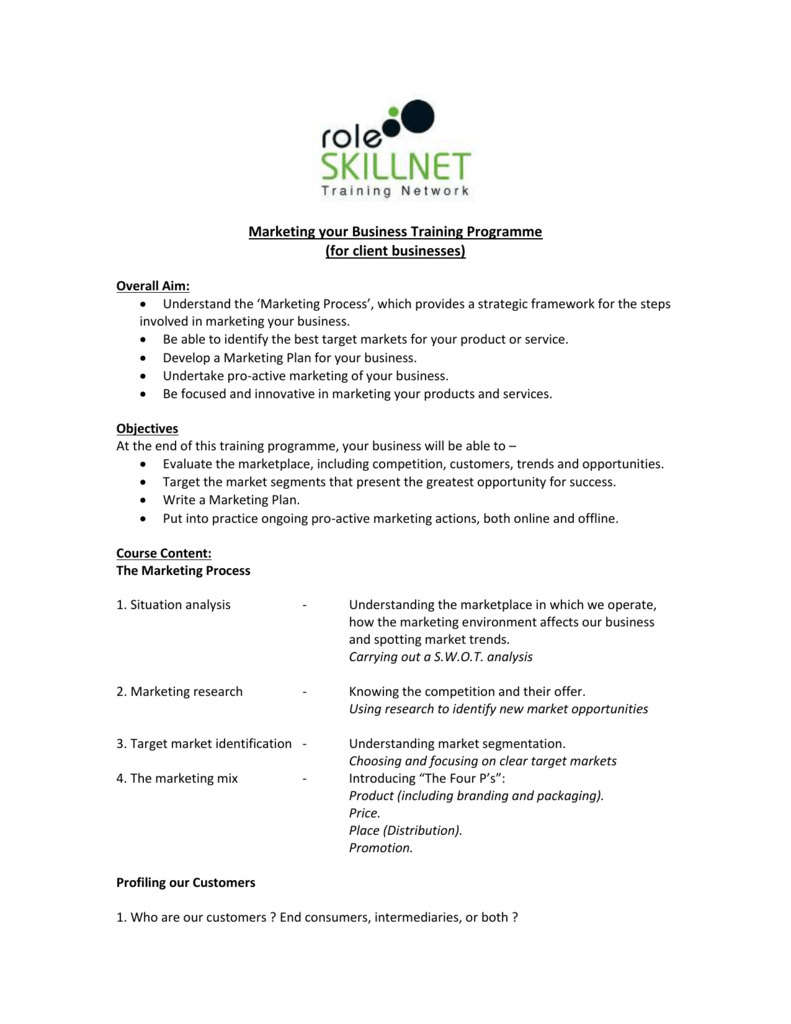 Marketing your Business Training Programme
(for client businesses)
Overall Aim:
 Understand the 'Marketing Process', which provides a strategic framework for the steps
involved in marketing your business.
 Be able to identify the best target markets for your product or service.
 Develop a Marketing Plan for your business.
 Undertake pro-active marketing of your business.
 Be focused and innovative in marketing your products and services.
Objectives
At the end of this training programme, your business will be able to –
 Evaluate the marketplace, including competition, customers, trends and opportunities.
 Target the market segments that present the greatest opportunity for success.
 Write a Marketing Plan.
 Put into practice ongoing pro-active marketing actions, both online and offline.
Course Content:
The Marketing Process
1. Situation analysis
-
Understanding the marketplace in which we operate,
how the marketing environment affects our business
and spotting market trends.
Carrying out a S.W.O.T. analysis
2. Marketing research
-
Knowing the competition and their offer.
Using research to identify new market opportunities
3. Target market identification 4. The marketing mix
-
Understanding market segmentation.
Choosing and focusing on clear target markets
Introducing "The Four P's":
Product (including branding and packaging).
Price.
Place (Distribution).
Promotion.
Profiling our Customers
1. Who are our customers ? End consumers, intermediaries, or both ?
2. Building a profile of who our end customer is.
3. Building a profile of who our trade partners (distributors, importers, agents, wholesalers,
retailers, etc.) are.
Offline Promotional Tools








Brochures, business cards & flyers,
Consumer and trade promotional offers,
PR and press,
Running competitions,
Advertising,
Networking,
Attending trade and consumer shows,
The Sales Process.
Online Promotional Tools








Digital marketing & social media, concentrating on :
Blog-based websites,
Search Engine Optimisation (SEO),
Facebook,
Twitter,
Linked In,
Video,
Online advertising through Google Ads, the Google Display Network and Facebook,
E-mail campaigns & E-Newsletters (database permission marketing).
Google Analytics, to get the best out of the web for business.
The Marketing Plan



The role of a marketing plan, why and how to write one.
Provision of a template and walking through the process of completion.
Planning specific pro-active marketing actions.
For further enquires please call 071-9622504 or email us on [email protected]
ROLE Skillnet is funded by member companies and the Training Networks Programme, an initiative of
Skillnets Ltd. funded from the National Training Fund through the Department of Education and Skills.