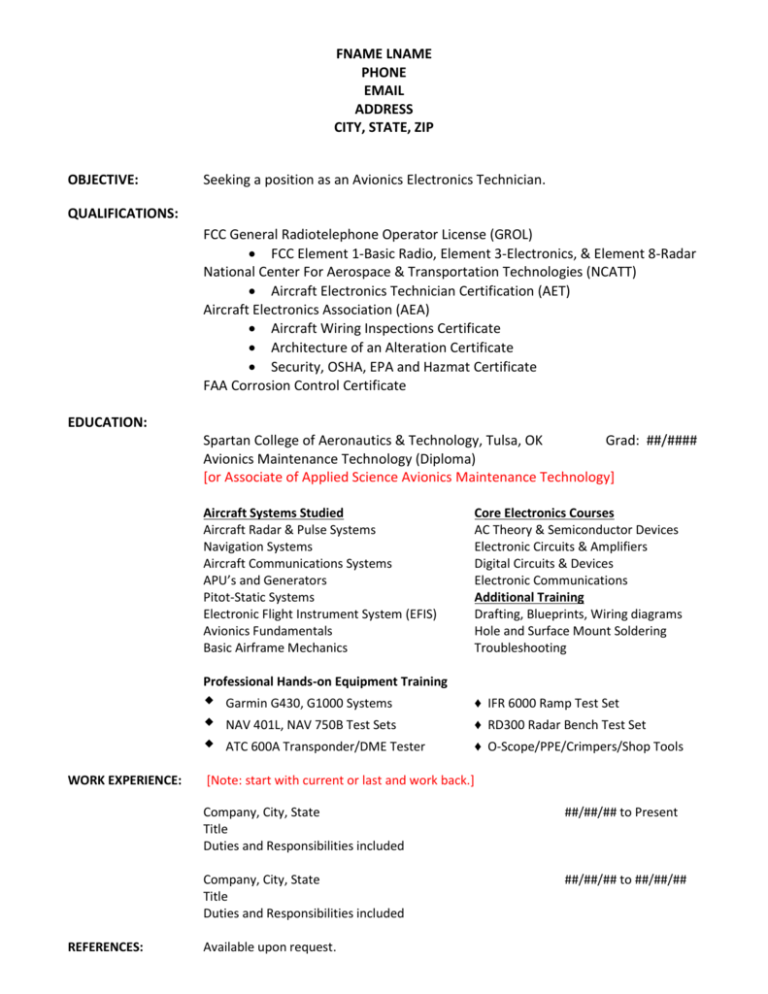 FNAME LNAME
PHONE
EMAIL
ADDRESS
CITY, STATE, ZIP
OBJECTIVE:
Seeking a position as an Avionics Electronics Technician.
QUALIFICATIONS:
FCC General Radiotelephone Operator License (GROL)
 FCC Element 1-Basic Radio, Element 3-Electronics, & Element 8-Radar
National Center For Aerospace & Transportation Technologies (NCATT)
 Aircraft Electronics Technician Certification (AET)
Aircraft Electronics Association (AEA)
 Aircraft Wiring Inspections Certificate
 Architecture of an Alteration Certificate
 Security, OSHA, EPA and Hazmat Certificate
FAA Corrosion Control Certificate
EDUCATION:
Spartan College of Aeronautics & Technology, Tulsa, OK
Grad: ##/####
Avionics Maintenance Technology (Diploma)
[or Associate of Applied Science Avionics Maintenance Technology]
Aircraft Systems Studied
Aircraft Radar & Pulse Systems
Navigation Systems
Aircraft Communications Systems
APU's and Generators
Pitot-Static Systems
Electronic Flight Instrument System (EFIS)
Avionics Fundamentals
Basic Airframe Mechanics
Core Electronics Courses
AC Theory & Semiconductor Devices
Electronic Circuits & Amplifiers
Digital Circuits & Devices
Electronic Communications
Additional Training
Drafting, Blueprints, Wiring diagrams
Hole and Surface Mount Soldering
Troubleshooting
Professional Hands-on Equipment Training



WORK EXPERIENCE:
REFERENCES:
Garmin G430, G1000 Systems
♦ IFR 6000 Ramp Test Set
NAV 401L, NAV 750B Test Sets
♦ RD300 Radar Bench Test Set
ATC 600A Transponder/DME Tester
♦ O-Scope/PPE/Crimpers/Shop Tools
[Note: start with current or last and work back.]
Company, City, State
Title
Duties and Responsibilities included
##/##/## to Present
Company, City, State
Title
Duties and Responsibilities included
##/##/## to ##/##/##
Available upon request.