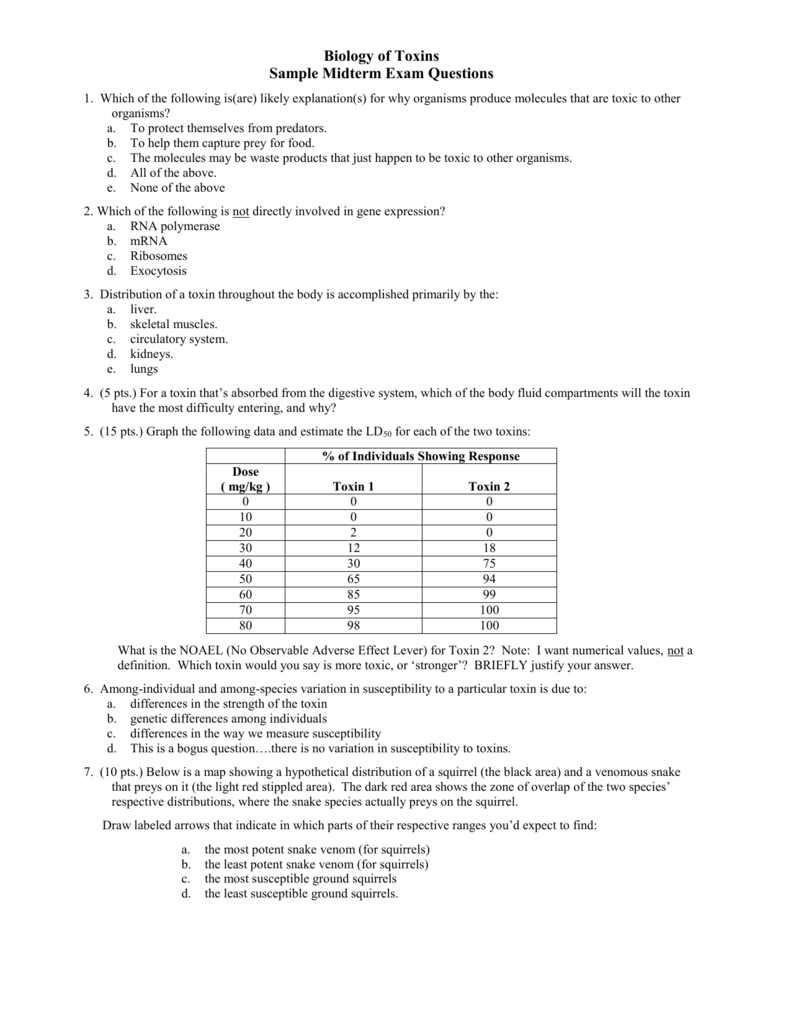 Biology of Toxins
Sample Midterm Exam Questions
1. Which of the following is(are) likely explanation(s) for why organisms produce molecules that are toxic to other
organisms?
a. To protect themselves from predators.
b. To help them capture prey for food.
c. The molecules may be waste products that just happen to be toxic to other organisms.
d. All of the above.
e. None of the above
2. Which of the following is not directly involved in gene expression?
a. RNA polymerase
b. mRNA
c. Ribosomes
d. Exocytosis
3. Distribution of a toxin throughout the body is accomplished primarily by the:
a. liver.
b. skeletal muscles.
c. circulatory system.
d. kidneys.
e. lungs
4. (5 pts.) For a toxin that's absorbed from the digestive system, which of the body fluid compartments will the toxin
have the most difficulty entering, and why?
5. (15 pts.) Graph the following data and estimate the LD 50 for each of the two toxins:
% of Individuals Showing Response
Dose
( mg/kg )
0
10
20
30
40
50
60
70
80
Toxin 1
0
0
2
12
30
65
85
95
98
Toxin 2
0
0
0
18
75
94
99
100
100
What is the NOAEL (No Observable Adverse Effect Lever) for Toxin 2? Note: I want numerical values, not a
definition. Which toxin would you say is more toxic, or 'stronger'? BRIEFLY justify your answer.
6. Among-individual and among-species variation in susceptibility to a particular toxin is due to:
a. differences in the strength of the toxin
b. genetic differences among individuals
c. differences in the way we measure susceptibility
d. This is a bogus question….there is no variation in susceptibility to toxins.
7. (10 pts.) Below is a map showing a hypothetical distribution of a squirrel (the black area) and a venomous snake
that preys on it (the light red stippled area). The dark red area shows the zone of overlap of the two species'
respective distributions, where the snake species actually preys on the squirrel.
Draw labeled arrows that indicate in which parts of their respective ranges you'd expect to find:
a.
b.
c.
d.
the most potent snake venom (for squirrels)
the least potent snake venom (for squirrels)
the most susceptible ground squirrels
the least susceptible ground squirrels.
What is the hypothesis that biologists use to explain the venom-toxicity and squirrel-susceptibility
data you'd expect to obtain from studying this snake-squirrel system?
8. (5 pts.) TRUE or FALSE (circle one please) The high degree of tissue-specificity of different types of snake
venom phospholipase A2 molecules is due to the fact that their active sites can bind to only one kind of substrate.
If you circled TRUE, give me three examples of specific tissues targeted by different types of snake venom
phospholipase A2 molecules.
If you circled FALSE, rewrite the statement so that it's correct.
9. (15 pts.) So far in lecture, we've discussed some toxins that could be considered cytotoxins. Please give me the
name, source, and mechanism of action for four cytotoxins. Be as specific and detailed as you can with regard to
each toxin's mechanism of action
Toxin Name
Source
Mechanism of Action
10. (15 pts. each) Answer TWO (2) of the following:
 Construct a graph that clearly illustrates the presence of susceptible and resistant individuals in a
population. Use this graph as the basis for a discussion of how resistance to a toxin can evolve.
 Define and discuss biotransformation. Where in the body does most biotransformation occur? Define
bioactivation, and describe an example.
 Discuss excretion of toxins. What do you see as benefits and drawbacks for the various avenues by which
toxins are cleared from the body?
Note: because I'm letting you choose which two questions to answer, I'll be pretty exacting in my grading of
your responses. So, be sure you choose the two questions you sure you can answer best.