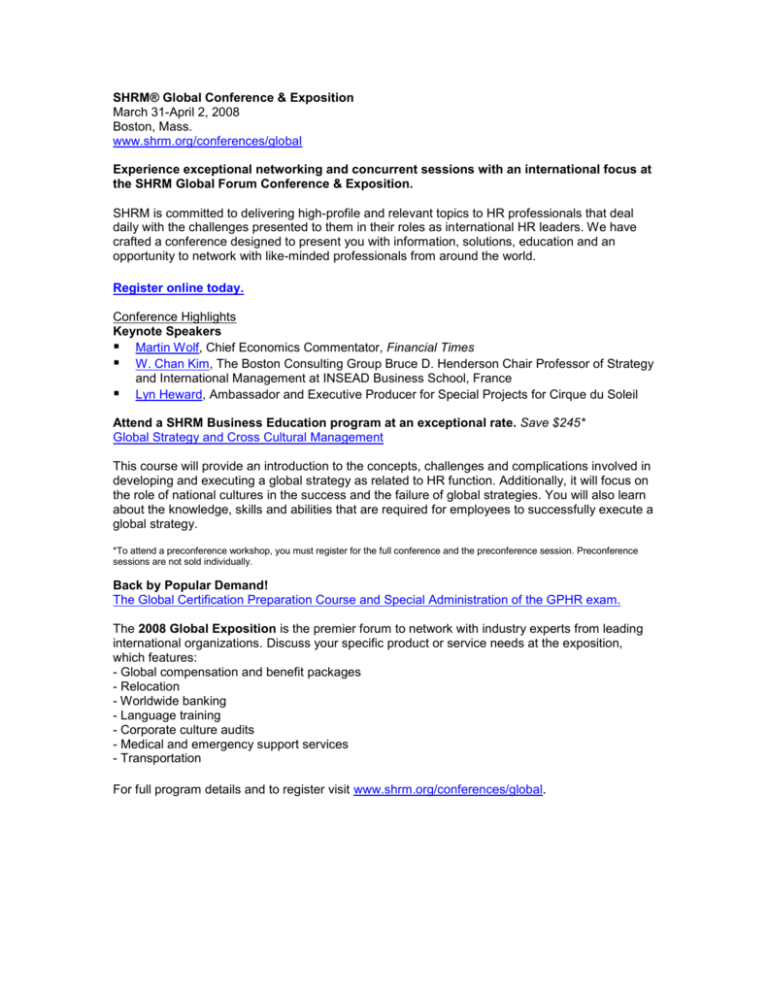 SHRM® Global Conference & Exposition
March 31-April 2, 2008
Boston, Mass.
www.shrm.org/conferences/global
Experience exceptional networking and concurrent sessions with an international focus at
the SHRM Global Forum Conference & Exposition.
SHRM is committed to delivering high-profile and relevant topics to HR professionals that deal
daily with the challenges presented to them in their roles as international HR leaders. We have
crafted a conference designed to present you with information, solutions, education and an
opportunity to network with like-minded professionals from around the world.
Register online today.
Conference Highlights
Keynote Speakers
 Martin Wolf, Chief Economics Commentator, Financial Times
 W. Chan Kim, The Boston Consulting Group Bruce D. Henderson Chair Professor of Strategy
and International Management at INSEAD Business School, France
 Lyn Heward, Ambassador and Executive Producer for Special Projects for Cirque du Soleil
Attend a SHRM Business Education program at an exceptional rate. Save $245*
Global Strategy and Cross Cultural Management
This course will provide an introduction to the concepts, challenges and complications involved in
developing and executing a global strategy as related to HR function. Additionally, it will focus on
the role of national cultures in the success and the failure of global strategies. You will also learn
about the knowledge, skills and abilities that are required for employees to successfully execute a
global strategy.
*To attend a preconference workshop, you must register for the full conference and the preconference session. Preconference
sessions are not sold individually.
Back by Popular Demand!
The Global Certification Preparation Course and Special Administration of the GPHR exam.
The 2008 Global Exposition is the premier forum to network with industry experts from leading
international organizations. Discuss your specific product or service needs at the exposition,
which features:
- Global compensation and benefit packages
- Relocation
- Worldwide banking
- Language training
- Corporate culture audits
- Medical and emergency support services
- Transportation
For full program details and to register visit www.shrm.org/conferences/global.