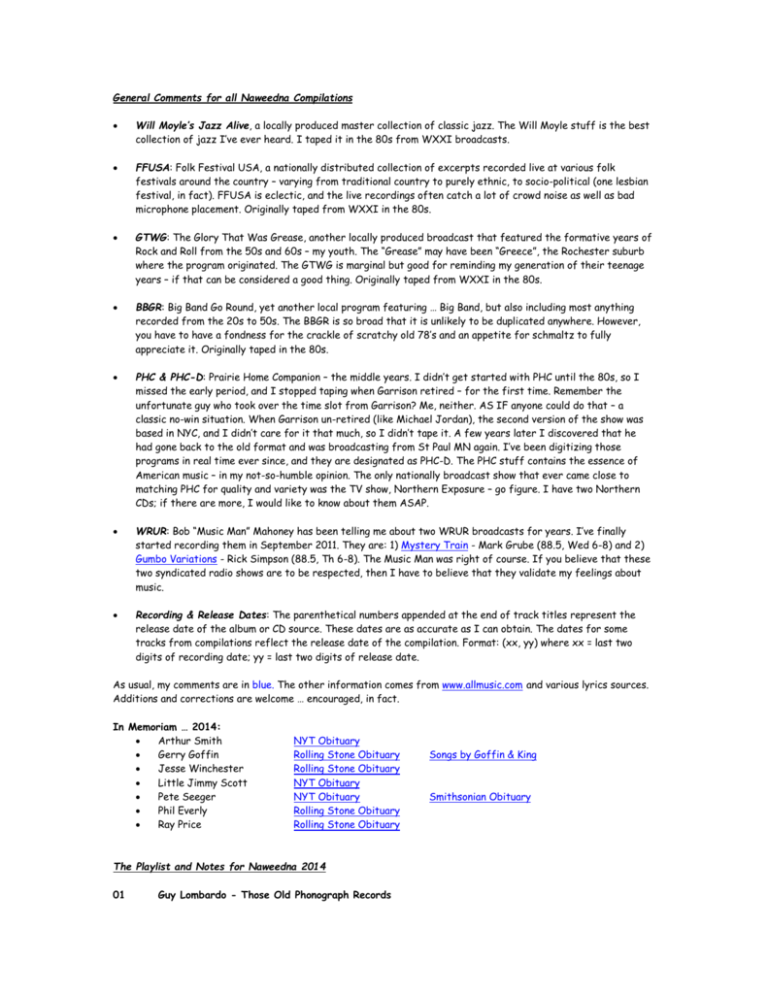 General Comments for all Naweedna Compilations

Will Moyle's Jazz Alive, a locally produced master collection of classic jazz. The Will Moyle stuff is the best
collection of jazz I've ever heard. I taped it in the 80s from WXXI broadcasts.

FFUSA: Folk Festival USA, a nationally distributed collection of excerpts recorded live at various folk
festivals around the country – varying from traditional country to purely ethnic, to socio-political (one lesbian
festival, in fact). FFUSA is eclectic, and the live recordings often catch a lot of crowd noise as well as bad
microphone placement. Originally taped from WXXI in the 80s.

GTWG: The Glory That Was Grease, another locally produced broadcast that featured the formative years of
Rock and Roll from the 50s and 60s – my youth. The "Grease" may have been "Greece", the Rochester suburb
where the program originated. The GTWG is marginal but good for reminding my generation of their teenage
years – if that can be considered a good thing. Originally taped from WXXI in the 80s.

BBGR: Big Band Go Round, yet another local program featuring … Big Band, but also including most anything
recorded from the 20s to 50s. The BBGR is so broad that it is unlikely to be duplicated anywhere. However,
you have to have a fondness for the crackle of scratchy old 78's and an appetite for schmaltz to fully
appreciate it. Originally taped in the 80s.

PHC & PHC-D: Prairie Home Companion – the middle years. I didn't get started with PHC until the 80s, so I
missed the early period, and I stopped taping when Garrison retired – for the first time. Remember the
unfortunate guy who took over the time slot from Garrison? Me, neither. AS IF anyone could do that – a
classic no-win situation. When Garrison un-retired (like Michael Jordan), the second version of the show was
based in NYC, and I didn't care for it that much, so I didn't tape it. A few years later I discovered that he
had gone back to the old format and was broadcasting from St Paul MN again. I've been digitizing those
programs in real time ever since, and they are designated as PHC-D. The PHC stuff contains the essence of
American music – in my not-so-humble opinion. The only nationally broadcast show that ever came close to
matching PHC for quality and variety was the TV show, Northern Exposure – go figure. I have two Northern
CDs; if there are more, I would like to know about them ASAP.

WRUR: Bob "Music Man" Mahoney has been telling me about two WRUR broadcasts for years. I've finally
started recording them in September 2011. They are: 1) Mystery Train - Mark Grube (88.5, Wed 6-8) and 2)
Gumbo Variations - Rick Simpson (88.5, Th 6-8). The Music Man was right of course. If you believe that these
two syndicated radio shows are to be respected, then I have to believe that they validate my feelings about
music.

Recording & Release Dates: The parenthetical numbers appended at the end of track titles represent the
release date of the album or CD source. These dates are as accurate as I can obtain. The dates for some
tracks from compilations reflect the release date of the compilation. Format: (xx, yy) where xx = last two
digits of recording date; yy = last two digits of release date.
As usual, my comments are in blue. The other information comes from www.allmusic.com and various lyrics sources.
Additions and corrections are welcome … encouraged, in fact.
In Memoriam … 2014:

Arthur Smith

Gerry Goffin

Jesse Winchester

Little Jimmy Scott

Pete Seeger

Phil Everly

Ray Price
NYT Obituary
Rolling Stone Obituary
Rolling Stone Obituary
NYT Obituary
NYT Obituary
Rolling Stone Obituary
Rolling Stone Obituary
The Playlist and Notes for Naweedna 2014
01
Guy Lombardo - Those Old Phonograph Records
Songs by Goffin & King
Smithsonian Obituary
And His Royal Canadians (1930s, 2004)
Biography:
Guy Lombardo
CD Review:
And His Royal Canadians
Lyrics:
Those Old Phonograph Records
Got this from BBGR. I'm a total fool for these old, schmaltzy tracks and this one has been rattling around
in my head for thirty years. Hope it does the same to/for you. It seems appropriate for a lead track …
Old Stuff is what we're all about … almost. Oh yeah, I got a few more of the same ilk in the queue for
future Naweedna compilations.
02
Ivie Anderson - Rose Of The Rio Grande
Stereo Reflections In Ellington (1937-40, 1993)
Biography:
Ivie Anderson
CD Review:
Stereo Reflections In Ellington
Lyrics:
Rose Of The Rio Grande
So why not follow "Those Old Phonograph Records" with … an old record? In this case, we opted for Ivie
Anderson and the Duke Ellington Orchestra. Why this particular track, other than its age? It is to
commemorate our SWxW Trip when we spent sixteen days in TX and a great deal of time in the Rio
Grande Valley … we even saw roses, but not San Antone – e - o.
03
Shemekia Copeland - Who Stole My Radio
The Soul Truth (05)
Biography:
Shemekia Copeland
CD Review:
The Soul Truth
Lyrics: Who Stole My Radio (Can't Find Lyrics)
This came from Rick Simpson's Gumbo Variations (WRUR: 2014.04.10) and went in the Naweedna queue
upon first hearing. It seemed the old music theme should be continued with something a little more
modern and Shemekia's offering fit the bill. You all know how I feel about hip-hop & Rap, but I must
admit I was very tempted to follow "Who Stole My Radio" with the one Rap ditty I have in the queue …
but disc time was at a premium – this year.
04
Leonard Cohen – Slow
Popular Problems (2014)
Biography:
Leonard Cohen
CD Review:
Popular Problems
Lyrics:
Slow
This is another track from Rick Simpson's Gumbo Variations (WRUR: 2014.09.25). Leonard has hit some
hard times recently. It seems his manager made off with his retirement fund so he has to go back to
work. I really liked the tune (who doesn't like Leonard?) so I decided to contribute to Leonard's
retirement by actually buying the CD. "All your moves are swift; All your turns are tight; Let me catch my
breath; I thought we had all night … A weekend on your lips; A lifetime in your eyes … It's not because I'm
old; And it's not what dying does … " Ah, Leonard …
05
The Everly Brothers Bye Bye Love (1958)
When Will I Be Loved (1960)
All I Have To Do Is Dream (1958)
Walk Right Back (1961)
Homage (My Mix)
Biography:
The Everly Brothers
CD Review:
Cadence Classics: Their 20 Greatest Hits
Lyrics:
Phil Everly Obituary
Bye Bye Love
When Will I Be Loved
All I Have To Do Is Dream
Walk Right Back
Phil Everly died this year and I felt The Everly Brothers were important enough to warrant a mix of their
tunes. These tracks date back to my formative years and, therefore, have special meaning to me and
others of my generation – the music of our lives, so to speak. There are 29 Everly Brothers tracks in our
library … which to choose? CD time constraints forced the omission of several like: "Let It Be Me" & "I'm
Here To Get My Baby Out Of Jail" (sorry, Rick). Eventually we settled on these four because they told a
story (sort of): Love Lost (Bye, Bye Love), angst (When Will I Be Loved), positive thinking (All I Have To
Do Is Dream), and hope for the future (Walk Right Back). That's our story and we're stuck with it.
06
Bill Davis Trio - Catch 'Em Young, Treat 'Em Rough, Tell 'Em Nothin'
The Okeh R&B Story (1949-57, 1995)
Biography:
Bill Davis Trio
CD Review:
The Okeh R&B Story
Lyrics:
Catch 'Em Young, Treat 'Em Rough, Tell 'Em Nothin' (Can't Find Lyrics)
Okay, upon first hearing, this might sound a tad misogynistic, but give it a chance. I first heard it on
Mark Grube's Mystery Train (WRUR: 2012.06.13). When I looked it up on AMG, I discovered it came from
a multiple CD set with lots of dynamite stuff (78 tracks for $25). The more we listened, the more we
liked this track. In fact it became a sort of theme on our recent trips. Yep, it's in our head, we like it, it
can be modified ad nauseum (e.g. Tomatoes: pick 'em green, gas 'em up, you can charge a bundle; Camping:
Here we go, down the road, gotta get a campsite). And so it goes in Naweedna 2014. Hope you cotton to it
as well. I'm sure it's all done with a wry grin ;-)
07
Jesse Winchester - Club Manhattan
Gentleman of Leisure (1999)
Biography:
Jesse Winchester
CD Review:
Gentleman of Leisure
Lyrics:
Club Manhattan
Obituary
Jesse Winchester is another artist who died this year. He was a singer/songwriter with lots of great
tunes to his credit. We wanted to commemorate him with something we liked that was not too well known.
That left out things like "Skip Rope Song", "Defying Gravity", and "Mississippi You're On My Mind". After
auditioning the rest of our Jesse collection, we settled on "Club Manhattan" for inclusion. In fact, it
really grew on us and is now one of our favorites. Hope it works for you.
08
Les Paul - Guitar Boogie (By Arthur Smith)
The Guitar Artistry Of Les Paul (1971)
Biography:
Les Paul
CD Review:
The Guitar Artistry Of Les Paul
Lyrics:
Guitar Boogie (Instrumental)
Another dead guy: Arthur Smith. He wrote this track that seems to be popular with lots of guitarists: we
have 29 versions in our library. Again, after auditioning 'em, we settled on this Les Paul version. I'm sure
Arthur would have been honored by Les' rendition.
09
Ramsay Midwood - Chicago
Shoot Out At The OK Chinese Restaurant (2000)
Biography:
Ramsay Midwood
CD Review:
Shoot Out At The OK Chinese Restaurant
Lyrics:
Chicago (Can't Find Lyrics)
I've wanted to include a Ramsay track ever since Bob Mahoney gave me a Midwood CD. Ah, but which one?
After selecting the other tracks, the time remaining was perfect for "Chicago". In it goes. We like it
because "you know it's so because I read it on the radio." There are several more Ramsay tracks in the
Naweedna queue.
10
Charlie Feathers & The Miller Sisters - Someday You Will Pay
Get with It: The Essential Recordings (1954-69, 1998)
Biography:
Biography:
Charlie Feathers
The Miller Sisters
CD Review:
Get with It: The Essential Recordings
Lyrics:
Someday You Will Pay
Mark Grube played this on Mystery Train (WRUR: 2014.07.16), and I immediately saved it to the
Naweenda 2014 folder. Then I promptly forgot about it until we started selecting other tracks to include.
No other reason for including other than WE LIKE IT. Hope you do too.
11
The Cookies - Don't Say Nothing Bad (About My Baby) (by Goffin & King)
The Rock 'N' Roll Era: 1963 - Still Rockin'
Biography:
The Cookies
Goffin Rolling Stone Obituary
CD Review:
The Rock 'N' Roll Era: 1963 - Still Rockin'
Lyrics:
Don't Say Nothing Bad (About My Baby)
Gerry Goffin also died this year. He and Carole King wrote many of tunes that populate the memories of
people in my generation (Goffin Songs). I went down the list, found several that stirred good memories
and eventually settled on "Don't Say Nothing Bad (About My Baby)." I really like the low register of the
lead singer … hell, I like everything about this song … and if you don't, well, "you better shut your mouth"
and your ears! The track comes from a Time-Live CD series we bought years ago.
12
Asleep At The Wheel - Miles & Miles Of Texas
The Best Of Asleep At The Wheel (1975-79, 1992)
Biography:
Asleep At The Wheel
CD Review:
The Best Of Asleep At The Wheel
Lyrics:
Miles & Miles Of Texas
Another track to commemorate our SWxW Trip when we spent sixteen days in TX and fully realized
there were "Miles & Miles Of Texas." We were first introduced to Asleep At The Wheel by Rich Kilbury
back in the late 70s. One day Rich showed up on our doorstep with an armload of records and said, "Here,
you'll like these." He was correct, as usual. We've been Asleep fans ever since. Their stuff led us to Bob
Wills & The Texas Playboys who actually get credit for the Texas Swing sub-genre. Ah, my youth and
cowboy songs. Love it – remember, I grew up in a drive-in theater in the heyday of Western Movies.
13
Pete Seeger Tshotsholosa (Road Song) (1963)
Living In The Country (1962)
Peg & Awl (1957)
Follow Me Down (1962)
Monsieur Banjo (1957)
And Still I Am Searching (1998)
Homage (My Mix)
Biography:
CD Review:
Lyrics:
Pete Seeger
NYT Obituary
Smithsonian Obituary
We Shall Overcome: The Complete Carnegie Hall Concert
A Link In The Chain
American Industrial Ballads
The Bitter and the Sweet
American Industrial Ballads
Where Have All the Flowers Gone: The Songs of Pete Seeger
Tshotsholosa (It's Frickin' African)
Living In The Country (Whistling)
Peg & Awl
Follow Me Down
Monsieur Banjo
And Still I Am Searching
We lost another national treasure this year: Pete Seeger. So how do you pick suitably reprehensive
tracks when you have 275 in your library? We focused on variety of presentation styles &
instrumentation while factoring in the time span of Pete's career.
The first track, "Tshotsholosa", comes from one of the first vinyl albums I ever owned. I remember being
transfixed by this tune and picked it to be first in the mix because it shows off Pete's young, exuberant
voice and features his talent for getting the audience to participate in the singing. Arlo Guthrie once said
that Pete always got to sing a song twice; first he sings a verse so the audience will get the words, then
he sings it again when they repeat it (Re-Pete, ha-ha). For this tune, Pete's instrument is his young,
strident voice.
"Living In The Country" is just a happy little tune … with whistling. I love whistling – when it's done
properly. And the instrument on this track is … Pete's whistling.
"Peg & Awl" represents Pete's social-justice sensitivities. It's a catchy song and will live quite nicely in
your involuntary memory. And then there are the banjo parts that only add to the package.
Ah, Leadbelly's "Follow Me Down" (aka: "Fannin Street", "Cry For Me", "Mr Tom Hughes's Town"). We
picked this track to represent Pete's fundamental folk material. And then there's the big, bad guitar. The
beginning chords are musical history.
Pete also played banjo, so I decided to include "Monsieur Banjo" as an example. The tune caught my
attention upon first hearing and has stuck in my head over the intervening decades. Now I have an excuse
to include it on a Naweedna CD.
And Still I Am Searching was used to commemorate Pete's passing by Rick Simpson on Gumbo Variations
(WRUR: 2014.01.30). It clearly shows the age accumulated on Pete's vocal chords. I think the words and
tune in general are most appropriate for an ending piece in a Pete Seeger commemorative-mix … and the
guitar work is pretty good as well.
14
Laura Love - Anyway
The Laura Love Collection (1995)
Biography:
Laura Love
CD Review:
The Laura Love Collection
Lyrics:
Anyway
I don't recall where I first heard this track, but it was suitably impressive to cause me to buy the CD. I
like the way the song flows, interrupts itself, and then dissolves into yodeling. OMG, what's not to like? It
moves, it seems happy, and almost sounds Native American in places. I'm pretty proud of this track. Hope
you get into it as well. "When I find my hat I'm gone away . . . anyway."
15
Herbie Hancock & Corinne Bailey Rae – River
River: The Joni Letters (2007)
Biography:
Biography:
Herbie Hancock
Corinne Bailey Rae
CD Review:
River: The Joni Letters
Lyrics:
River
Ah, another Mark Grube Mystery Train (201.11.26) selections. It comes from a Herbie Hancock
collaborative offering paying homage to Joni Mitchell. This track features Corinne Bailey Rae – a real nice
talent. And … there's a bit of a Christmas theme going on as well. I fell for it upon first hearing and
immediately put it in the Naweedna 2014 folder. Done.
16
Ray Price - My Shoes Keep Walking Back To You
Greatest Hits (1961)
Biography:
Ray Price Obituary
CD Review:
Ray Price's Greatest Hits
Lyrics:
My Shoes Keep Walking Back To You
Another music legend passed this year: Ray Price. There are lots of Price tunes to pick from but we
settled on "My Shoes Keep Walking Back To You." We have covers by other artists that may be better,
but it's always good to go with the guy who done it up right … back in '61 … the year Doyle Edward, Sherry
& I graduated from high school. This particular track came from a collection I got from Bob'n'Char. "And
my arms keep reaching for you … and my shoes keep walking back to you" wherever you are.
17
Lew London - Rodeo Rider
Swingtime In Springtime (1976)
Biography:
Lew London
CD Review:
Swingtime In Springtime
Lyrics:
Rodeo Rider (Can't Find Lyrics)
Another artist brought to our doorstep by Rich "Here, you'll like these" Kilbury. I taped those vinyls but
didn't do every track just to conserve what was then very expensive recording media. I bought the CD
after returning from the SWxW Trip during which we sang a series of Lew's tunes (certainly including
"Rodeo Rider"). The CD certainly didn't disappoint. In fact, there were tracks that I didn't record that
went right into the Naweedna queue … "Avalon" and "Old Movies", for example. But "Rodeo Rider" is the
one that sits at the top of our minds and is here for your consideration. "He'll spend out his days riding
fence in Montana and on the high ground where his dreaming gets done … crying oh, oh my my, ooooh my
my."
18
Vince Gill - Talk Memphis (by Jesse Winchester)
Quiet About It: A Tribute To Jesse Winchester (2012)
Biography:
Vince Gill
CD Review:
Quiet About It: A Tribute To Jesse Winchester
Lyrics:
Talk Memphis
And another Rick Simpson Gumbo Variations track (WRUR: 2014.06.19). This is from a Jesse Winchester
tribute CD and the tune really struck us. So here is a tribute to the dearly departed Jesse in the form of
a Vince Gill cover of Jesse's original song. Jesse was a pretty good songsmith, don't you think?
"Listen to you move your mouth; I bet you come from way down South; Please don't tell me let me guess;
You're from the town that I love best; Talk Memphis …"
19
Seasick Steve - Walkin' Man
Best Of Seasick Steve (2011)
Biography:
Seasick Steve
CD Review:
Walkin' Man: The Best of Seasick Steve
Lyrics:
Walkin' Man
I don't remember where I first heard Seasick Steve but I do remember what track it was: "Started Out
With Nothin' (And Still Got Most Of It Left)." In fact, I believe there was a bit of discussion about it on
Saturday AM … which I can't seem to find at the moment. I was sufficiently impressed that I started
searching for more Seasick Steve and found YouTube gold. I'm now the proud owner of 61 Seasick Steve
tracks and this is one of the very best. Hope you like it … and help Seasick in his attempt to make a living
from his art by adding more of his tracks to your personal library.
20
Little Jimmy Scott - Everybody's Somebody's Fool
The Fabulous Songs Of Jimmy Scott (1960)
Biography:
Little Jimmy Scott Obituary
CD Review:
The Fabulous Songs Of Jimmy Scott
Lyrics:
Everybody's Somebody's Fool
Our last dead guy … Jimmy Scott was referred to as "Little" because he suffered from a hereditary
condition that prevented him from maturing; he stopped growing when he was less than five feet tall and
his voice never changed. He had a unique talent for taking a standard and deconstructing it to the very
essence imparted by the author. Thus, his songs are slow but meticulously crafted. This is one of my
favorite Jimmy Scott tunes and yet another track from Mark Grube's Mystery Train (WRUR:
2014.02.26).
21
India.Arie – Interlude
Acoustic Soul (2001)
Biography:
India.Arie
CD Review:
Acoustic Soul
Lyrics:
Interlude
This came from Ken Rechlin. It came up in our randomized daily-playlist recently, and I thought it would
make a nice Naweedna closer. India.Arie pays homage to the artists who inspired her to perfect her
talent. How many of the names do you recognize? I got 'em all but one: Sister Puma. True words: "Your
memory still lives on in me" as well as in "Those Old Phonograph Records" and Naweedna CDs.