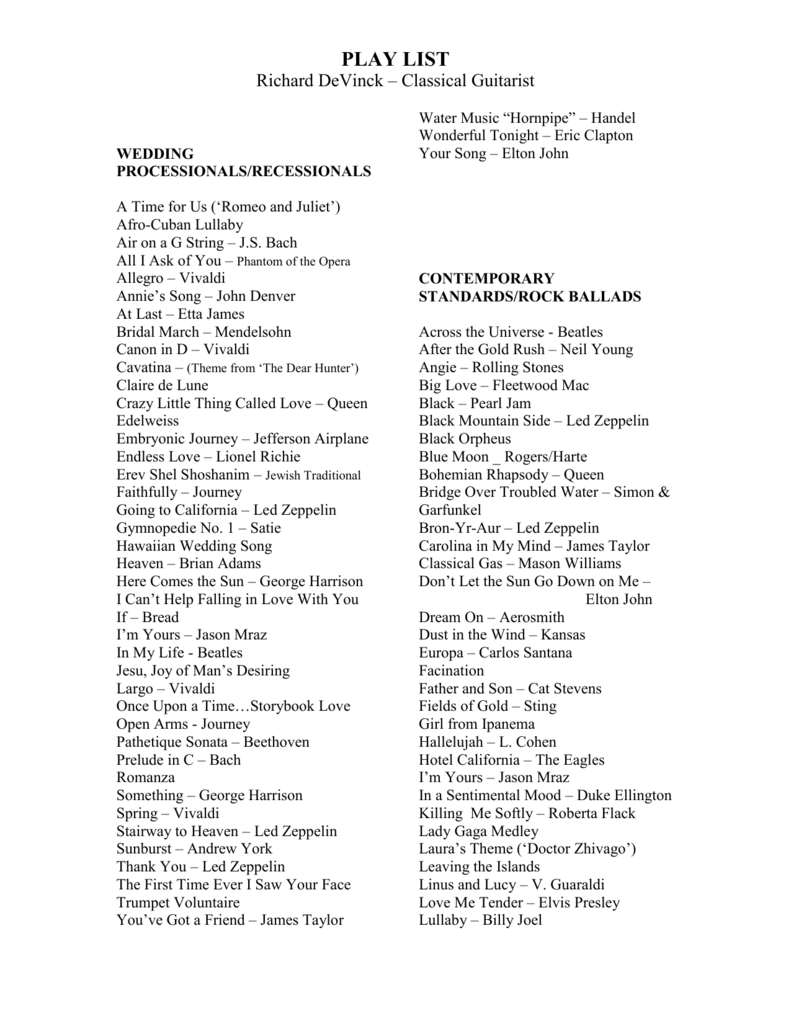 PLAY LIST
Richard DeVinck – Classical Guitarist
WEDDING
PROCESSIONALS/RECESSIONALS
A Time for Us ('Romeo and Juliet')
Afro-Cuban Lullaby
Air on a G String – J.S. Bach
All I Ask of You – Phantom of the Opera
Allegro – Vivaldi
Annie's Song – John Denver
At Last – Etta James
Bridal March – Mendelsohn
Canon in D – Vivaldi
Cavatina – (Theme from 'The Dear Hunter')
Claire de Lune
Crazy Little Thing Called Love – Queen
Edelweiss
Embryonic Journey – Jefferson Airplane
Endless Love – Lionel Richie
Erev Shel Shoshanim – Jewish Traditional
Faithfully – Journey
Going to California – Led Zeppelin
Gymnopedie No. 1 – Satie
Hawaiian Wedding Song
Heaven – Brian Adams
Here Comes the Sun – George Harrison
I Can't Help Falling in Love With You
If – Bread
I'm Yours – Jason Mraz
In My Life - Beatles
Jesu, Joy of Man's Desiring
Largo – Vivaldi
Once Upon a Time…Storybook Love
Open Arms - Journey
Pathetique Sonata – Beethoven
Prelude in C – Bach
Romanza
Something – George Harrison
Spring – Vivaldi
Stairway to Heaven – Led Zeppelin
Sunburst – Andrew York
Thank You – Led Zeppelin
The First Time Ever I Saw Your Face
Trumpet Voluntaire
You've Got a Friend – James Taylor
Water Music "Hornpipe" – Handel
Wonderful Tonight – Eric Clapton
Your Song – Elton John
CONTEMPORARY
STANDARDS/ROCK BALLADS
Across the Universe - Beatles
After the Gold Rush – Neil Young
Angie – Rolling Stones
Big Love – Fleetwood Mac
Black – Pearl Jam
Black Mountain Side – Led Zeppelin
Black Orpheus
Blue Moon _ Rogers/Harte
Bohemian Rhapsody – Queen
Bridge Over Troubled Water – Simon &
Garfunkel
Bron-Yr-Aur – Led Zeppelin
Carolina in My Mind – James Taylor
Classical Gas – Mason Williams
Don't Let the Sun Go Down on Me –
Elton John
Dream On – Aerosmith
Dust in the Wind – Kansas
Europa – Carlos Santana
Facination
Father and Son – Cat Stevens
Fields of Gold – Sting
Girl from Ipanema
Hallelujah – L. Cohen
Hotel California – The Eagles
I'm Yours – Jason Mraz
In a Sentimental Mood – Duke Ellington
Killing Me Softly – Roberta Flack
Lady Gaga Medley
Laura's Theme ('Doctor Zhivago')
Leaving the Islands
Linus and Lucy – V. Guaraldi
Love Me Tender – Elvis Presley
Lullaby – Billy Joel
PLAY LIST
Richard DeVinck – Classical Guitarist
Marley's Ghost – Andrew York
Memory ('Cats')
Mood for a Day – Yes
Mood Indigo – Duke Ellington
Moondance – Van Morrison
More Than Words - Extreme
Music of the Night ('Phantom of the Opera')
My Love – Paul McCartney
Never Going Back Again – Fleetwood Mac
Open Arms - Journey
Royals - Lorde
'Sakura' Theme and Variations
Satin Doll – Duke Ellington
Scarborough Fair
Shadow of Your Smile
She's Always a Woman to Me – Billy Joel
She's Got a Way – Billy Joel
Somewhere Over the Rainbow
Startdust – H. Carmichael
Sultans of Swing – Dire Straits
Take Five – D. Brubeck
Tears in Heaven – Eric Clapton
The Boxer – Simon & Garfunkel
The Rain Song – Led Zeppelin
Under the Bridge – Red Hot Chili Peppers
Wave (vou te contar) – Jobim
We Are the Champions – Queen
We're All Alone – Boz Scaggs
What Are You Doing the Rest of Your Life?
What a Wonderful World
While My Guitar Gently Weeps
Whiter Shade of Pale – Procol Harum
Yesterday - Beatles
Your Song – Elton John
CLASSICAL/LATIN
Adelita
Asturias (Leyenda)
Brazil
Besame Mucho
Cadiz – Isaac Albeniz
Canarios - Sanz
Canco del Lladre
Capricho Catalan - Albeniz
Capricio Arabe – F. Tarrega
Carmen
Chaconne in D minor– J.S. Bach
Chilean Dance – Andrew York
Choro No. 1 – H. Villa-Lobos
Cielito Lindo
Como Llora Una Estrella
De Mi Corazon
El Noy de la Mare
Estudio Brilliante - Tarrega
Etudes 5 & 17 – Sor
Fandanguillo - Torroba
Fugue in A – J.S. Bach
Fur Elise - Beethoven
Granada
Grand Sonata – Sor
Greensleeves
Guardame Las Vacas
Gypsy Serenade
La Filla del Marxant
La Paloma
Lagrima
Liebestraum - Liszt
Malaguena
Mallorca – I. Albeniz
Maria Elena
Meditation
Prelude, BWV 998 – J.S. Bach
Prelude, BWV 999 – J.S. Bach
Prelude in E – J.S. Bach
Prelude No. 1 – H. Villa-Lobos
Recuerdo de l'Alhambra
Savor a Mi
Serenata Espanola - Malats
Sevillas
Solamente Una Vez
Soleares – Turina
Sonata (K. 213) – Scarlatti
Sonatina - Torroba
Sons de Carrilhoes
Sueno en la Floresta – Barrios Mangore
Tango – Terrence Farrell
Tango En Skai – Roland Dyens
Tango No. 3
Torre Bermeja
Tropicale
Vals Op. 8, No. 3 – Barrios Mangore
PLAY LIST
Richard DeVinck – Classical Guitarist
Variations on a Theme by Mozart
Venezuelan Waltz – A. Lauro
And many more works….
Holiday favorites, as well.