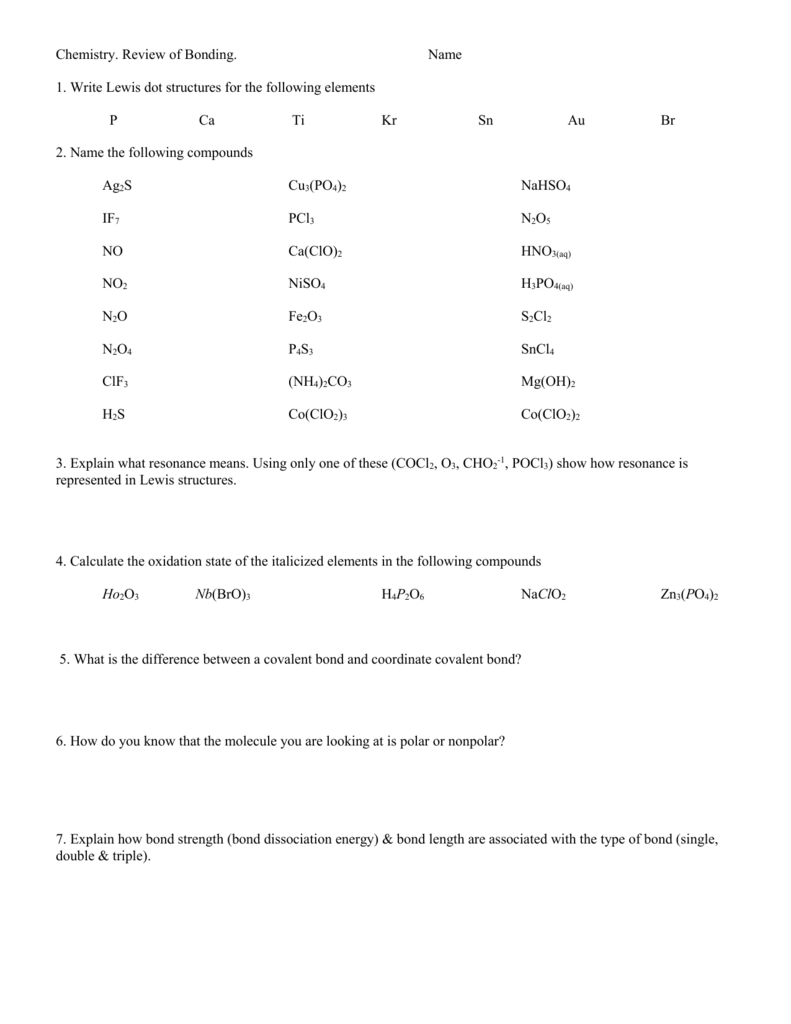 Chemistry. Review of Bonding.
Name
1. Write Lewis dot structures for the following elements
P
Ca
Ti
Kr
Sn
Au
Br
2. Name the following compounds
Ag2S
Cu3(PO4)2
NaHSO4
IF7
PCl3
N2O5
NO
Ca(ClO)2
HNO3(aq)
NO2
NiSO4
H3PO4(aq)
N2O
Fe2O3
S2Cl2
N2O4
P4S3
SnCl4
ClF3
(NH4)2CO3
Mg(OH)2
H2S
Co(ClO2)3
Co(ClO2)2
3. Explain what resonance means. Using only one of these (COCl2, O3, CHO2-1, POCl3) show how resonance is
represented in Lewis structures.
4. Calculate the oxidation state of the italicized elements in the following compounds
Ho2O3
Nb(BrO)3
H4P2O6
NaClO2
Zn3(PO4)2
5. What is the difference between a covalent bond and coordinate covalent bond?
6. How do you know that the molecule you are looking at is polar or nonpolar?
7. Explain how bond strength (bond dissociation energy) & bond length are associated with the type of bond (single,
double & triple).
8. Complete the following table
AROUND CENTRAL ATOM
Molecule
or Ion
Cl2O
NF3
CS2
SiF5-1
SO3
NH2OH
XeF2
BrF4-1
XeF4
BrF5
C2H2Cl2
C2H2Cl2
different
than one
above
Lewis Dot
# of
bonding
regions
# of lone
pairs
VSEPR
formula
shape
hybridization
Geometric Formula (label
pi and sigma bonds and
value of the angles)
Polar or
Nonpolar?